Harvey doesn't miss beat in dominant '15 debut
Right-hander logs nine K's in first start since 2013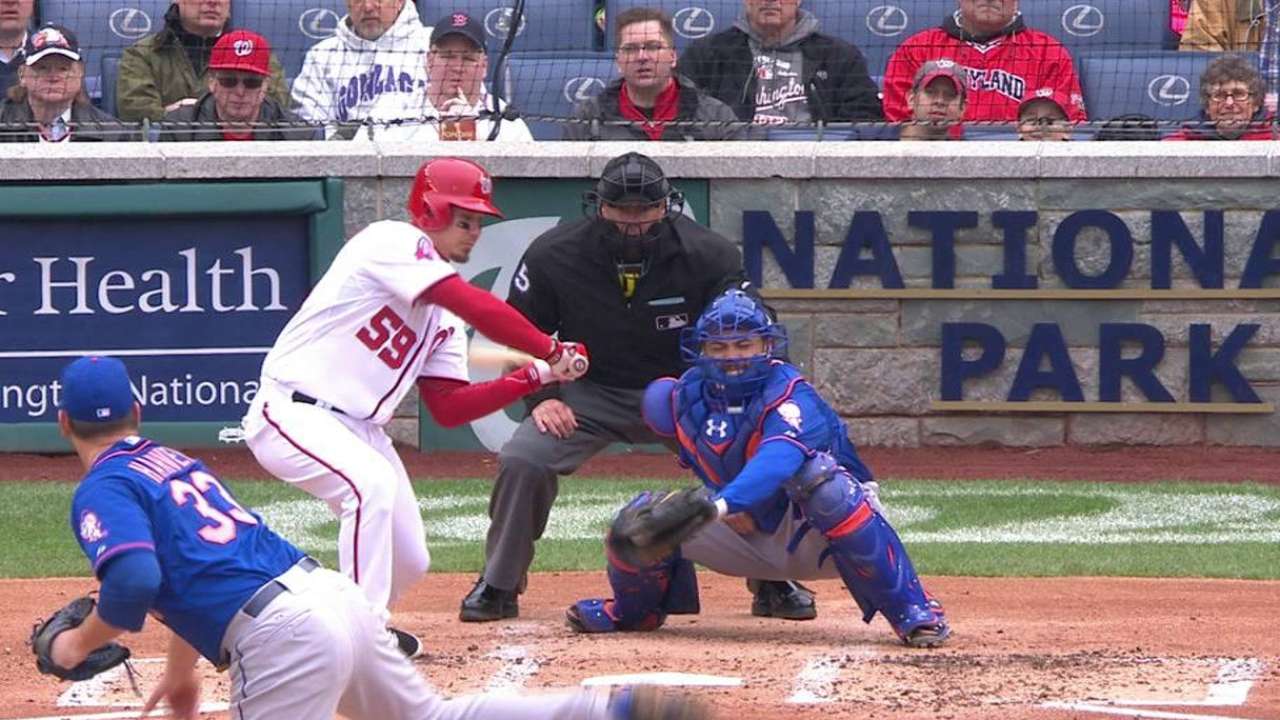 WASHINGTON -- Compared to their two-year-old predecessors, the chants echoing through Nationals Park on Thursday seemed almost more like whispers, like hints of greater things to come. But they were every bit as audible as the scattered pockets of orange were visible, spicing a crowd of 25,327 on an otherwise cold, damp day in the District. They were symbols of a holiday. Matt Harvey Day. And "HAR-VEY'S BET-TER!" was the anthem.
Making his first big league appearance in 593 days, Harvey looked like Matt Harvey again, delivering six shutout innings to outpitch Stephen Strasburg in a 6-3 win over the Nationals. It was vindication for the thousands of fans who had waited nearly 18 months to watch him pitch again. It was vindication for a year and a half of rehab.
"You take it for what it was," Mets outfielder Michael Cuddyer said. "It was a great start for him."
Considering the 90-something pitch count the Mets imposed upon him, it was essentially the best start that Harvey could have provided. Striking out nine, the right-hander reached 97 mph with his fastball. He walked one batter in his first outing since undergoing Tommy John surgery in Oct. 2013, allowing four hits.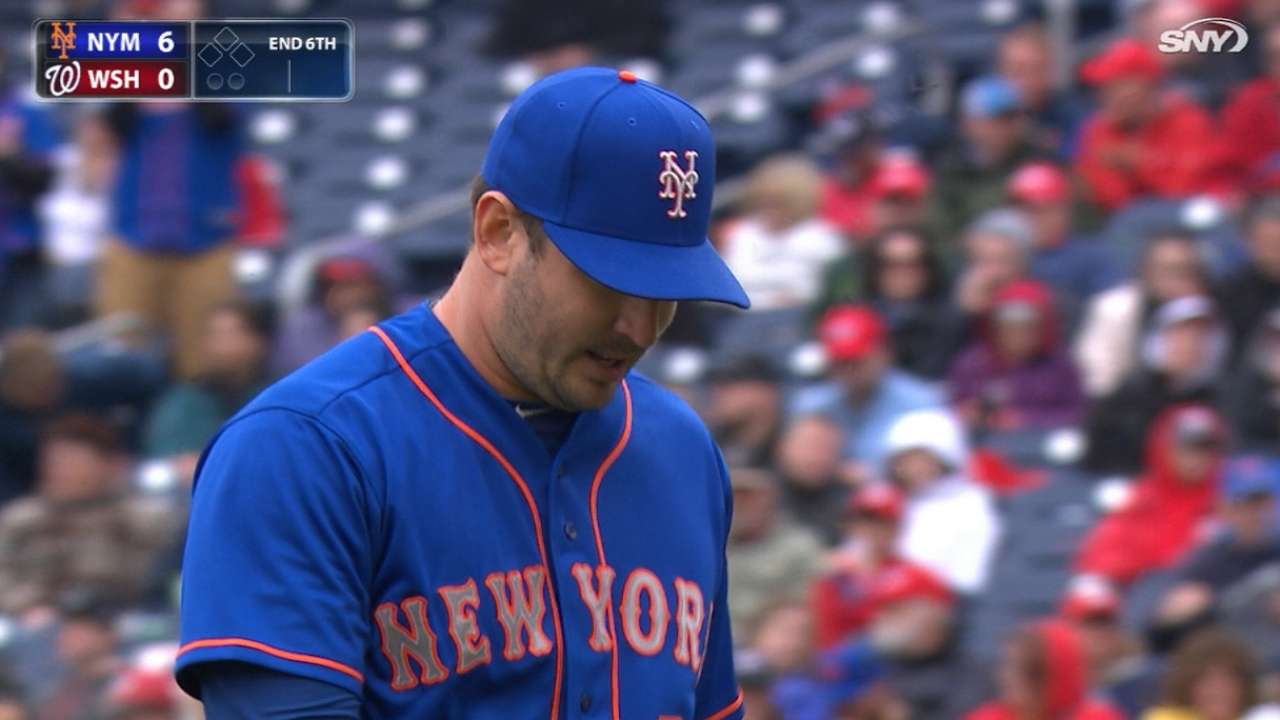 Harvey's exclamation points were three whiffs of Nationals outfielder Bryce Harper, all of them on 96- or 97-mph fastballs -- proof, for Harvey, that nothing was missing after 17 1/2 months of rehab.
"I've said it a million times," Harper said. "He's going to be Cy Young one day and everybody knows that."
Harvey's Mets teammates did the rest, taking advantage of Ian Desmond's third error in three games to plate three unearned runs in the third inning, two of them on a Travis d'Arnaud single. A David Wright two-run hit in the sixth gave the Mets a six-run lead and chased Strasburg, prompting the chanting from Mets fans in the crowd -- a reference to April 19, 2013, when Harvey outdueled Strasburg at Citi Field in what became something of a coming-out party for him.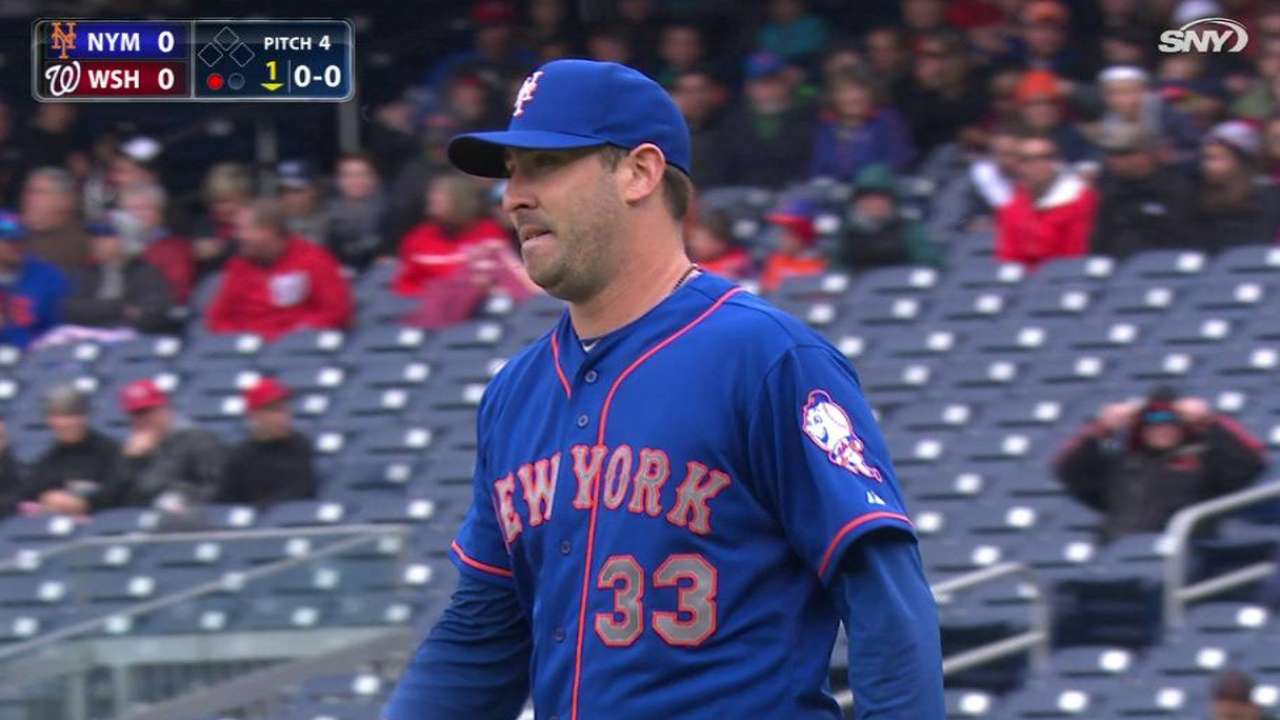 This one was more of a coming-back party, even if Harvey's dominance made it seem as if he never left. Given 91 pitches, Harvey generated 15 swinging strikes. He threw 95-plus with his fastball, regularly touching 97. He made, in Wright's words, "pretty good hitters look foolish."
"He was throwing strikes," Wright said. "That's what makes him so good, is he can rear back and throw the ball by you, or he can outpitch you."
Then there's the confidence boost that having someone of Harvey's caliber on the mound gives the Mets. Maybe that's cliché. But everything Harvey brings to the ballpark -- from his stony seriousness to his Dark Knight-etched baseball bats to the competitive edge that dominates his personality -- screams confidence.
"He's such an impressive guy to be around, period," manager Terry Collins said. "Nothing he does surprises you."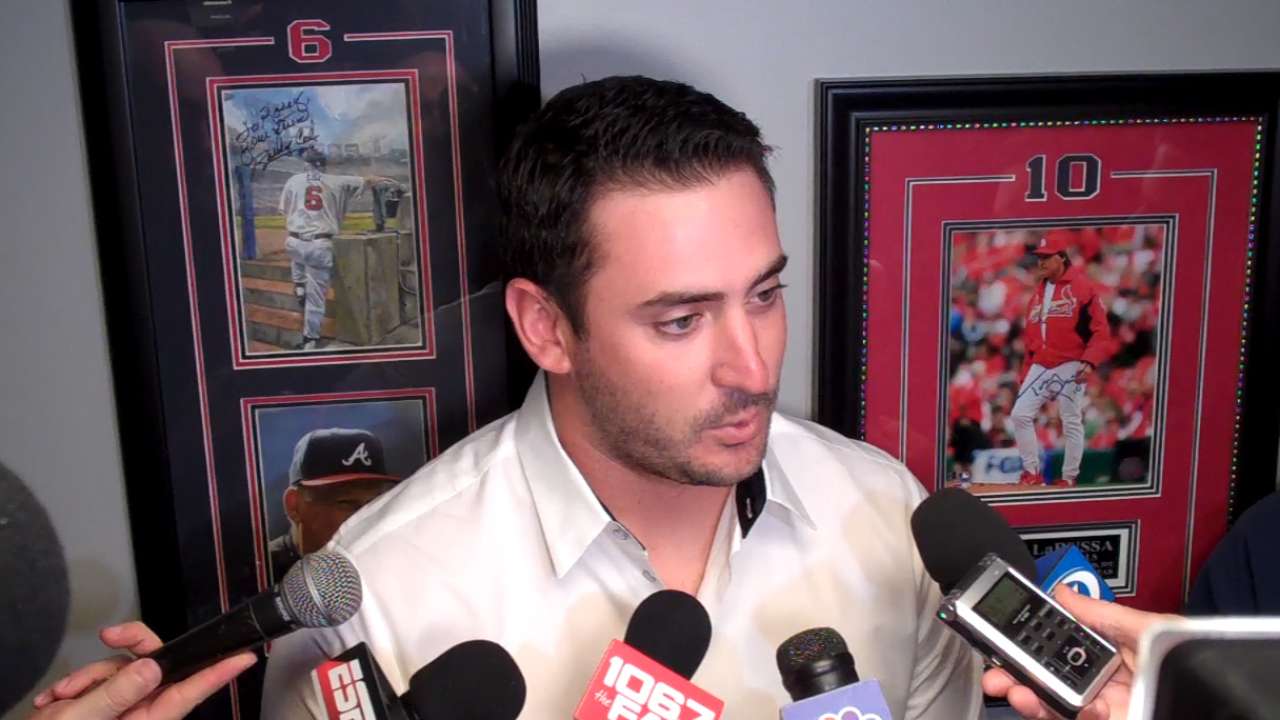 When Collins finally decided to take Harvey out of the game, he knew there was a chance Harvey would fight him on it, even with a six-run lead. So he asked his entire team to line up in the dugout as Harvey walked off the mound, ambushing him with high fives and handshakes.
This time, there would be no negotiating. This time, Harvey understood. The thought of doing all of this again in five days at Citi Field, then again and again and again this summer, was too intoxicating to ignore.
"It can all be taken away pretty quickly," he said, in response to a question about what surgery taught him. "So for me, it's exciting to show up to the ballpark every day."
Anthony DiComo is a reporter for MLB.com. Follow him on Twitter @AnthonyDiComo. This story was not subject to the approval of Major League Baseball or its clubs.