Like father, like son: DeShields Jr. relishes first hit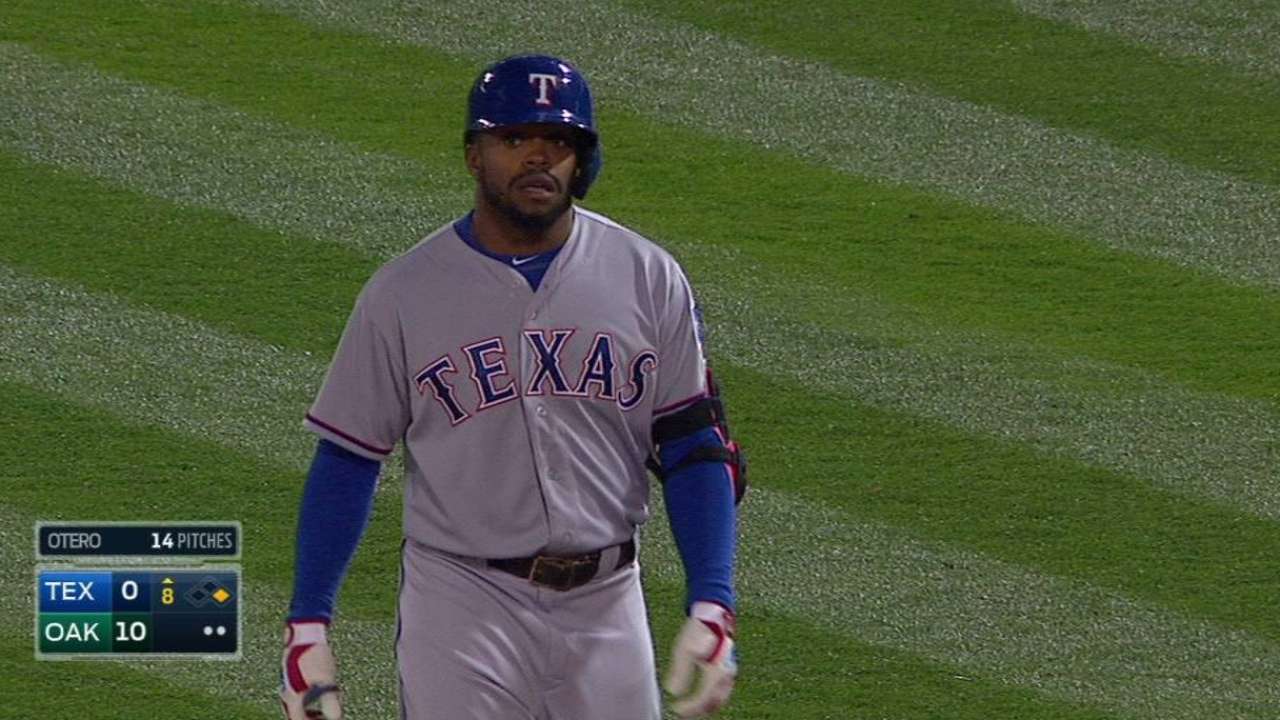 OAKLAND -- One day shy of the 25th anniversary of his father's MLB debut, Rangers rookie Delino DeShields Jr., legged out an infield single to record his first MLB hit in Wednesday night's loss to the A's.
Back on April 9, 1990 -- more than two years before his son was born -- the elder Delino DeShields went 4-for-6 for the Expos in his first big league game. No surprise, he was a proud papa on Wednesday night.
"He said he wanted my first hit," DeShields Jr., said. "He told me that in Spring Training, he said, 'Take care of that ball, because I want it.' I was, like, 'All right.' Guess he wants to put it next to his."
DeShields entered the contest in the seventh inning as a defensive replacement for center fielder for Leonys Martin. The next frame, he hit a high chopper to the left side of the infield and reached base without a throw.
"It didn't feel surreal," DeShields said. "It's obviously pretty cool, but I wasn't even as nervous as I expected to be. It's just baseball to me, whether it's here or [anywhere else]. ... At the end of the day, it's just baseball. But I'm glad I got the first one out of the way. That might allow me to relax a little bit more."
DeShields Jr., was actually one of three players who recorded hits in their respective MLB debuts, as A's infielders Mark Canha and Tyler Ladendorf also registered their first big league base knocks on Wednesday. DeShields, who was selected by the Rangers in the Rule 5 Draft from the Houston Astros, said it gives him peace of mind to know he has a season-long spot on Texas' roster.
"It's nice to know, but I don't let that affect how I go about my business," DeShields said. "I still go about it the same way every single day. Work my tail off just to get better. I'm just preparing myself for the next step, whatever that may be."
Alex Espinoza is a contributor to MLB.com This story was not subject to the approval of Major League Baseball or its clubs.