Harper armed, ready to help Nationals on defense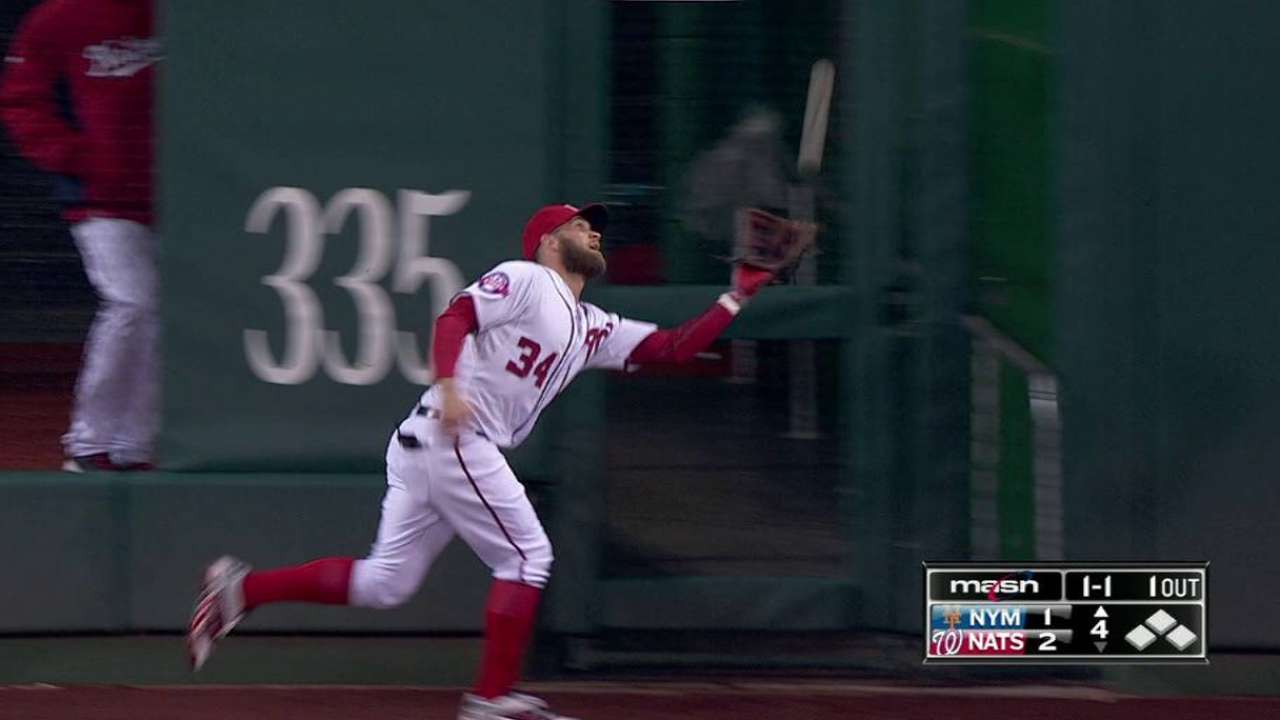 WASHINGTON -- The Mets' Lucas Duda and David Wright both faced the same choice at different points on Wednesday night against the Nationals -- to run, or not to run, on Bryce Harper.
Both chose not to go for a double, decisions Harper validated with strong throws. The Nationals had multiple reasons for shifting Harper from left to right field this year, swapping places with Jayson Werth, but one was Harper's powerful right arm. The ultra-confident 22-year-old certainly doesn't mind if opponents want to test him, even if they haven't so far in 2015.
"Of course you want to get that out," Harper said. "That's huge. But if I can leave [the runner] at first base, that's something that is going to help us out.
"But if he goes, he's out. There's no doubt in my mind he's out. We'll see that this year, if guys are going to do that. Time will tell. We'll see."
With the Nats clinging to a one-run lead for the last seven innings of Wednesday's 2-1 victory, Harper's ability to nip potential doubles in the bud also was crucial.
With one out in the sixth, Duda ripped a liner to right. Harper caught a break when the ball one-hopped the wall near the corner and caromed right back to him, and he capitalized with a one-hop rocket of his own, right to second base. Duda, not exactly fleet of foot, never had a chance and was forced out on the next play.
Two innings later, Wright hit a liner over the head of second baseman Dan Uggla and into the gap. Harper raced over and cut if off in front of the warning track, then fired a strike to the right side of second. Wright slammed on the brakes and retreated to first, then was doubled off when Duda lined out to the mound.
"It's great for our team to have him out there," manager Matt Williams said, "and potentially be able to stop those guys going from first to third and have it in the back of the opposing team's mind that, 'Hey, listen, he's out there,' and they think twice about it."
Andrew Simon is a reporter for MLB.com. Follow him on Twitter @AndrewSimonMLB. This story was not subject to the approval of Major League Baseball or its clubs.