Nolasco heads to Minnesota to get elbow checked out
Veteran righty allowed six runs, exited game in fourth inning Wednesday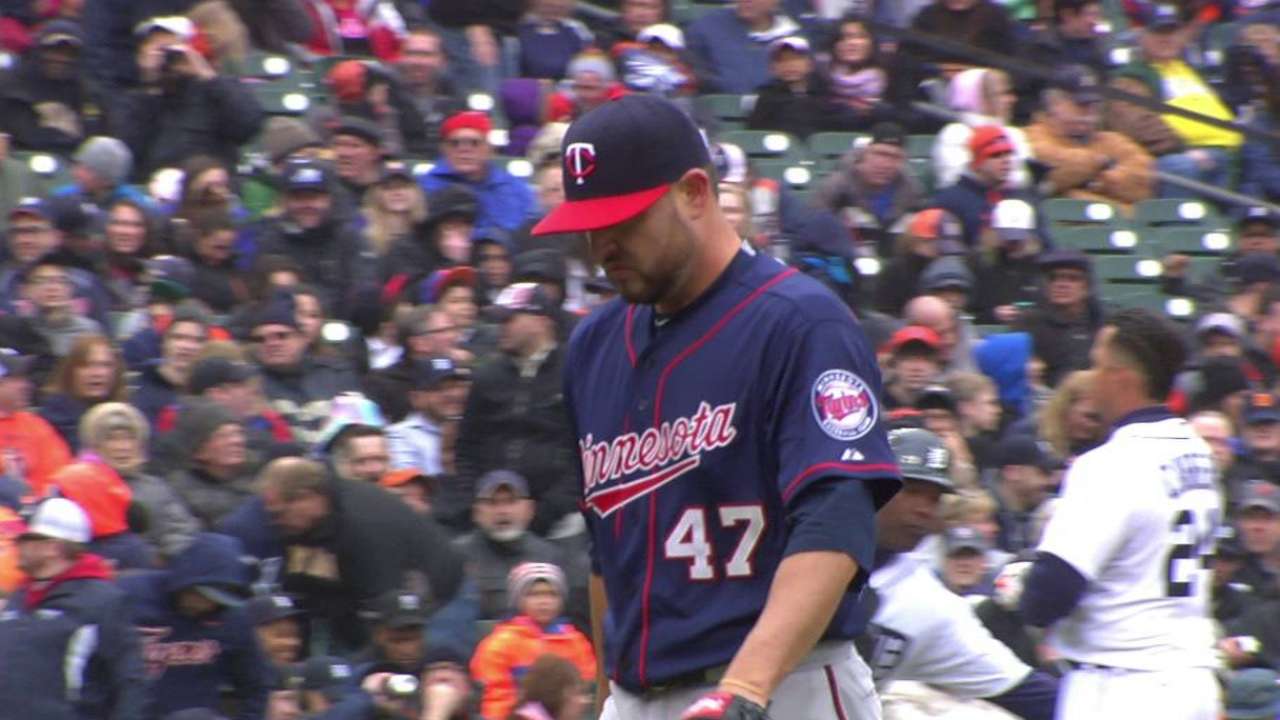 DETROIT -- Twins right-hander Ricky Nolasco flew back to the Twin Cities to get his right elbow examined after feeling discomfort on a pitch to Tigers catcher Alex Avila on Wednesday.
After feeling the pain in his elbow after throwing to Avila in the fourth inning, Nolasco remained in the game to face two more batters. Nolasco, who gave up six runs on six hits and four walks over three-plus innings, told the training staff about his elbow after leaving the game.
"Ricky felt a little bit of a spike in his elbow during a particular pitch during his last inning of work," Twins manager Paul Molitor said. "I wasn't aware of it at the time and no one on the staff was aware of it. When he came in, he said he had a little soreness in his elbow coming from one pitch in particular. So we thought the prudent thing was to send him to Minneapolis to see our doctors and get tested."
Nolasco dealt with an elbow-related problem throughout last year, including missing 32 games with a flexor-pronator strain in July and August. But Molitor said that last year's strain was more in his forearm, so it's hard to say if this injury is related to it.
"From what I understand, last year was more of a forearm-flexor thing than an elbow thing," Molitor said. "So I think to try to pinpoint whether it's the same thing now is a little premature."
Nolasco pitched with decreased velocity in his season debut on Wednesday, as his fastball averaged 89.4 mph, according to Fangraphs.com. It's a drop-off from last year, when his fastball averaged 90.3 mph, but it was just Nolasco's first start of the year and he was pitching in 39-degree weather.
Nolasco's velocity didn't dip by much after facing Avila, as he remained in the game to throw six more pitches, including three sliders and three fastballs registered at 88, 88 and 87 mph.
Nolasco, who signed a four-year deal worth $49 million before last season, was looking to bounce back this year, and he entered camp leaner and in better shape. He was solid in Spring Training, posting a 3.97 ERA in 22 2/3 innings.
"He was good all spring," Molitor said. "You don't want to get too far ahead of yourself. You're just hoping he goes up there and finds out there's nothing major wrong with his arm and maybe elbow soreness, and we'll make an adjustment."
It's too early to know if he'll need to go on the 15-day disabled list, but if he does, options include prospects Trevor May and Alex Meyer, who are both at Triple-A Rochester.
Rhett Bollinger is a reporter for MLB.com. Read his blog, Bollinger Beat, and follow him on Twitter @RhettBollinger. This story was not subject to the approval of Major League Baseball or its clubs.