When it comes to diet, Guyer is Mr. Clean
Rays outfielder fuels body with whole, organic foods for peak performance
ST. PETERSBURG -- Brandon Guyer eats clean -- and not in the sense that he doesn't spill his food.
The Rays outfielder pays attention to what he eats. As a professional athlete, Guyer treats his body to the fuel he feels will afford him the best chance for reaching peak performance.
Good health is driven largely by what one puts in one's body. Eating whole, fresh foods will bring an altogether different look than eating junk. But following Guyer's path doesn't mean he limits his diet to tree bark and figs.
Take red meat, a food many believe to be bad for one's health. Guyer begs to differ.
"So many studies have shown that it's good for you and good for cholesterol," Guyer said. "But you have to eat the right kind of red meat.
"It's not just any red meat I eat. It has to be good-quality grass-fed, free-roaming wild meat. And grass-finish. A lot of places will do grass-fed, but at the end, they'll feed [the animals] the grains to get the marbling and more flavor. It's just really good fats for you. Good omegas."
Among the meats Guyer embraces: Ground beef, bison, lamb, elk and venison. Not exactly mainstream fare, so Guyer must seek out the foods he wants to put into his body. For example, he found a ranch in Colorado that sends him grass-fed organic meat.
"You want grass-fed, but you want it to be organic, too," Guyer said.
On Thanksgiving, Guyer cooked for his family. The store at which he bought the turkey ranks its products from one to five, with "five as clean as you can get."
Meaning the animal "lived the best life possible," said Guyer, noting that the turkey he selected received a grade of four. That prompted Guyer to ask the butcher why the turkey was a four instead of a five.
"A dog lived on the premises and stressed out the animal," Guyer said. "That's why the turkey was a four. I still bought that one. I think it lived a pretty good life."
Guyer routinely packs a suitcase full of foods and supplements when the Rays take to the road. That bag will be bulging Thursday, when the team takes off for a seven-game road trip against the Marlins and Blue Jays.
Teammates and fellow clean eaters Chris Archer and David DeJesus often accompany Guyer to foodie havens while on the road.
"It's fun to go to all of these cities and check 'em out," Guyer said. "Minnesota, for instance, had a place that had kangaroo. I would never look for that, but because they did, I figured I might as well try it. And it was amazing. Every city has something different to offer."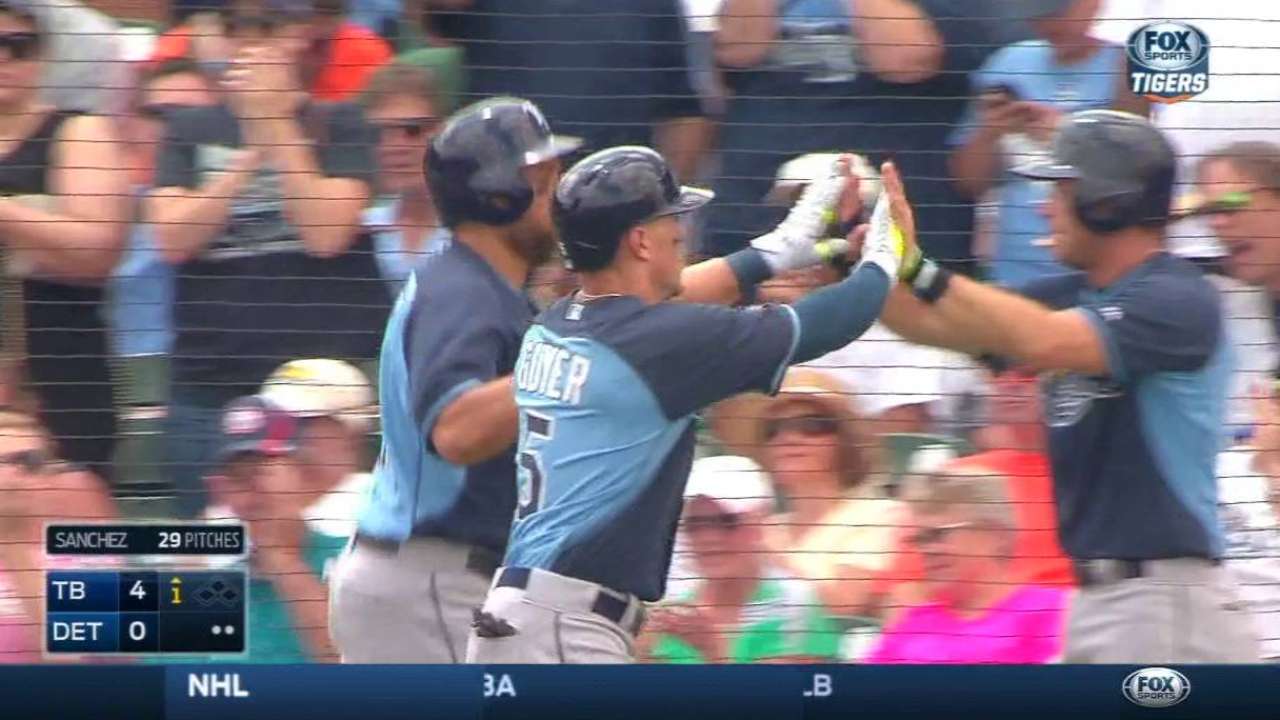 Eating clean works for the 6-foot-2, 200-pound Guyer, though the junk food faction always likes to cite the work done by Babe Ruth, who fueled up with hot dogs and beer. Guyer smiled at the mention of The Bambino's diet and his success.
"I hear that a lot," Guyer said. "But I feel like the game has evolved so much. It's not really like it used to be. For me, I'm a different player than that. I need to have speed, power -- kind of use all five tools. So I think the cleaner I eat, the better my body feels. I'm going to have a better chance to do that."
Would Ruth have been a better player on grass-fed beef?
"I think so," Guyer said. "I think there's a great chance he would have, had he eaten really clean. But at the same time, everyone has to do what they think is best for themselves. If he did that, it might not have worked for him. But for me personally, I do it so I can make the absolute most out of our potential."
Bill Chastain is a reporter for MLB.com. This story was not subject to the approval of Major League Baseball or its clubs.