Did you know? Facts about Adrian's monster night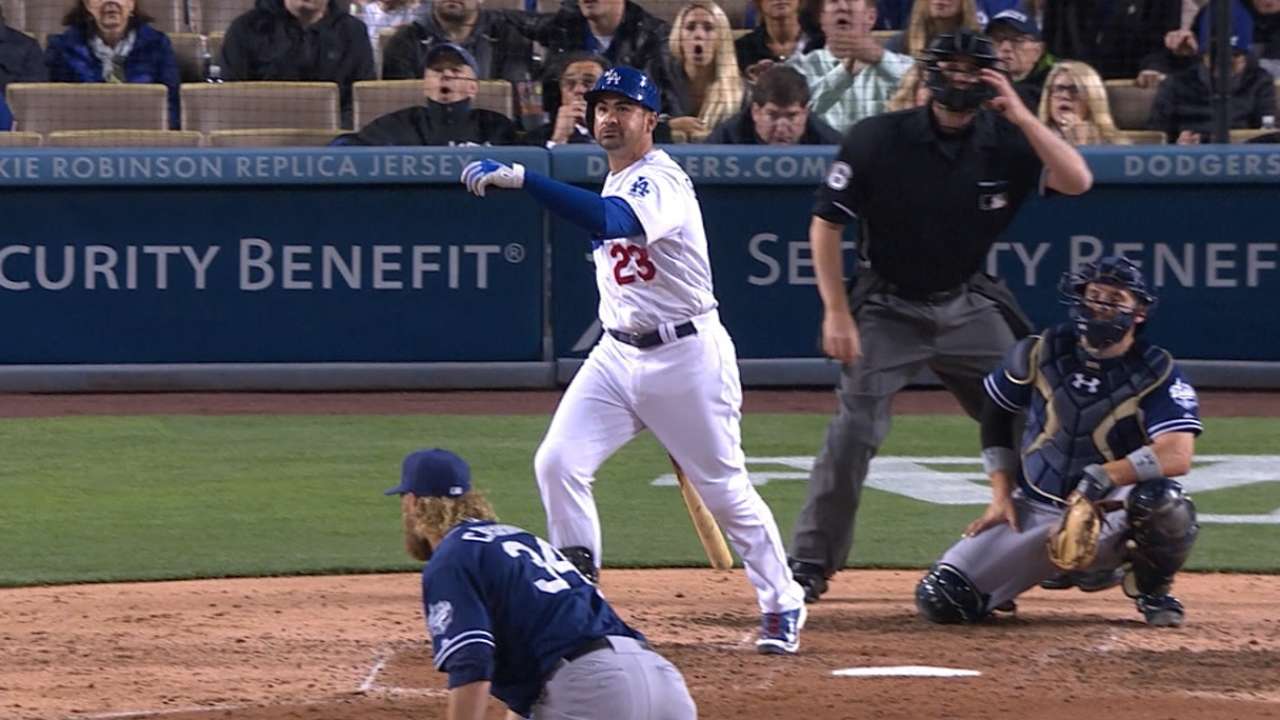 Here are a few facts and figures in the wake of Adrian Gonzalez's three-home-run night in the Dodgers' 7-4 win over the Padres on Wednesday.
How many times have players hit three homers in a game?
A lot. More than 500, in fact. And then there are the 14 players who have hit four in one game. The last time that happened was May 8, 2012, when Josh Hamilton, then on the Rangers, clubbed four against the Orioles (and drove in eight runs).
OK, fine. But when's the last time someone hit three in a game before A-Gone?
The last time prior to Wednesday was June 9 of last year, when Indians third baseman Lonnie Chisenhall went yard thrice against Texas, driving in nine. It happened two more times in 2014, with Chris Davis of the Orioles doing it against Pittsburgh on May 20 and Ryan Braun of the Brewers hitting three long balls against the Phillies last April 8.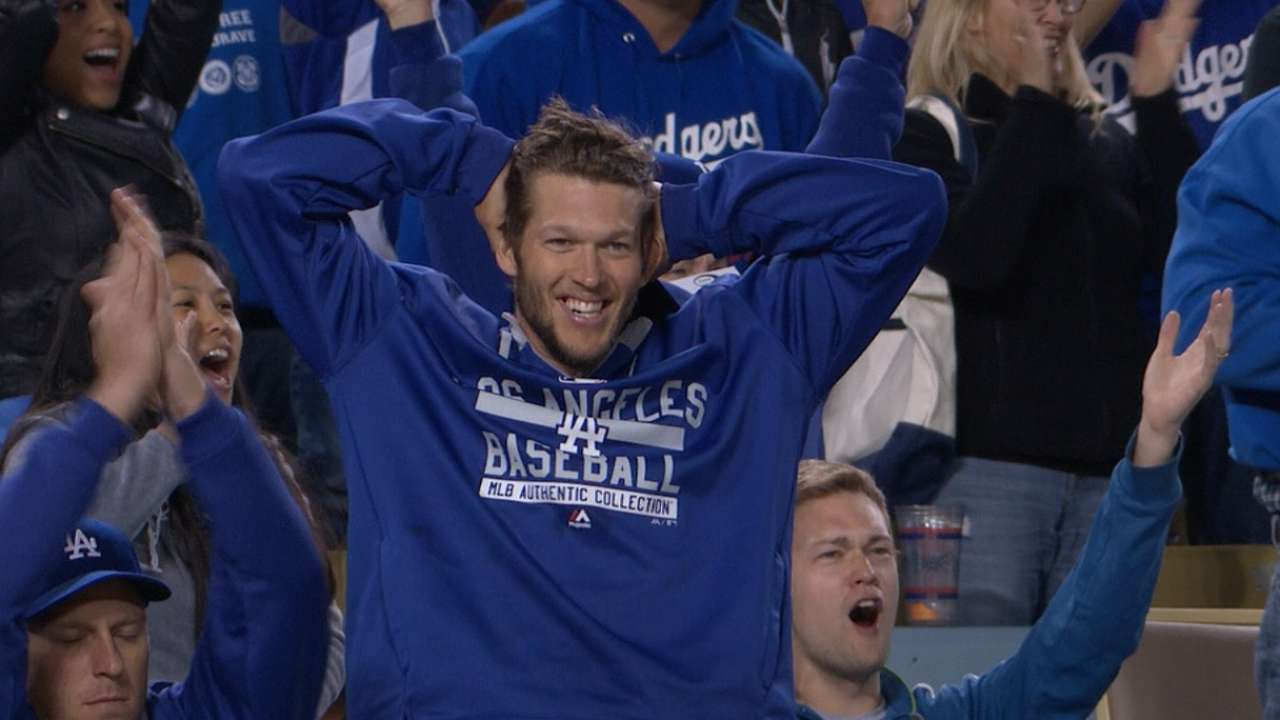 Who's the last Dodger to homer three times in a game?
That would be none other than Juan Uribe, who did it against Arizona on Sept. 9, 2013.
Is this the earliest in a season that a player has hit three homers in a game?
No, but by doing it in his team's third game of the year, Gonzalez became the earliest to do it in a season since Dmitri Young did it for the Tigers on Opening Day in 2005, 11 years after the immortal Tuffy Rhodes swatted three for the Cubs against the Mets in the season lid-lifter. George Bell of the Blue Jays is the only other player to homer thrice on Opening Day. He did it against the Royals in 1988.
Has any player hit three homers in a game more than once?
Gonzalez hasn't -- this was the first three-homer game of his career -- but a lot of others have. The leaders of that particular feat are Sammy Sosa and Johnny Mize, both of whom homered three times in six games. Next, with five three-homer games, are Mark McGwire, Dave Kingman, Carlos Delgado (one of which was a four-homer game) and Joe Carter. Albert Pujols is one of 10 players with four three-homer games (the others are Willie Stargell, Alex Rodriguez, Aramis Ramirez, Larry Parrish, Ralph Kiner, Lou Gehrig, Steve Finley, Barry Bonds and Ernie Banks), and Pujols also had one in the 2011 World Series. Babe Ruth is the only player in history with two three-homer games in the postseason.
Which single regular season featured the most three-homer games?
That would be the rock-'em, sock-'em season of 2001, when 22 players had three-homer games, including Sosa, who did it three times that year, and Delgado and Jeromy Burnitz, who each did it twice.
Did Gonzalez set any records with his three-homer game?
Actually, he did. By homering once in each of his first two games and then unloading for three more Wednesday, Gonzalez became the first player in Major League history to hit five home runs through his team's first three games of a season, according to Elias Sports. Gonzalez is also the third Dodger to homer in the first three games of the season since at least 1914 and the first Dodger since at least 1914 to have three hits in each of the first three games.
What would be a good theme song for Gonzalez's accomplishment?
We'll go with "Gone, Gone, Gone" by the Everly Brothers.
Doug Miller is a reporter for MLB.com. Follow him on Twitter @DougMillerMLB. This story was not subject to the approval of Major League Baseball or its clubs.