Iwakuma gets back in 'groove' after rough start
Mariners starter allows 4 earned runs in first 2 innings vs. Angels
SEATTLE -- Hisashi Iwakuma has been the master of consistency in his first three seasons, but a rough start and a slip-up against Angels slugger Albert Pujols got him in an early hole in Wednesday's 5-3 loss at Safeco Field.
Iwakuma gave up five runs (four earned) in the first two frames. And while he battled back to complete six innings without further damage, the Angels withstood some late challenges to win the season-opening series and hand Iwakuma the loss in his season debut.
"I tried to be too perfect at times and I couldn't get those strikes when I wanted," Iwakuma said through translator Antony Suzuki. "I fell behind and that cost me."
Pujols did the early damage with a two-run blast following Mike Trout's one-out single in the first. Pujols doesn't need any help, with that being the 521st homer of his career. But Iwakuma aided the veteran slugger with a poor pitch that sailed up in the zone.
"The ball actually slipped out of my hand," Iwakuma said. "I knew right when I released it that the ball was going to be up and he didn't miss it."
"It was supposed to be a fastball down and away," said catcher Mike Zunino, "and it just sailed up and in on him. When you miss up in the zone to a guy like Albert, he's going to hit mistakes and he did a great job of hitting one."
The Mariners didn't help Iwakuma any when Robinson Cano let Erick Aybar's ground ball roll under his glove when the infield was pulled in with runners on second and third after Pujols' blast. Two more runs scored there and the Angels made it 5-0 with another tally in the second.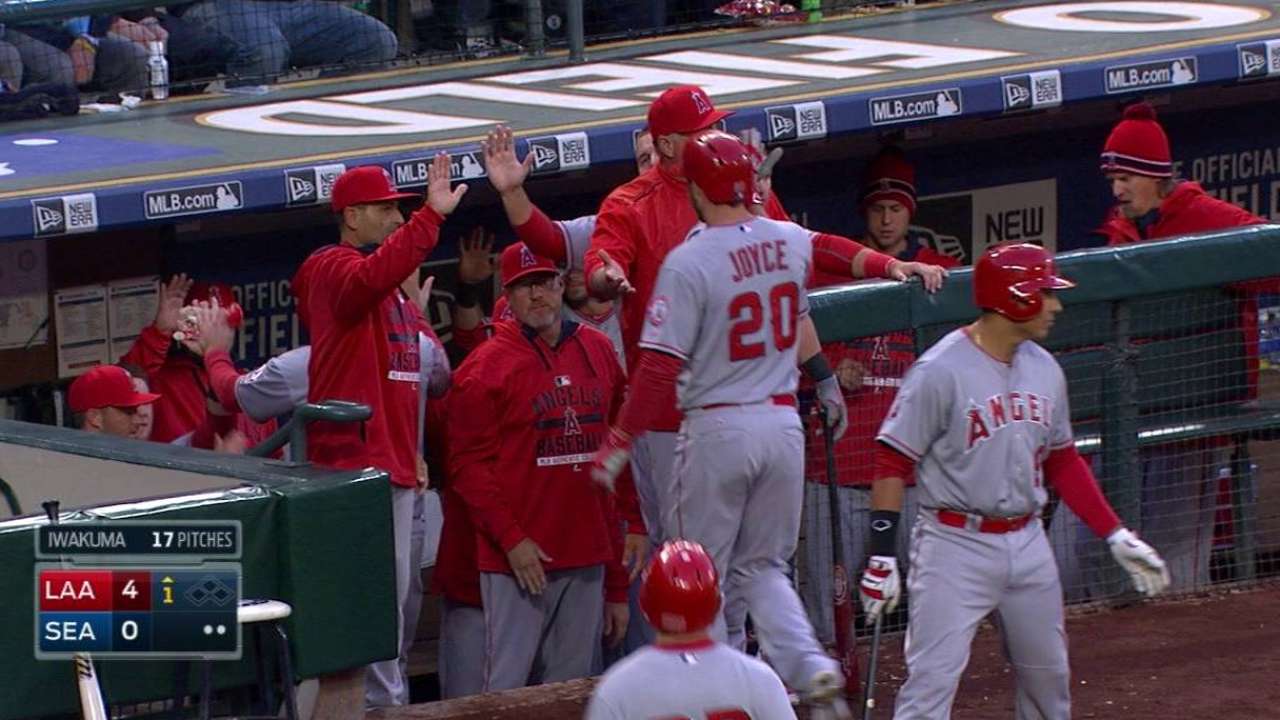 Given that Iwakuma had a 2.82 ERA at Safeco Field in his career and never had allowed more than six runs in 42 starts at home, that was about as rough an opening as you could imagine from the 2013 American League All-Star.
But he buckled down from there and looked more like the pitcher expected to help anchor Seattle's well-regarded rotation this season from the No. 3 spot behind Felix Hernandez and James Paxton.
"He was up in the zone a lot the first couple innings," manager Lloyd McClendon said. "He just couldn't quite seem to get it down and they took advantage of it. And we didn't help him on a couple plays we probably should have made."
Iwakuma had a blister on his right index finger that kept him from throwing his trademark splitter in his final spring outing, but he said that wasn't an issue Wednesday.
"The finger wasn't bothering me at all," he said. "I just didn't have a good feel, a good grip of the split and they were taking good pitches. You just have to tip your cap to their hitters."
"He threw it great later," McClendon said of the splitter. "I think he settled down and finally found his groove and threw the ball pretty good. He actually saved us. He gave us six innings."
And Iwakuma, who will next face the Dodgers on Tuesday in Los Angeles, said he can build off that going forward.
"I started off shaky today," he said. "But as a starter, it's your duty to go as long as you can to save the bullpen. I'm glad I got back into my groove from the third inning on."
Greg Johns is a reporter for MLB.com. Follow him on Twitter @GregJohnsMLB as well as his Mariners Musings blog. This story was not subject to the approval of Major League Baseball or its clubs.