Gonzalez's dinger spree puts him in record book
Dodgers slugger insists he's not a home-run hitter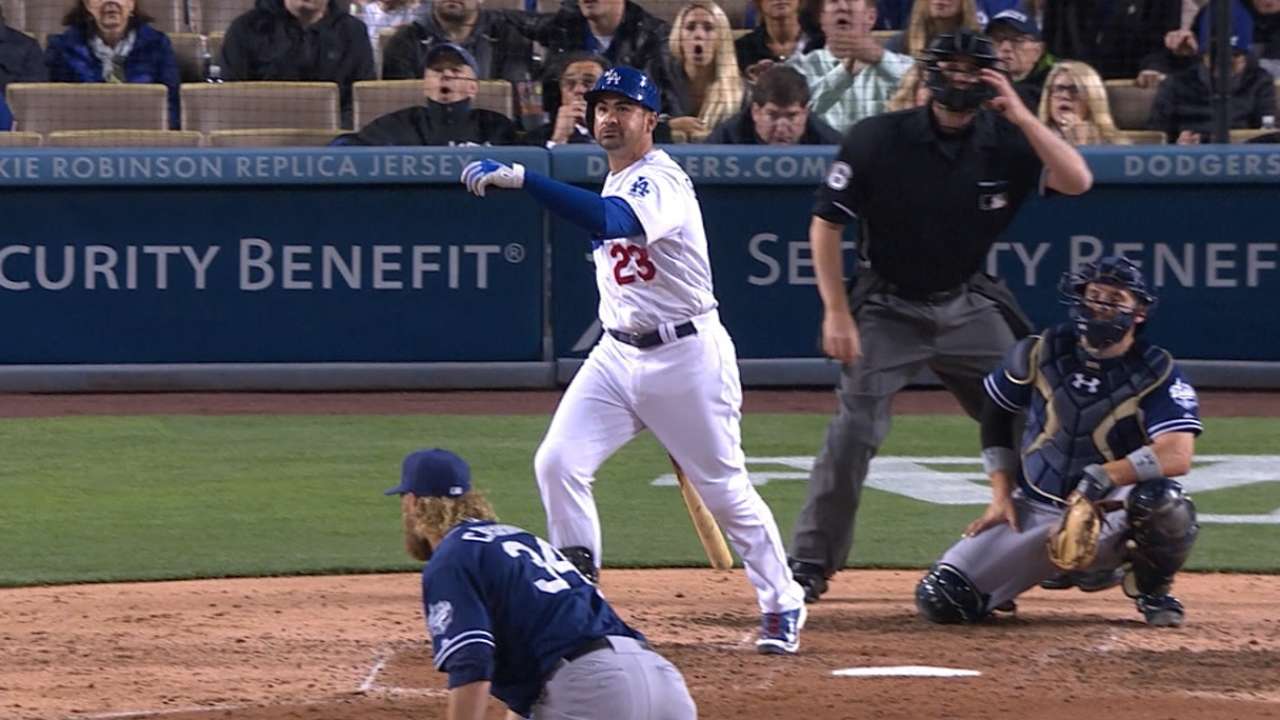 LOS ANGELES -- Next time you're about to panic over anemic Spring Training stats, remember that Adrian Gonzalez hit just .222 in the recent Cactus League.
He's now hitting .769. He became the first player in MLB history to hit five home runs in the first three games of the season when he launched three of them Wednesday night while going 4-for-4 with four RBIs and powering the Dodgers to a 7-4 win over his former club, the San Diego Padres.
"It's cool," he said of the record. "Something like that is always cool. I've just got to thank God."
MLB's RBI leader last year, Gonzalez already has seven. He became the only Dodger since at least 1914 to have three hits in the first three games of the season and the first National Leaguer to do it since Orlando Cepeda in 1963. Gonzalez also joined Carl Furillo (1955) and Jimmy Wynn (1974) as the only Dodgers since 1914 to homer in the first three games of a season.
"I'm still not a home-run hitter," insisted Gonzalez. "I just try to hit line drives. If they go over the fence, they go over the fence."
His manager said he buys Gonzalez's explanation. Don Mattingly had pretty much the same idea when he was a line-drive run producer who found himself in a few home-run binges, too.
"Home runs come through the swing," he said. "He's not a guy that goes up there trying to hit home runs. He tries to hit the ball hard. Adrian can really hit. He knows what he's doing. I love our guys to learn from him. He's a constant and has been since he got here. He's been that guy you don't really have to worry about."
This was the 18th multi-homer game for Gonzalez, but the first with three.
"He's about as locked in as a guy can be," said Dodgers starting pitcher Brandon McCarthy. "He's a nightmare for any pitcher to face right now."
All three of Gonzalez's home runs were solo shots and came off fastballs from losing pitcher Andrew Cashner.
"A one-man show," said Padres manager Bud Black.
"I felt I had a great game plan; I just didn't execute and made three mistakes," said Cashner. "I thought I could have moved his feet, he's pretty comfortable right now. I could have changed speeds on him. It was bad execution all the way around tonight."
Gonzalez homered with two out and the bases empty in the first inning and led off the third and fifth with home runs. Facing left-hander Frank Garces with two outs in the sixth inning, he singled to center for another RBI. He was on deck with a runner on third base when Yasiel Puig ended the eighth inning by lining out.
In the three games, Gonzalez went 10-for-13 with seven extra-base hits. His slugging percentage is 2.077. He's on a seasonal pace for 270 homers and 378 RBIs. He went 27 and 116 last year.
Ken Gurnick is a reporter for MLB.com. This story was not subject to the approval of Major League Baseball or its clubs.