Miller impressive in Braves debut
Right-hander tosses five scoreless innings to help complete sweep
MIAMI -- As Shelby Miller navigated his way through his first start of the season on Wednesday night at Marlins Park, he provided some indication as to why the Braves targeted him as the Major League-ready starting pitcher they wanted from the Cardinals in exchange for Jason Heyward.
Though he encountered some deep counts that damaged his pitch count, Miller proved steady through the five scoreless innings he provided while helping the Braves complete a three-game sweep with a 2-0 win over the Marlins.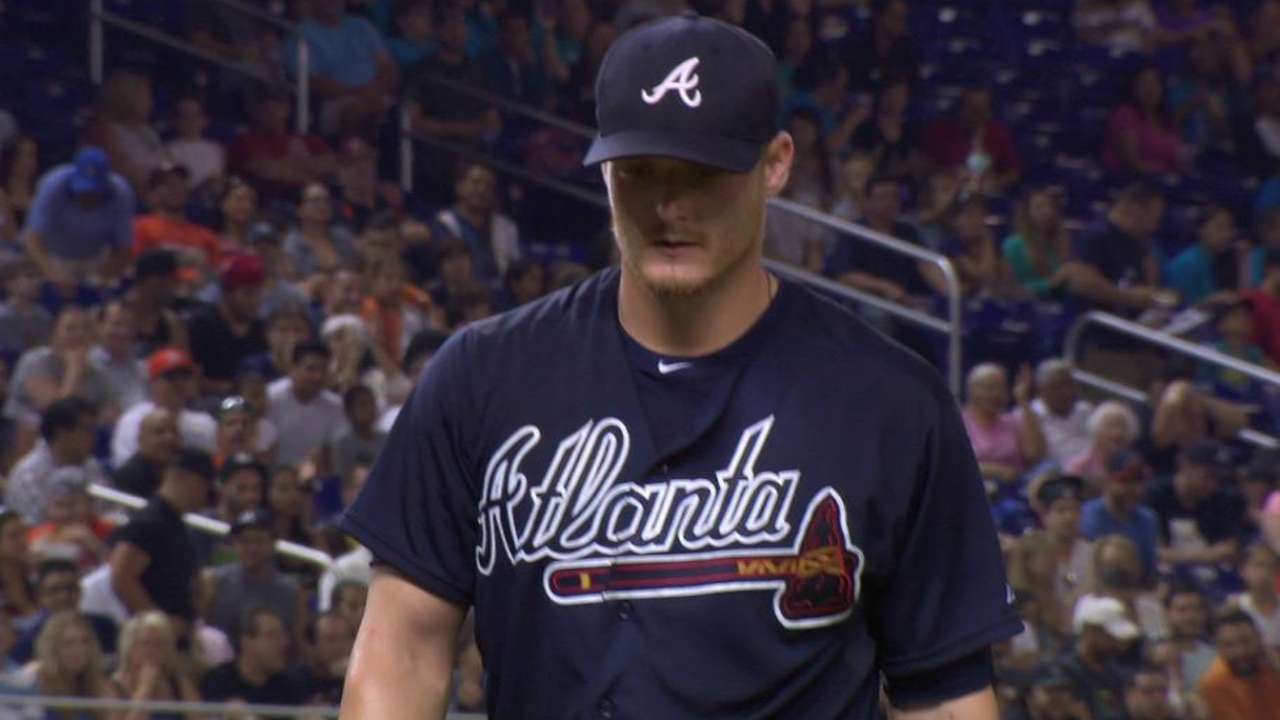 "He threw the ball well for five innings," Braves catcher A.J. Pierzynski said. "Obviously, you'd like to see him go a little bit deeper. But at the same time, no runs and he kept us in the game. Their guy was matching him pitch-for-pitch. Fortunately, we were able to get to their guy before they were able to get to ours."
Along with providing the decisive two-run homer off Tom Koehler in the seventh inning, Pierzynski was behind the plate helping Miller get through his 97-pitch outing unscathed. The two had spent some time working as batterymates with the Cardinals last year.
Miller's night concluded with a 21-pitch perfect fifth inning that was elongated by the nine foul balls from Dee Gordon and Christian Yelich. The Braves right-hander also encountered some bad luck when he needed to throw an additional 17 pitches after Gordon registered the first of two consecutive infield singles in the third inning.
Yelich recorded the second of those consecutive infield singles, and Giancarlo Stanton drew a walk to load the bases. But Miller escaped unscathed when Andrelton Simmons gloved Michael Morse's sharp grounder and flipped to second base to end the third inning.
"I obviously wanted to be more efficient than five innings, but they put together some good at-bats that eventually led my pitch count to get up," Miller said. "I know Gordon and Yelich did a really good job to foul off some good pitches and rose the pitch count up a little bit. Tip your cap to a good lineup. It was a battle out there."
Mark Bowman is a reporter for MLB.com. This story was not subject to the approval of Major League Baseball or its clubs.