Granderson, Mets miss early golden opportunity
Right fielder unhappy with third-strike call that leaves bases loaded in second
WASHINGTON -- Curtis Granderson lifted his right foot, dropped it back to the dirt, and during some fraction of a second of that process, decided not to swing. Jordan Zimmermann's 86-mph slider dropped in -- maybe nicking the top edge of the strike zone, maybe not. It was up to home-plate umpire Tim Timmons, who leapt out of his crouch and called strike three.
The top of the second inning ended. The Mets left the bases loaded. And they never really threatened against Zimmermann and the Nats again in a 2-1 loss Wednesday at Nationals Park.
"I just thought it was not a strike," Granderson said. "But that's me up there as a hitter. If you ask the catcher, he'll probably think something different. If you ask the umpire, he'll think something different. If you ask the pitcher, he'll think something different. It's a judgment call regardless, and he called it a strike."
For the Mets, it wound up being the most significant plate appearance in a game that saw them struggle offensively, mustering just six hits -- all singles -- and a walk off Zimmermann and three relievers.
The second-inning rally began when Daniel Murphy, Juan Lagares and Travis d'Arnaud cracked Zimmermann for consecutive one-out singles, cutting an early 2-0 deficit in half. But pitcher Jacob deGrom, batting eighth in the lineup instead of ninth, popped up his ensuing bunt attempt. First baseman Ryan Zimmerman came racing in, diving to snare it just before it hit the turf.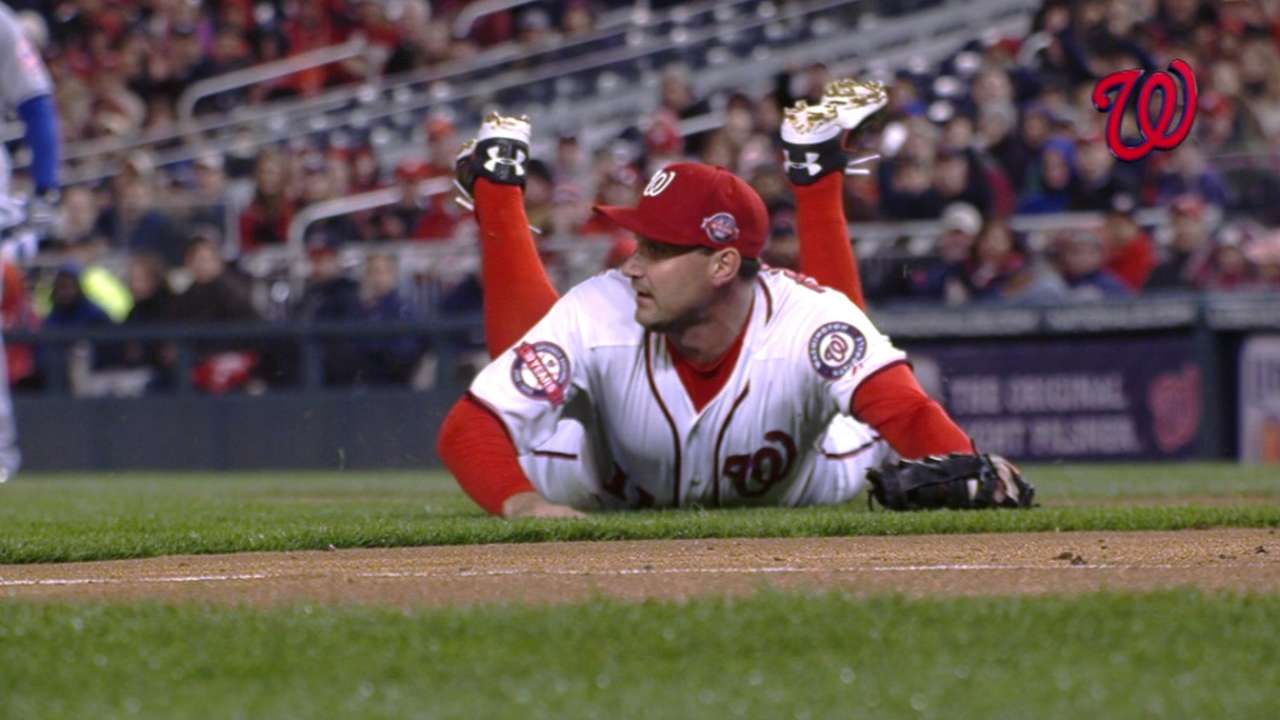 "That's what I'm supposed to do over there," Zimmerman said. "A lot of time, a runner on first and second, they usually bunt the ball to third base. I guess they were trying to pick on me, which I can't blame them. It's weird to bunt it that way. They usually bunt it toward third base."
Changing the entire complexion of the rally, the popout proved costly when the next batter, Wilmer Flores, reached on an infield single that loaded the bases instead of plating a run. That brought up Granderson, who ran the count full before watching Zimmerman's 86-mph slider whizz by. Never much of an arguer, Granderson exchanged a few words with Timmons before taking his position back in the field.
He had reason to be upset. Fresh off a torrid spring that saw him bat .442 with five doubles and three home runs in 52 at-bats, Granderson has opened this season 0-for-7 with two strikeouts and two walks. Nine plate appearances are not enough to determine much of anything, particularly considering most of them have come against Zimmermann and Max Scherzer, two of the National League's best pitchers. But it's easy to remember how slowly Granderson started last season, beginning his Mets career in an 11-for-85 (.129) funk.
"Spring Training's one thing," Granderson said. "The season's another."
Anthony DiComo is a reporter for MLB.com. Follow him on Twitter @AnthonyDiComo. This story was not subject to the approval of Major League Baseball or its clubs.