Early returns on revamped bullpen look good
Veteran Grilli notches second save; rookie Cunniff earns win in relief vs. Marlins
MIAMI -- When the Braves traded Craig Kimbrel to the Padres on Sunday, they were confident that veteran relievers Jason Grilli and Jim Johnson were quite capable of protecting late-inning leads on a consistent basis. But there was definite concern about the depth of their bullpen, which consisted of two pitchers who had never pitched above the Double-A level before this week.
Time will tell if this lack of experience will indeed prove to be a detriment over the course of the entire season. But after completing a three-game sweep with Wednesday night's 2-0 win over the Marlins, the Braves had a little less reason to be concerned about Brandon Cunniff and some of their other young relievers.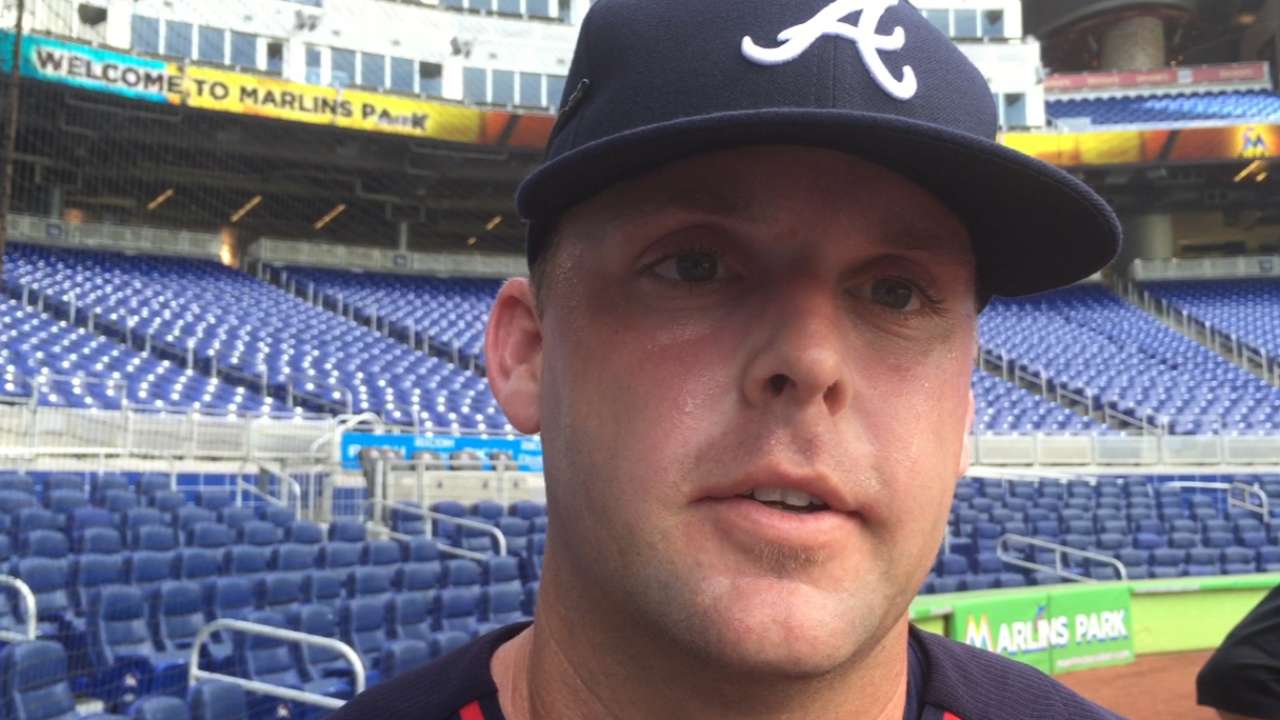 "We've got guys down there [in the bullpen] that can do it," Braves manager Fredi Gonzalez said. [Luis Avilan's] last couple outings have been terrific. Johnson has a nice track record and Grilli the same. You feel like if you have a lead late in the game and go to those guys, you're going to be OK."
The Braves' bullpen surrendered three hits and issued two walks while not allowing a run over 11 innings during this three-game series against the Marlins. After Johnson bridged the gap to the ninth inning on Monday and Wednesday, Grilli did his best Kimbrel imitation with a couple of perfect appearances that netted him a pair of saves.
"We've got two pretty good guys at the back end who have done some pretty special things in their careers," Braves backup catcher A.J. Pierzynski said. "I know Jimmy Johnson. Having faced him, I always ask him how he's ever given up a hit. Grilli is just such a competitor. Those two guys are pretty good at the back end."
Now that Johnson has regained the sinker and confidence that he lost while struggling mightily with the A's and Tigers last year, the Braves do have a formidable duo at the back end of their 'pen. There has also been reason to be encouraged by the improvement shown by Avilan, the left-hander who induced a key double play on Monday and got the final out in Wednesday's seventh inning.
But the most encouraging development of the week was provided by Cody Martin and Cunniff, a pair of right-handers who did not allow a run while making their respective Major League debuts on Tuesday night. If they both extend their success, the Braves might grow confident that they already have the pieces necessary to record outs in the middle innings and bridge the gap to the proven veteran relievers.
After working a scoreless inning during Tuesday night's 12-2 win, Cunniff faced more pressure when he entered Wednesday's game with the two teams scoreless. The right-hander, who was pitching in an independent league just two years ago, completed 1 2/3 scoreless innings to notch his first career victory. Gonzalez rewarded his green reliever by giving him the lineup card after the game.
"It's a long road and pretty soon there will be scouting reports out there," Gonzalez said. "Pretty soon, there will be a lot more video out there and we're going to have to make adjustments. They don't call it the big leagues for nothing. But so far, I think [Cunniff] has been terrific."
Mark Bowman is a reporter for MLB.com. This story was not subject to the approval of Major League Baseball or its clubs.