Koehler effective until fateful last pitch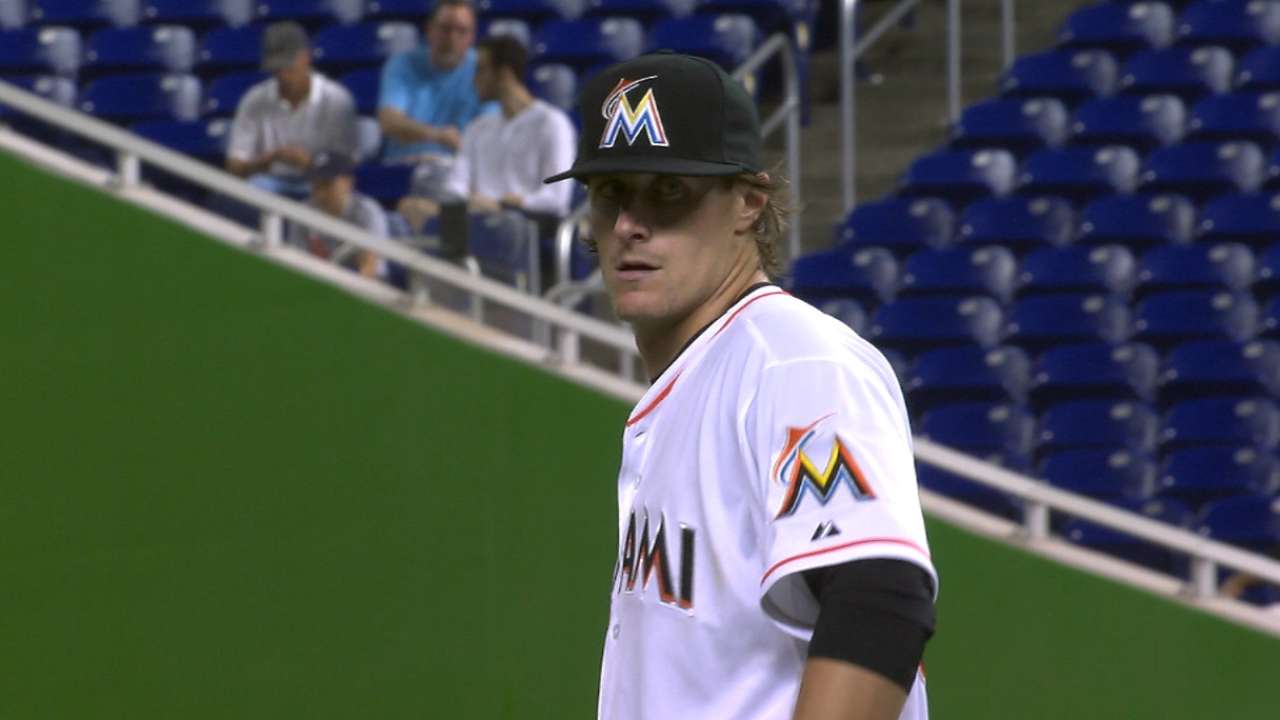 MIAMI -- Reflecting on Wednesday's outing, Tom Koehler was pleased with the first 91 pitches he threw. It's pitch No. 92 that bothers him.
It was a 90-mph fastball that ran in and A.J. Pierzynski knocked out of the park for a two-run homer that lifted the Braves to a 2-0 victory over Miami.
Before tossing his final pitch of the night, Koehler was doing exactly what the Marlins needed. He worked to keep Atlanta scoreless, and gave the bullpen a breather after they logged 8 1/3 innings in Tuesday's 12-2 loss.
Pitching late into games is the goal of all starters. And Koehler put himself in position to take the mound in the seventh by putting up zeroes for six innings.
"Those are the innings you want as a starting pitcher," the right-hander said. "You want the manager and the team to have faith in you going out there. When you're putting up zeroes, you want to keep putting up zeroes. That's going to wear at me a little bit."
Koehler ended up getting tagged for the loss because he was able to make it into the late innings. The Braves saw an opening, and capitalized. Freddie Freeman started the seventh off with a single to right.
Pierzynski's blast, the only home run of the series, was the decisive blow.
"He made one bad pitch," manager Mike Redmond said. "But, man, he gave us a chance. He limited the Braves to two runs. If he does that over the course of the year, we're going to win a lot of those games."
On Wednesday, the two runs in six-plus innings wasn't enough because the Marlins offense was shut down.
"I felt good tonight," Koehler said. "I made some mistakes along the way, and guys really picked me up defensively. Obviously, the one glaring mistake is the one that cost us the game. That stings a little bit when guys play so hard behind you, and then you go ahead and give up the game, especially late in the game like that."
The Marlins have high hopes in 2015, but they came up short in all three games against their division rival. Managing just three runs in the series resulted in the Marlins being swept.
"You don't want to judge a season based on three games," Koehler said. "We've got a long way to go, obviously. Not the start we would have hoped for, but luckily we play 162."
Joe Frisaro is a reporter for MLB.com. He writes a blog, called The Fish Pond. Follow him on Twitter @JoeFrisaro. This story was not subject to the approval of Major League Baseball or its clubs.