MLB.com Columnist
Richard Justice
Harvey-Strasburg matchup an attention grabber
Series finale in DC features two of game's most compelling people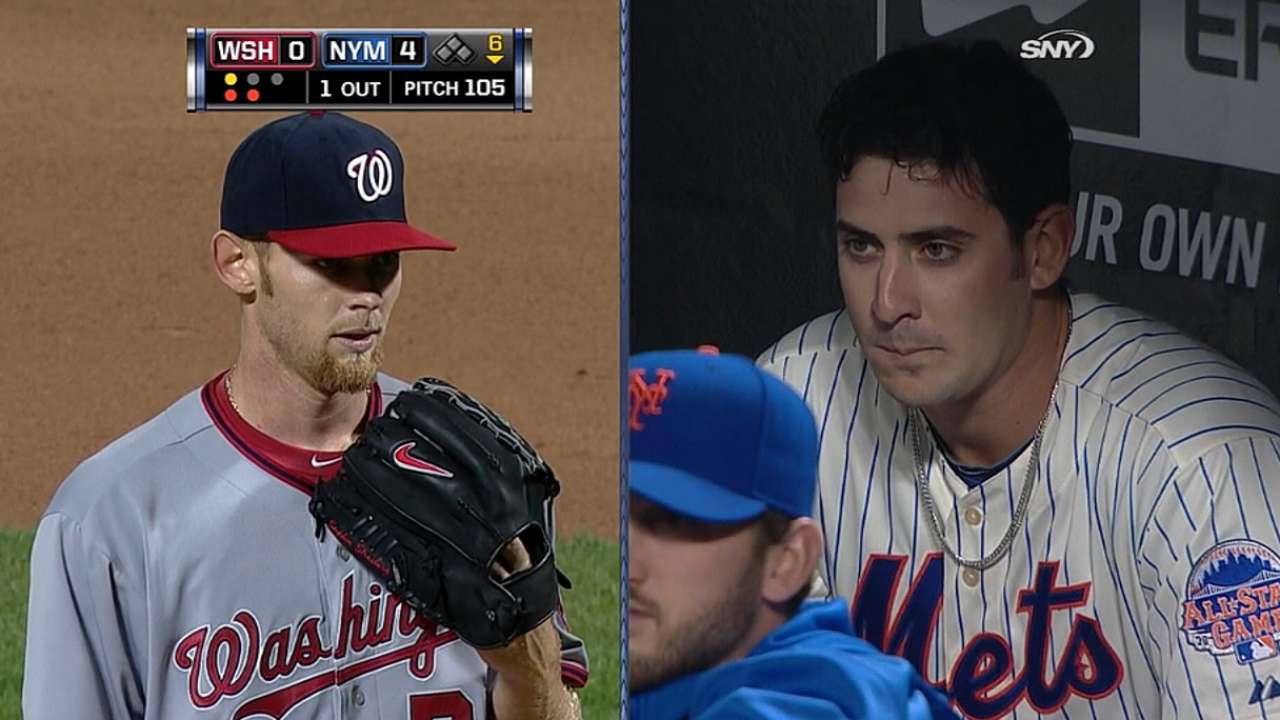 WASHINGTON -- Here's what the Mets and Nationals will give us Thursday afternoon at Nationals Park: Matt Harvey vs. Stephen Strasburg.
Grabs your attention, doesn't it? Sometimes, baseball gives us something so compelling that it has the look and feel of being an event. Every game has that potential, but every once in awhile, it seems predestined.
This isn't just power arm vs. power arm, although it certainly is that. It's also a meeting of two of baseball's most compelling people. Roll this one around in your mind, consider the possibilities and feel free to rearrange your schedule to take a peek.
Harvey was getting in some conditioning work early Wednesday afternoon at Nationals Park when he heard someone calling out from the home team's bullpen. It was Washington left-hander Gio Gonzalez letting Harvey know that he, too, was looking forward to Thursday's show.
There's plenty of backstory. This is Harvey's first regular-season start since undergoing Tommy John surgery in October 2013. He hasn't thrown a regular-season pitch in 593 days, and in that time, has spent hours in rehab, focused on this day.
Harvey passed every test in Spring Training, touched 99 mph on the radar gun a few times and looked as dominant as ever. For him, this is about way more than going out against another gifted young pitcher.
"I'm excited to get things going and put the injury behind me and start a fresh season," Harvey said.
Harvey said he's looking at this season as a continuation of 2013, that he has put 2014 into another corner of his mind. When we last saw him, he was shattering bats, buckling knees and on his way to becoming perhaps baseball's most dominant performer and the face of the New York Mets.
Harvey is only 26 years old and has made just 36 big league starts. But in New York, he has the personality and the talent to be a huge star, a larger-than-life figure. Nor does he run from expectations.
Harvey aspires to be great and understands he has the talent to be just that. When he was last healthy in 2013, his fastball was clocked at an average of 95.8 mph, tops among all Major League starters.
That year, the No. 2 guy was -- you guessed it -- Strasburg at 95.3 mph. Greatness has been forecast for him since the Nationals made him the first overall pick of the 2009 First-Year Player Draft.
In 109 starts, Strasburg has had some setbacks as well. He missed most of the 2011 season after blowing out his right elbow and undergoing Tommy John. Last season, he was very close to fulfilling all those expectations.
Strasburg tied for the National League lead with 242 strikeouts and cracked the 200-inning mark (actually 215) for the first time. His fastball averaged 94.8 mph, sixth-highest among big league starters. While Strasburg wasn't Cy Young good, he seemed to establish once and for all that he's special and that something magical could happen every time he takes the mound.
Harvey's 2.39 ERA in 36 career starts is more than half a run better than Strasburg's 3.02. But the bottom line is that on any given day, either of these guys is capable of doing something spectacular.
Harvey and Strasburg have faced off once before, on April 19, 2013, at Citi Field when Harvey allowed one run in seven innings and Strasburg allowed two runs in six innings. The Mets won, 7-1, and at points during the contest, those friendly New Yorkers chanted "Harvey's better" toward Strasburg.
"It was a good start and an enjoyable game," Harvey said. "I think that makes the matchup moving forward even more special."
Harvey touched base with Strasburg a time or two to compare notes on recovering from surgery. Now, though, both are healthy, and both are on teams that aspire to play deep into October.
"Maybe missing a year and being thankful that I can play again has made me appreciate throwing strikes more," Harvey said. "For me, sometimes you get ahead of yourself and think about the outing rather than every pitch. Focusing on every pitch, executing every pitch, has made me thankful I'm out there pitching."
Those of us who love the game are thankful, too. We're thankful for both of them, for what they've done and especially for what they will do in the future. We will sit back and enjoy what they deliver Thursday.
Richard Justice is a columnist for MLB.com. Read his blog, Justice4U. This story was not subject to the approval of Major League Baseball or its clubs.