Martin travels long road to Yankee Stadium
Righty, who was out of baseball a few years ago, strikes out the side in Yanks debut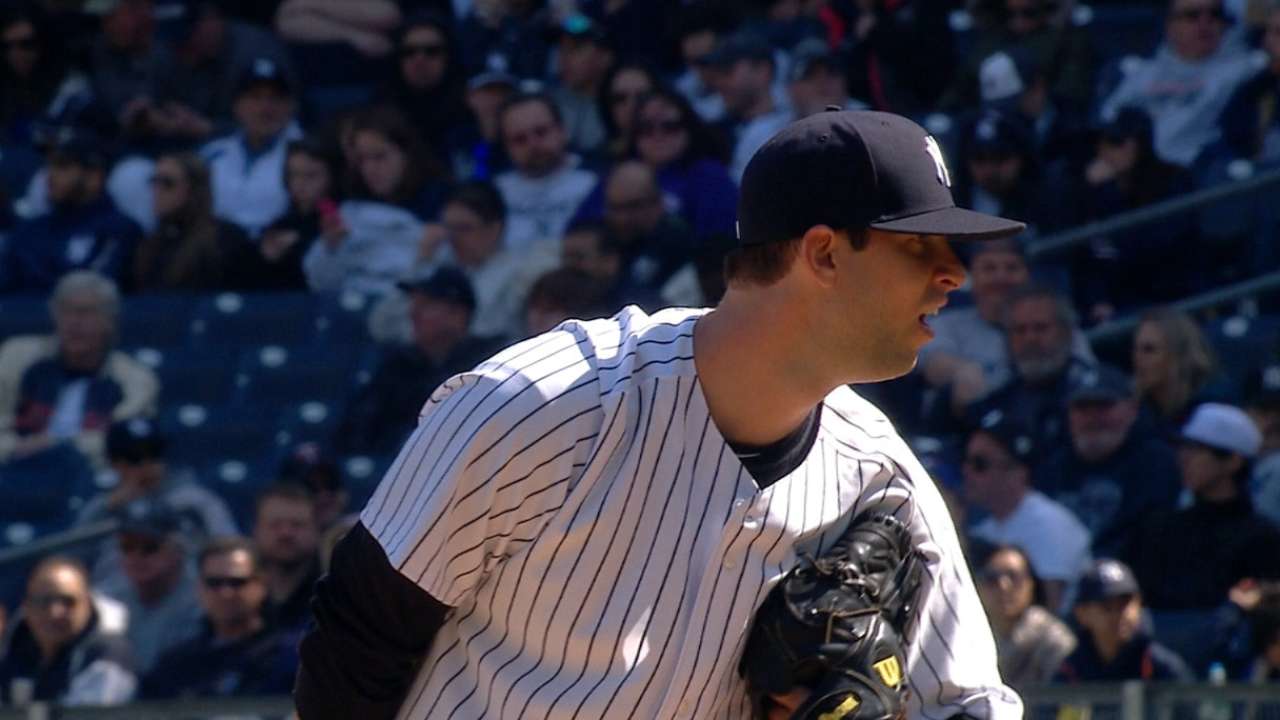 NEW YORK -- Chris Martin once thought his baseball career was over, but as he jogged out of the bullpen at Yankee Stadium this week, there was no time to reflect on the long road to this point. The heart of the Blue Jays' lineup was waiting.
"I thought I was going to be a lot more nervous than I was," Martin said. "The way the bullpen was out there, you just kind of start going. You really can't see anybody behind you, so you just run in. It's the 3-4-5 guys, so I knew I really had to focus and concentrate. Those guys are good hitters."
Martin, 28, celebrated making his first Opening Day roster by striking out the side in the fifth inning of Monday's 6-1 loss to Toronto, whiffing the trio of Jose Bautista, Edwin Encarnacion and Josh Donaldson in his Yanks debut. He pitched another scoreless frame in Wednesday's 4-3 Yankees victory.
It was a world away from the warehouse at Dallas/Fort Worth International Airport, where Martin once loaded 53-foot trailers with boxes, or the store where he used to operate a forklift in the lawn and garden section.
A labrum and capsule injury in the fall of 2005 refused to heal, requiring surgery two years later, but Martin's shoulder still barked with each toss. He put on 30 pounds, played slow-pitch softball and found employment at an appliance warehouse in Arlington, Texas, where a high school buddy randomly asked him to play catch.
Perhaps it was the weeks of lifting and installing dishwashers and refrigerators, but suddenly he discovered the ability to throw without pain -- and in the 90-plus mph range, as a tryout would confirm. A stint in an independent league led to chances with the Red Sox, Rockies and now the Yankees, who were sold by the 18 strikeouts and one walk he posted in 11 innings this spring.
Martin posted a 4.09 ERA, including two homers, but finished strong. Late in camp, Martin looked at videos of his 2013 season and saw that he used to hold his hands a bit higher. The Rockies had urged him to move them down, but returning to that old form seems to have improved his rhythm.
"I'm usually a guy that keeps the ball on the ground," Martin said. "I think they saw the low walks and the high strikeouts, and that gave me a chance. I just need to work on keeping the ball on the ground."
Bryan Hoch is a reporter for MLB.com. Follow him on Twitter @bryanhoch and read his MLBlog, Bombers Beat. This story was not subject to the approval of Major League Baseball or its clubs.