Nolasco looking to shake off rough 2015 debut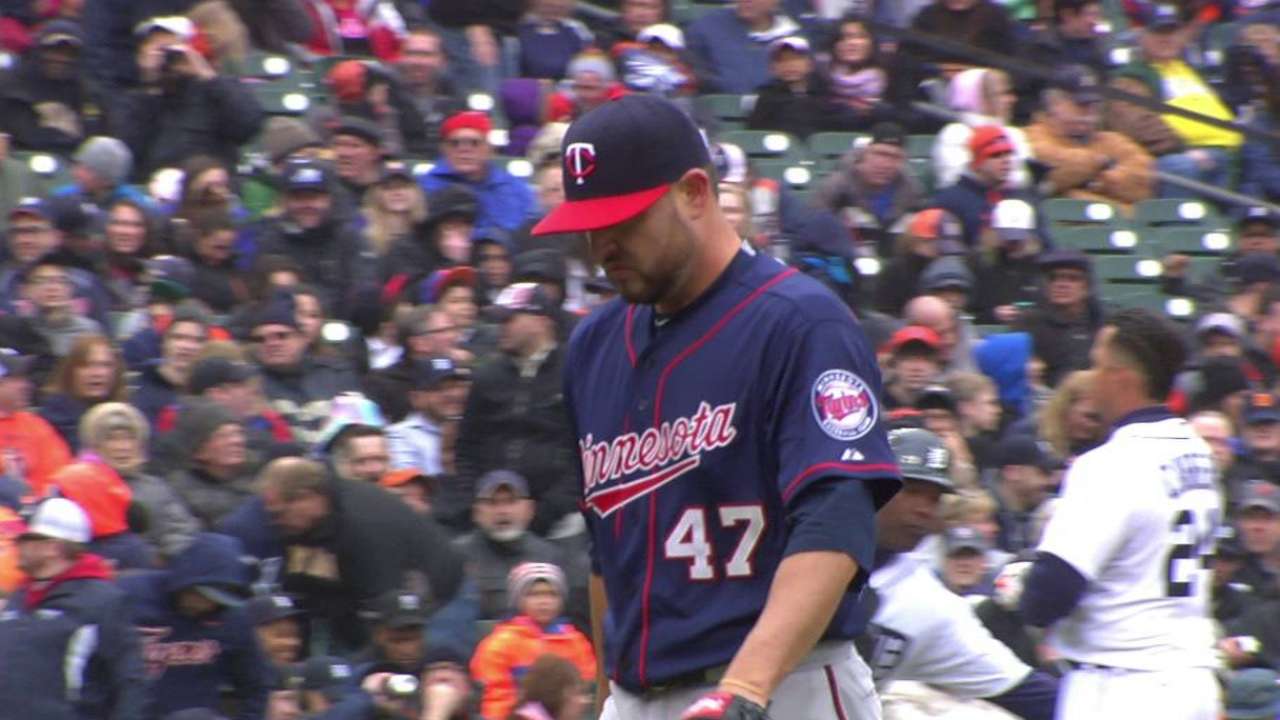 DETROIT -- After the struggles he went through in his first season with the Twins last year, Ricky Nolasco came to Spring Training in better shape and on a mission to put 2014 behind him.
But Nolasco's first start of 2015 looked much like last season, as the right-hander lasted just three-plus innings, giving up six runs on six hits and four walks in an 11-0 loss to the Tigers on Wednesday at Comerica Park. Nolasco had a 5.38 ERA in 27 starts last year, but this marked his second-shortest outing since he joined the Twins on a four-year deal worth $49 million before 2014.
Nolasco was frustrated by his subpar performance against the Tigers, but said it was just his first of the season, so he isn't going to let it affect him going forward.
"I put in a lot of hard work and all that, but one start isn't going to kill you as far as mental-wise," Nolasco said. "So I just have to go back to work and do what I have to do for the next one."
Nolasco looked sharp through the first two innings, but then quickly ran into trouble in the third, walking Alex Avila before Jose Iglesias doubled to left field. Ian Kinsler brought home the first two runs with a bloop single to left-center field before coming around to score on a double from Miguel Cabrera that went past a diving Trevor Plouffe at third base.
It was more of the same in the fourth, as Nolasco again walked Avila to open the inning. Iglesias followed with an infield single before Anthony Gose tripled to right field on a ball that went under right fielder Torii Hunter's glove. Right-hander Tim Stauffer relieved Nolasco and didn't fare any better, promptly giving up a double to Kinsler that brought home the sixth run that was charged to Nolasco.
"The first couple innings, he came out and did a good job, but lost his command from that point forward," manager Paul Molitor said. "I'm not sure if the cool weather or slick baseballs affected him as the game went on, but obviously, he lost some of the things he had the first couple innings."
Nolasco pointed to the walks to Avila as the catalyst for the two big innings, saying he lost his command after those two early innings.
"I got myself into a bad situation," Nolasco said. "I couldn't make a pitch. A couple balls fell for them. I didn't give us a chance to win. The game got out of control early. There's not much you can do."
Barring any rainouts, Nolasco's next start is set for the home opener at Target Field on Monday against the Royals.
Rhett Bollinger is a reporter for MLB.com. Read his blog, Bollinger Beat, and follow him on Twitter @RhettBollinger. This story was not subject to the approval of Major League Baseball or its clubs.