Aggressive Harang comes out dealing in debut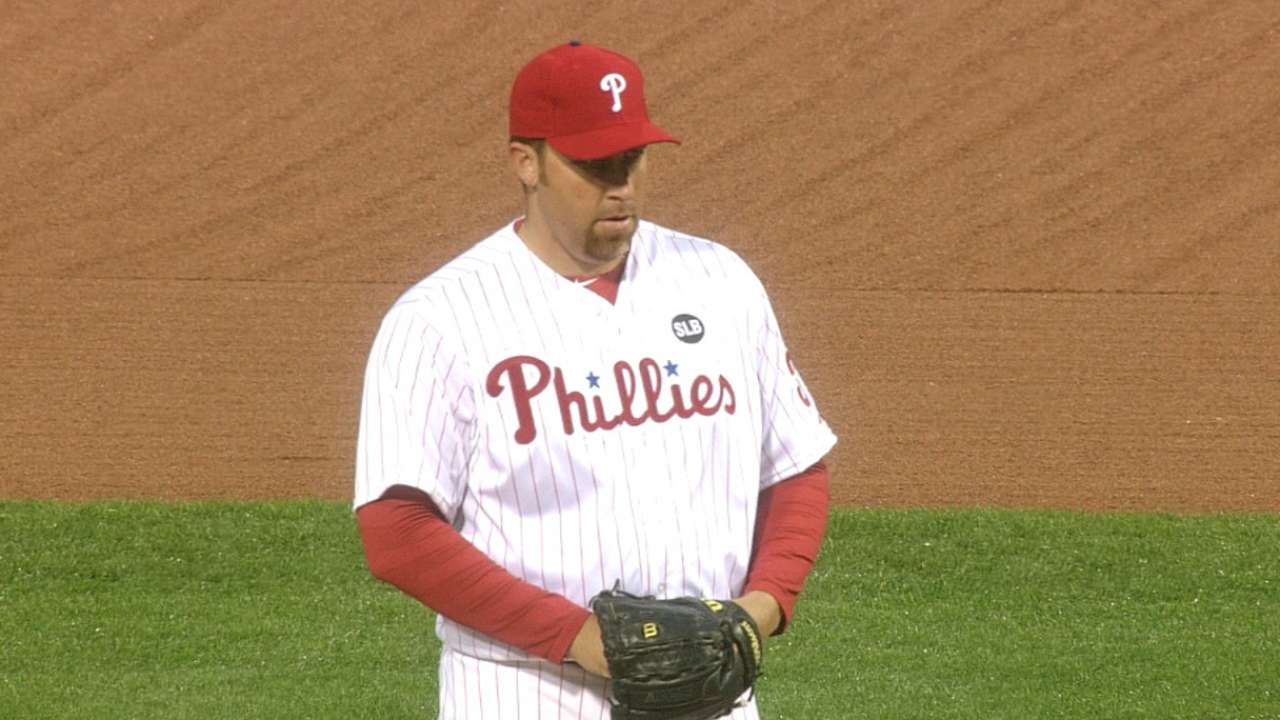 PHILADELPHIA -- Aaron Harang pitched pretty well last season with the Braves, but he remained a free agent through the end of December.
The Phillies finally signed him to a one-year, $5 million contract on Dec. 30, which will be a steal if he continues to pitch anywhere near the way he pitched Wednesday night in a 4-2 victory over the Red Sox at Citizens Bank Park. Harang, 36, allowed two hits, one walk and struck out eight in 6 1/3 scoreless innings as the Phillies improved to 1-1.
"You don't want to come in and be the goat," Harang said about his Phillies debut. "To be able to come in and be aggressive and get us deep in the game -- you know, save the bullpen from any major innings -- is always nice."
Harang retired the first 11 batters he faced, including six by strikeout. Pablo Sandoval singled to center with two outs in the fourth inning, but Harang then set down the next seven batters.
Harang walked Dustin Pedroia to start the seventh inning. Sandoval followed with a single to right field to put runners on first and second with no outs. Harang got Hanley Ramirez to fly out to center field for the first out when Jeanmar Gomez entered the game. He got Mike Napoli to hit a soft line drive to Phillies shortstop Freddy Galvis, who threw to second to double up Pedroia.
"I was able to really locate my fastball," said Harang, who went 12-12 with a 3.57 ERA in 33 starts last season. "That was a big thing. I was able to throw some of my offspeed stuff for strikes early in the count and get ahead and work off that. But the biggest thing was being able to locate to both sides of the plate with the fastball."
"Harang was outstanding," Phillies manager Ryne Sandberg said. "Very effortless and very smooth. He was fun to watch."
Todd Zolecki is a reporter for MLB.com. Read his Phillies blog The Zo Zone. Follow him on Twitter. This story was not subject to the approval of Major League Baseball or its clubs.