One bad pitch spoils Porcello's debut with Red Sox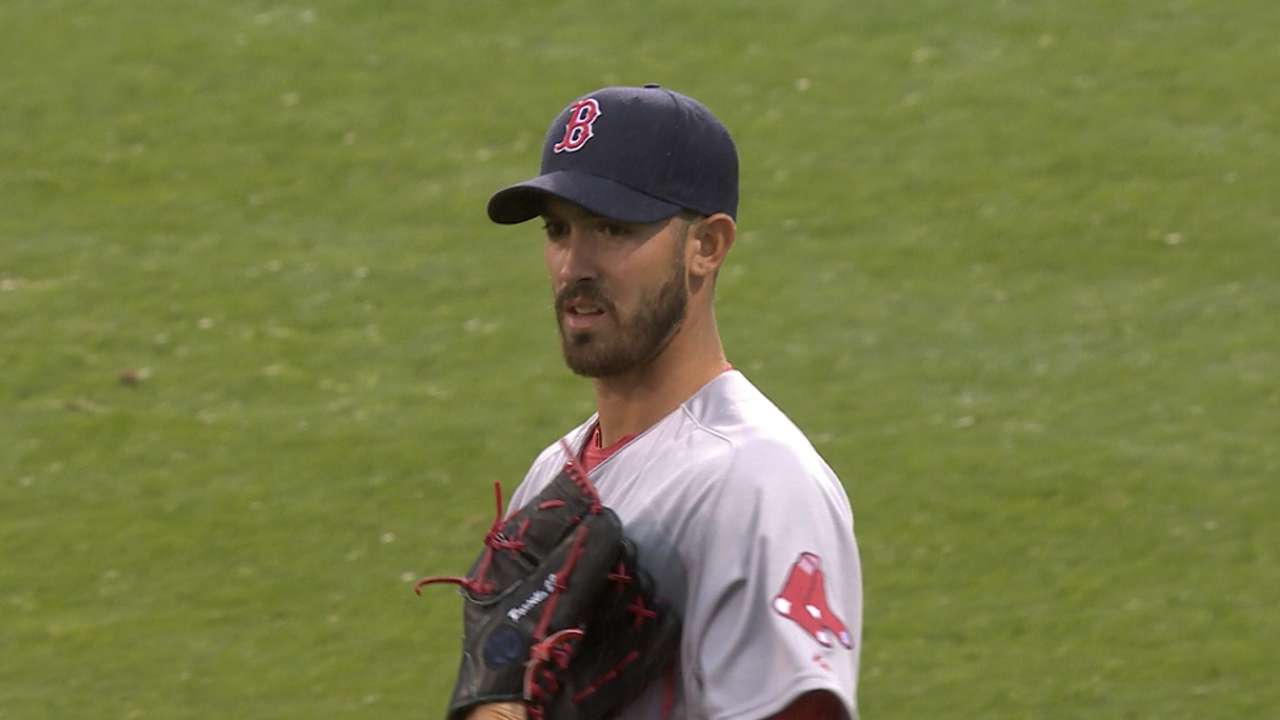 PHILADELPHIA -- Rick Porcello's first game with the Red Sox was just one pitch away from being a resounding success. But his one bad misfire turned his performance into a tough-luck loss.
Porcello had been nearly flawless over the first five innings, keeping the Phillies off the board.
But in the sixth, with two on and one out, Jeff Francoeur destroyed Porcello's misplaced slider for a three-run homer. The shot broke a scoreless tie and ultimately helped the Phillies to a 4-2 win.
"Sometimes that's the difference, you know? One big mistake," said Porcello. "Type of ballgame like that, I can't make a pitch like that. Left a slider up middle and he did what he's supposed to do with it."
On Opening Day, the Red Sox signed Porcello to a four-year, $82.5 million contract extension that should keep him with the club through 2019. One bad pitch wasn't going to make Boston second-guess that decision.
The Sox see the 26-year-old Porcello as a pitcher on the upswing and ready to produce the best seasons of his career. Starting in 2016, Porcello will become the first pitcher in Red Sox history to earn an average annual value of $20 million.
"We're talking about a free-agent-to-be at 26 years old who's pitched 200 innings, that's evolving in his own right to be an upper-echelon type of starter," said Red Sox manager John Farrell. "It's clearly a commitment on our ownership's part. It's also betting on a guy that we've grown to have a pretty good understanding in the two months that he's been here.
"You bet on the individual when you make these kind of investments. Rick is very detail-oriented, and he's committed to his own personal routine to prepare each and every day. And the fact he's going to be pitching this season at 26 years of age, the five years we're going to get him ideally at the prime of his Major League career given the age and what all information would suggest with guys of that age group."
Porcello was pretty much as advertised until the misfire to Francoeur, pounding the Phillies with sinkers.
"I thought Rick threw the ball as we anticipated," said Farrell. "He put a number of ground balls on the infield, but credit [Aaron] Harang for keeping us off the scoreboard."
The next time Porcello takes the mound will be on Monday, when he pitches the Fenway Park opener against the Nationals.
Ian Browne is a reporter for MLB.com. Read his blog, Brownie Points, and follow him on Twitter @IanMBrowne. This story was not subject to the approval of Major League Baseball or its clubs.