Lester focused on pitching, not pickoff move
Cubs bring back longtime reliever Russell on Minor League deal; Hammel to start Saturday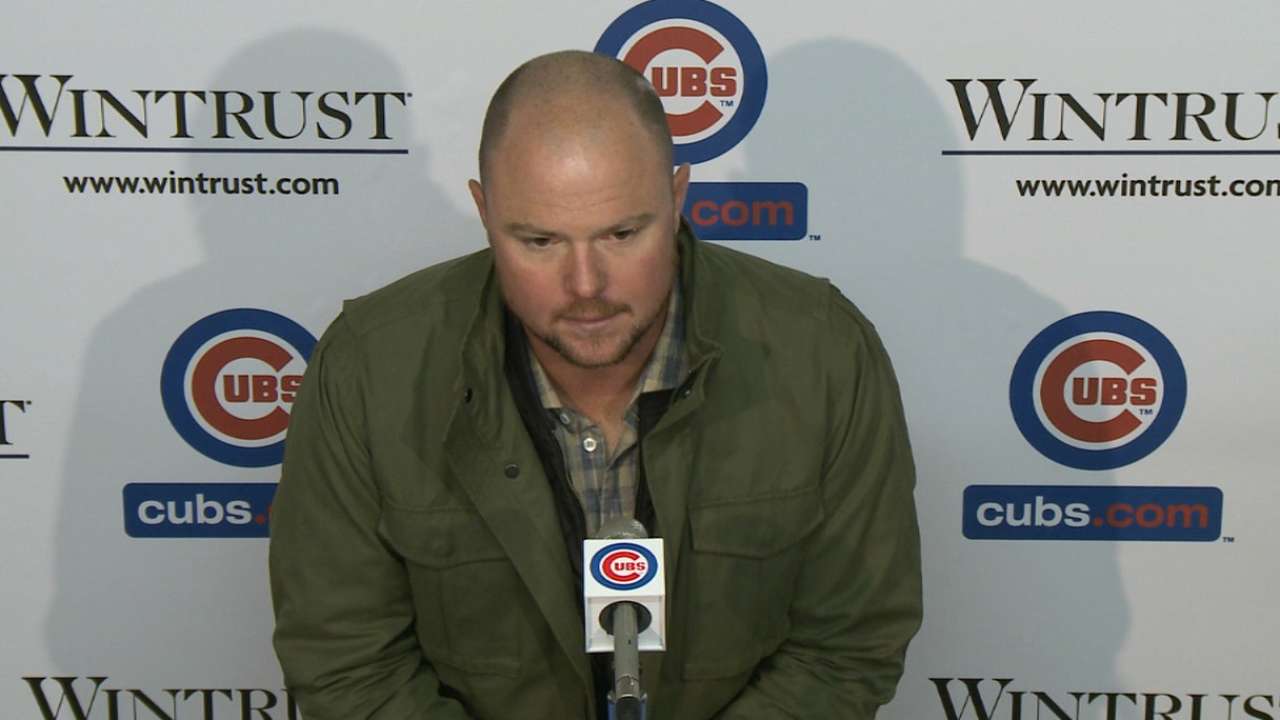 CHICAGO -- Jon Lester says the fact he hasn't attempted a pickoff throw to first base since 2013 is being "blown out of proportion." Cubs manager Joe Maddon agreed.
The Cardinals stole three bases while Lester was in the game Sunday, although two came on a double steal in the fifth.
"I know everybody's placing the onus on Jon, but I'm telling you, we had a shot to throw everybody out," Maddon said.
Last season, Lester ranked 25th among American League pitchers in stolen-base percentage at 76.2 percent.
"We did work on it a lot in Spring Training, and it's something I believe you'll see get better with the season in progress," Maddon said.
Does Maddon think Lester has the "yips" as far as throws to first?
"That's a golf term," Maddon said. "I think it's being a little overplayed right now, quite frankly. It's something that will get better. His work is very diligent, and I'd much prefer he worries more about getting his fastball where he wants and his cutter where he wants and all the normal pitching things. I'd prefer that would be his priority over the other thing. I don't want to make this an issue, because it's not for me at all."
Extra bases
• James Russell is back with the Cubs. The Cubs have signed the left-handed reliever to a Minor League contract, and Russell was expected to join Triple-A Iowa this weekend.
A 14th-round pick in 2007 by the Cubs, Russell pitched five seasons with the team from 2010-14, and was then traded to the Braves, who released him in March.
• The Cubs altered their rotation slightly after Tuesday's game against the Cardinals was postponed because of rain. Jason Hammel, who had been scheduled to start Wednesday, now gets extended rest, and will go Saturday against the Rockies.
"Nobody's ill, nobody's hurt," Maddon said of the switch. "We just wanted to do it this way. It's really not complicated."
• Outfielder Ryan Sweeney was granted his release on Tuesday. The move puts the Cubs' 40-man roster at 39.
Carrie Muskat is a reporter for MLB.com. She writes a blog, Muskat Ramblings, and you can follow her on Twitter @CarrieMuskat. This story was not subject to the approval of Major League Baseball or its clubs.