Pirates, Harrison agree to four-year extension
Bucs also hold club options on All-Star infielder for 2019, '20 seasons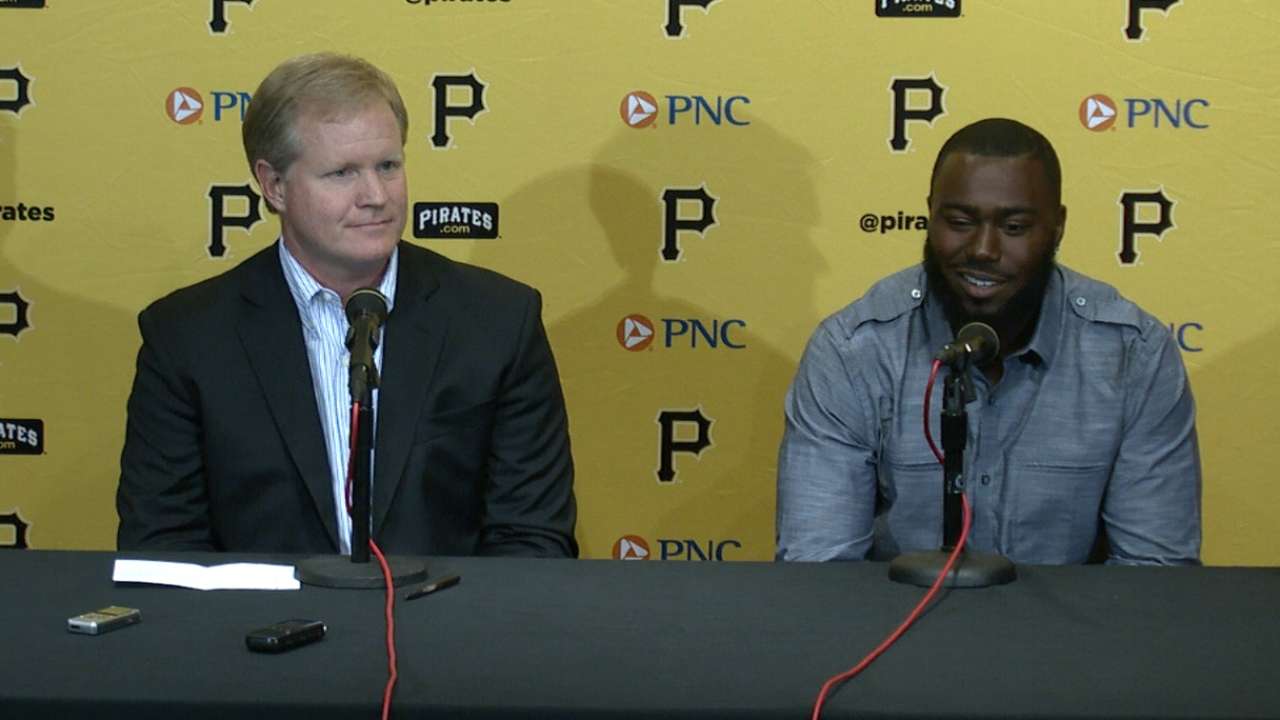 CINCINNATI -- The real Josh Harrison and the Pirates found each other last season. They're not about to let go.
The third baseman and the team signed off Wednesday on a long-term contract to keep Harrison in Pittsburgh through 2020, and did so in the hometown of the recent utilityman.
"Wow ...," Harrison said, surveying a media conference room half-filled by his family -- wife Brittney and 1-year-old Mia, parents Bonita and Vince, brother Shaun, aunt Felice Shelby, uncle Matthew.
"This is a day I've dreamed of since I was little. To see it actually come true, to be sitting here around my wife, my parents ... it's special to be able to sign this extension in my hometown."
How special? Great American Ball Park's Reds interview room hosted an event for a visiting player for the first time since June 3, 2003, when Derek Jeter was named captain of the New York Yankees.
Harrison also preempted Commissioner Rob Manfred on the Pirates radio network's pregame show -- the taped interview with the Commissioner was delayed to Thursday, to allow Harrison center stage.
Harrison's deal is guaranteed for four years at $27.3 million, and includes two club options that could raise the overall payout to $50.3 million.
The breakdown, according to MLB sources, is: $2.8 million in 2015 plus a signing bonus of $1 million; $5 million in '16; $7.5 million in '17; and $10 million in '18. The options are for $10.5 million with a $1 million buyout in '19, and $11.5 million with a $500,000 buyout in '20.
"We've extended not only a terrific player who impacts the game in the batter's box, with his glove, on the bases and in the clubhouse," Pirates GM Neal Huntington said, "but also a terrific human being who exemplifies much of what we want the Pittsburgh Pirates to be."
Harrison becomes the third member of the Bucs' current starting lineup signed to a long-term deal. Previously, outfielders Andrew McCutchen and Starling Marte were locked up by Huntington.
"We now have the financial ability to build around players such as Josh," Huntington said. "To roll this organization forward in the right direction."
For Harrison, committing himself to the team was an easy call.
"Why wouldn't I want to play here? This is a special team, and we're only getting better," Harrison said. "It was a no-brainer. I'm just blessed to play this game, and to do it where they've treated me well. I'm grateful to be here for years, and ready to bring a championship to Pittsburgh."
Harrison, 27, is your classic overnight success four years in the making.
For three seasons, he was a roving utility player. In 2013, he was even a commuting utility player -- he was optioned that season to Indianapolis four different times.
"I never had the mindset, 'Let me prove them wrong.' At the end of the day, I was still on a big league roster. I was just waiting for my opportunity," Harrison said.
"Josh always had the confidence," manager Clint Hurdle said. "He didn't want to prove others wrong. He wanted to prove himself right."
In his dramatic 2014 breakthrough, Harrison didn't actually claim the job as the regular third baseman until mid-August -- and converted that into the MLB Network's choice as the National League's best at the position.
"To his credit, he kept grinding," said Huntington, who as the '14 season unfolded often admitted club decision makers might have underestimated Harrison. "It took us a little longer than maybe it should have to realize what kind of player he is. A guy who can help a team win a game in any shape, any form, any time."
Tom Singer is a reporter for MLB.com and writes an MLBlog Change for a Nickel. Follow him on Twitter @Tom_Singer. This story was not subject to the approval of Major League Baseball or its clubs.