MLB.com Columnist
Richard Justice
Frank Robinson has always been a leader of men
Hall of Fame slugger was perfect choice as first African-American manager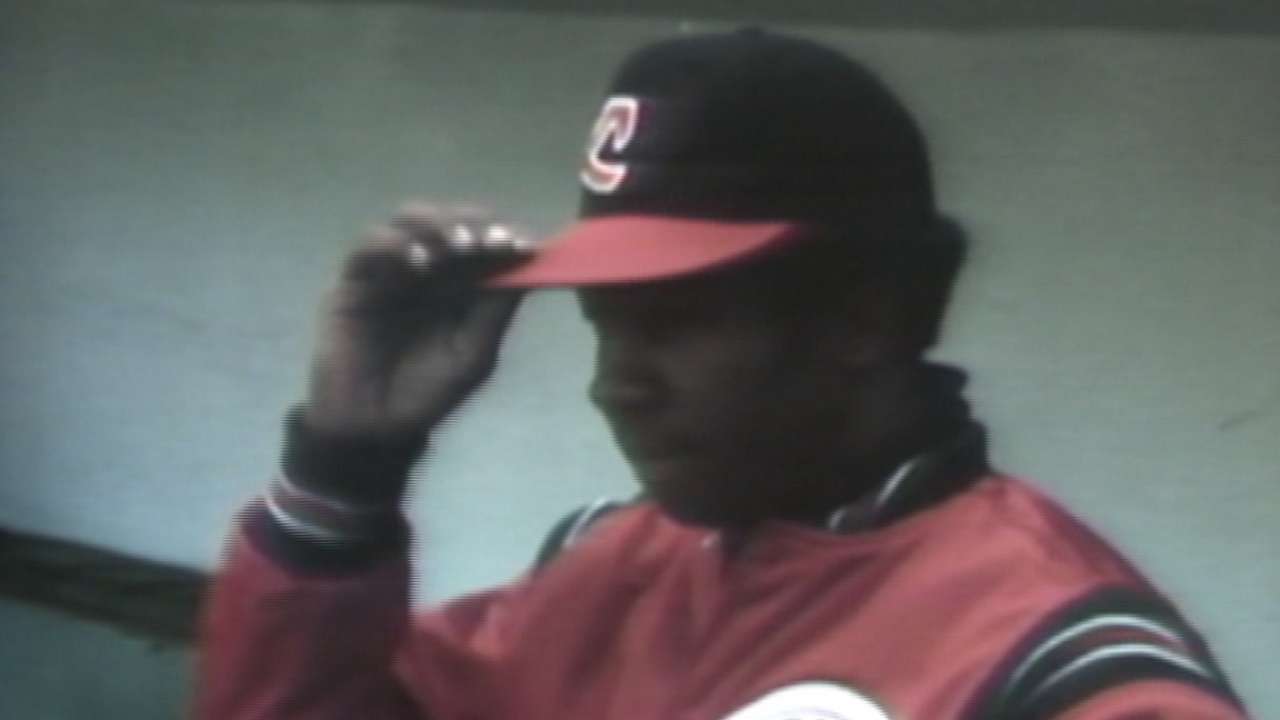 Forty years ago today, the Cleveland Indians did something historic, courageous and absolutely brilliant when they made Frank Robinson baseball's first African-American manager. Seen now through the prism of history, that decision looks even more brilliant today than it did then.
And plenty of people knew then that it was not just a hiring that opened doors for others, although it certainly did that. They knew that Robinson was perfect for the job, that he'd been a leader of men for virtually all of his two decades in professional baseball, that he had the smarts, presence and poise to do the job. After all, he'd been doing it in smaller ways for years.
As Elrod Hendricks, one of Robinson's teammates with the Baltimore Orioles, once said, "If you made a mistake on the field, you didn't want to come back to the dugout after the inning, because you knew you would have to face Frank. If you screwed it up, he let you know."
Sometimes, Robinson used humor, sometimes anger. But he got his message across. If you played with him, there were expectations of doing things a certain way. Because of that, Robinson's teammates played with just a bit more of an edge than they might normally have played. In that way, Robinson impacted the bottom line throughout his 21 seasons.
For instance, he played for the Orioles for only six seasons, but in that time, they won four American League pennants and two World Series. He was the heart and soul of those clubs.
All these years later, those Orioles tell stories, not just of Robinson's leadership, but also of his play. He put up video game numbers in those years, averaging 30 home runs, 24 doubles and a .944 OPS. He won the AL Triple Crown in 1966. He won the AL MVP Award that year as well, and he finished third in '69 and '71. Those years helped propel him to a first-ballot election into the Hall of Fame in '82.
But when Robinson's teammates discuss him, they don't begin with his power and strength and instincts. Sometimes, they'll tell you about the day he hit a ball completely out of Memorial Stadium, because there were things he did that astounded even the people who were accustomed to his greatness.
Again and again, though, the stories go back to Robinson's drive and his attitude and his ornery streak. For instance, there was the day he had a wrist so severely injured that he could barely swing a bat.
So, with the game on the line, Robinson bunted for a hit, stole second and scored on another hit. When teammates saw him do stuff like that, they both admired him and pushed themselves to do just a bit more.
Or they talk about his Kangaroo Court sessions, how he called out teammates for their mistakes, doing it with humor, but also with a touch of the Robinson presence. Yes, there was just the slightest bit of fear.
Robinson was seen that way through his playing career, so when the Indians named him their player/manager on April 8, 1975, he'd already been in Cleveland for a season. He was an aging player, about to turn 40 years old that summer, and he was no longer a great player.
But Robinson carried himself a certain way. He knew the game inside and out. He knew how to push the buttons of teammates and coaches. Robinson's hiring was historic, because baseball had never had an African-American manager, but plenty of people knew what the Indians were getting.
Robinson's home run in the bottom of the first inning on Opening Day 1975 in front of 56,715, at the old ballpark on Lake Erie has stood the test of time as one of the magical moments in Indians history.
Robinson lasted just 375 games as Indians manager. His team was 79-80 in that first season and 81-78 in his second. He was fired 57 games into his third season, with his club at 26-31.
There were uncomfortable moments. As a young player coming through the segregated Minor Leagues and making his Major League debut at the age of 20 in 1956, he felt the same sting of racism that Jackie Robinson had felt nine years earlier.
Things had obviously changed by the time Frank Robinson became a manager, but there was work still to be done. One of the first things he noticed about the Indians' scouting reports that came across his desk was that, along with height and weight and age, there was a note about a player's race.
"Why is race important?" he asked one of his bosses.
Is there a quota system, Robinson wondered. He was told it wasn't important and that it would be removed. Sure enough, there was no mention of race on the future reports he received. Robinson found out later, though, that race was still listed on the reports, but removed before they got to him.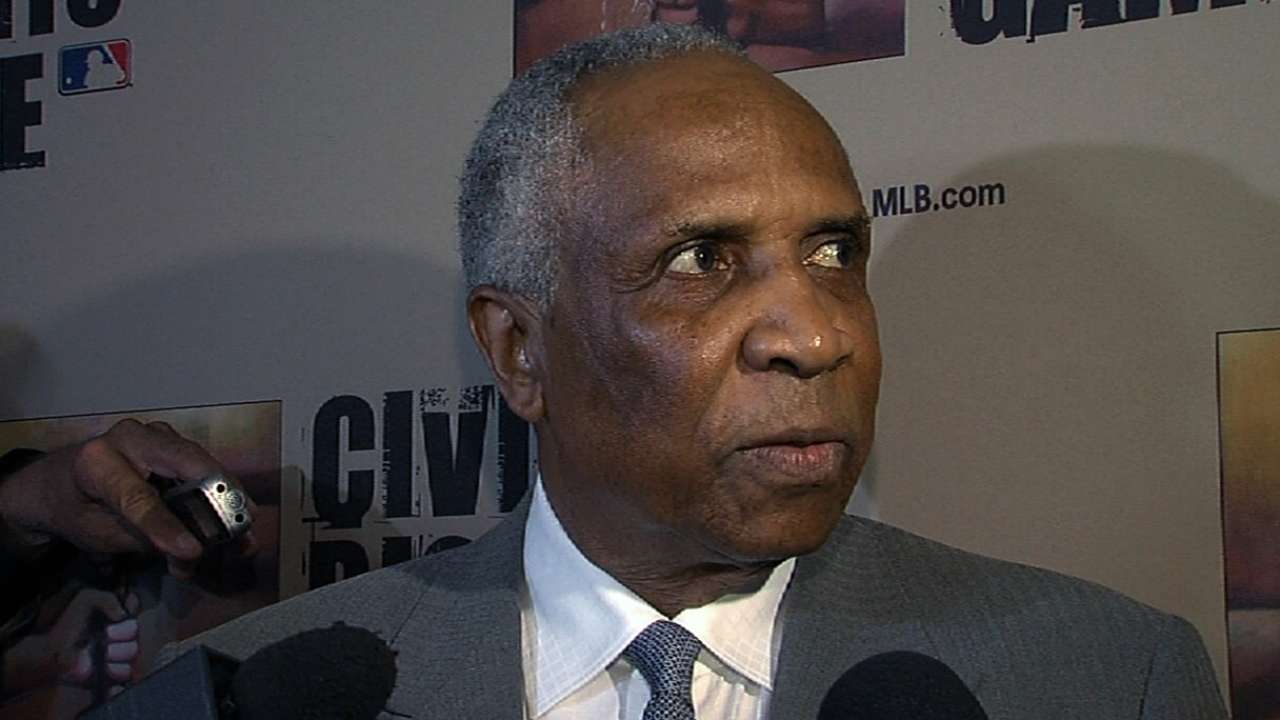 To him, this reinforced Robinson's belief that changing people's hearts would take years and years. Baseball got its second African-American manager when Larry Doby skippered the 1978 White Sox for 87 games.
Robinson lobbied hard for others to get a chance. Once, when Joe Morgan kept turning down jobs and yet reporters continued to lobby for him to get every opening, Robinson got mad.
"Do you think Joe Morgan is the only qualified black man?" he asked. "Joe doesn't want to manage. Look around. There are plenty of other competent black men. Don't fall into the trap of thinking there aren't qualified black men who'd like to manage because one guy doesn't."
Robinson would manage four franchises -- the Indians, Giants, Orioles and Expos/Nationals -- for 17 seasons. He was 70 when he took off the uniform for the last time in 2006.
His legacy was that, like Jackie Robinson, he forced a lot of people to see the world differently than they'd seen it before. He began the process of erasing the notion that black men were incapable of managing a baseball team, that they may have lacked -- what was the word Al Campanis famously used? -- the "necessities."
Robinson's hiring began paving a long, slow path for other African-Americans to manage. Cito Gaston, Don Baylor, Willie Randolph and all the others, every single one of them, owe a debt of gratitude to the guy who broke the original ground.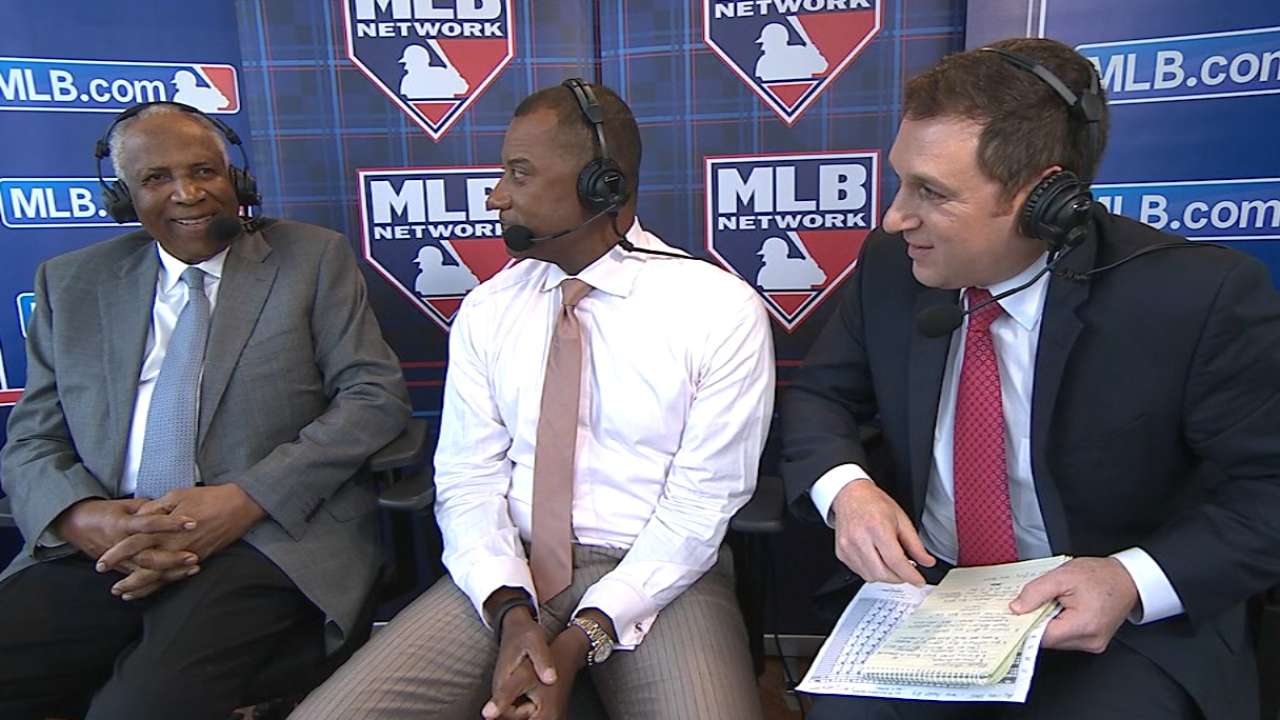 In the nine years since Robinson ended his managerial career, he has continued to do the work he has been passionate about. He has been involved in an assortment of projects for Major League Baseball, most notably in leading initiatives to re-engage African-American kids with baseball.
Robinson has also served as one of baseball's wise men and a sounding board on an assortment of topics. At 79, he still carries himself with the grace of a great athlete. The first thing people meeting him notice are his large hands -- those large lightning-quick hands that produced 586 home runs -- and the size of his forearms.
One day in 1988, when he was managing a dreadful Orioles team, a team he almost led from worst-to-first the following season, he stepped into the batting cage for a round of batting practice.
Robinson was 52 at the time, and yet the moment he cocked the bat over his shoulder in that signature way, the years melted away. In that instant, he became young again, and it was magical to watch his young players gather around.
For this was the Frank Robinson they'd heard about, the Frank Robinson who'd been one of the great players and leaders and ambassadors baseball will ever have. That's the Frank Robinson we salute on this 40th anniversary of his making history. He changed the world that day in 1975, but his larger impact has been seen and felt in so many other ways, too.
If you were lucky enough to see Robinson play, you were blessed. If you have been lucky enough to know him, you're even more blessed.
Richard Justice is a columnist for MLB.com. Read his blog, Justice4U. This story was not subject to the approval of Major League Baseball or its clubs.