Verlander to disabled list; Lobstein to start Sunday
Tigers right-hander continuing to experience issues with strained triceps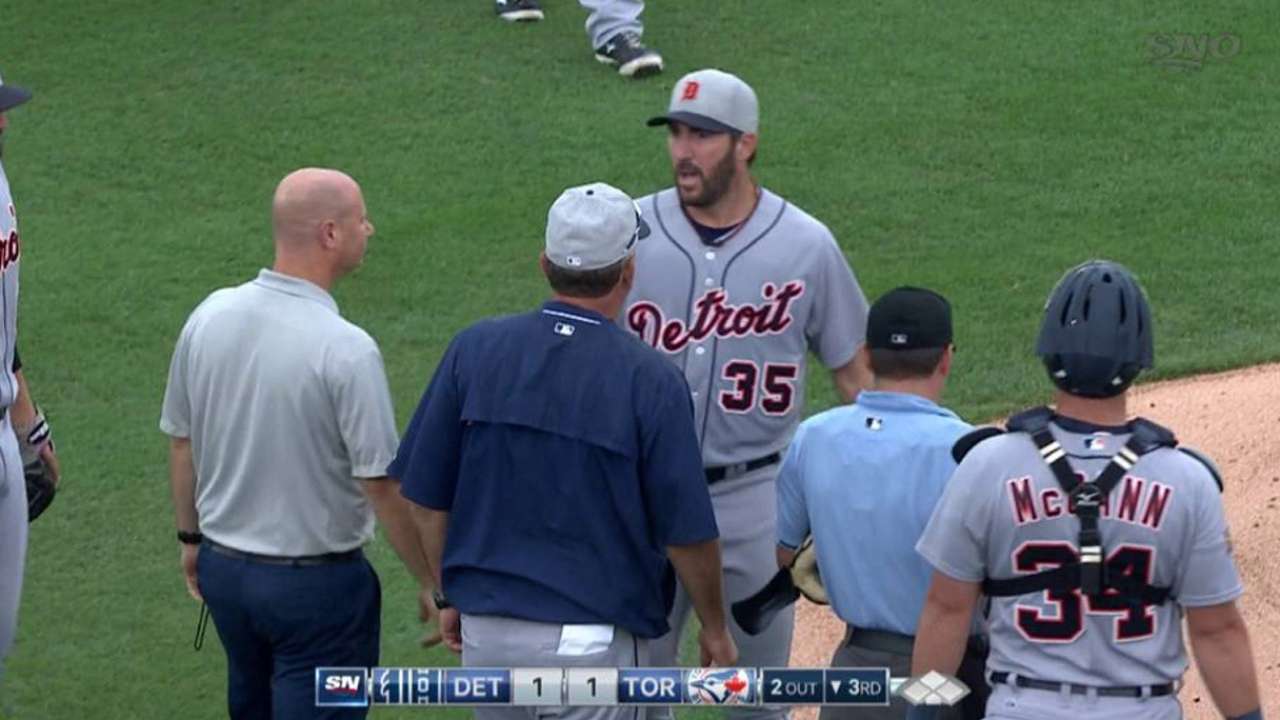 DETROIT -- Justin Verlander will not start on Sunday, and the Tigers are hoping that will be the only start he misses. His right triceps strain, however, is an injury that has already lingered longer than anyone anticipated.
"We're not going to put him out there until he's 100 percent, especially at this point in the season," manager Brad Ausmus said Wednesday.
The Tigers placed Verlander on the 15-day disabled list and called up left-hander Kyle Lobstein from Triple-A Toledo. Lobstein will start Sunday in Cleveland against an Indians lineup that leans heavily left-handed.
Verlander, meanwhile, will continue to try to work his way back, which has proven to be more difficult than many anticipated. Verlander and the Tigers were hoping that a session Tuesday against hitters would clear the way for him to make his scheduled start. But the timetable changed after Verlander experienced issues during a Sunday bullpen session.
"It just kind of grabbed me a little bit," Verlander said. "The next day it was sore, which was why I wasn't able to [face hitters] on Tuesday. Obviously, if I was sore the day after throwing a bullpen like that, it was probably not the smartest move to go right back out there and try to pitch on Tuesday. So that is what set everything back a little bit."
Verlander did some long-tossing Tuesday in Florida, and he said he felt fine. He then flew to Detroit, and he will work out with the team from here on out.
"Obviously, everything I'm doing was to try to get ready for Sunday," Verlander said. "The days just kind of stack up. I needed to be able to pitch on Tuesday to be able to do that. I just wasn't ready.
"I talked to Brad and [head athletic trainer] Kevin [Rand] on the phone, and they said, 'Hey, listen, if you're not 100 percent, don't try to push it at this point. We need you for six months, not one start.'"
Verlander still has to face hitters before he's cleared to pitch in a game, Ausmus said, and there's no simulated game scheduled yet. The weather forecast, which calls for rain this week in Detroit and Cleveland, could impact that.
Most important, though, the discomfort has to clear. Verlander did not see a doctor after the soreness returned on Sunday, and he has not had an MRI on the injury, which he said is in his upper triceps.
"Some days are really good. Some days it's a little cranky," Verlander said, "but definitely a lot better than it was a few days ago or a week ago. So it's definitely trending in the right direction.
"It's obviously taking longer than I would like, but it's just one of those things where you can't really speed up the process. You've just got to wait until you're ready."
Ideally, Verlander would return at some point next week. Ausmus did not rule out next week's Interleague series at Pittsburgh, but he noted that the off-day that follows that series next Thursday offers flexibility.
Jason Beck is a reporter for MLB.com. Read Beck's Blog and follow him on Twitter @beckjason. This story was not subject to the approval of Major League Baseball or its clubs.