Lamb off to scorching start early for D-backs
Third baseman first rookie with seven RBIs in opening two games since 1949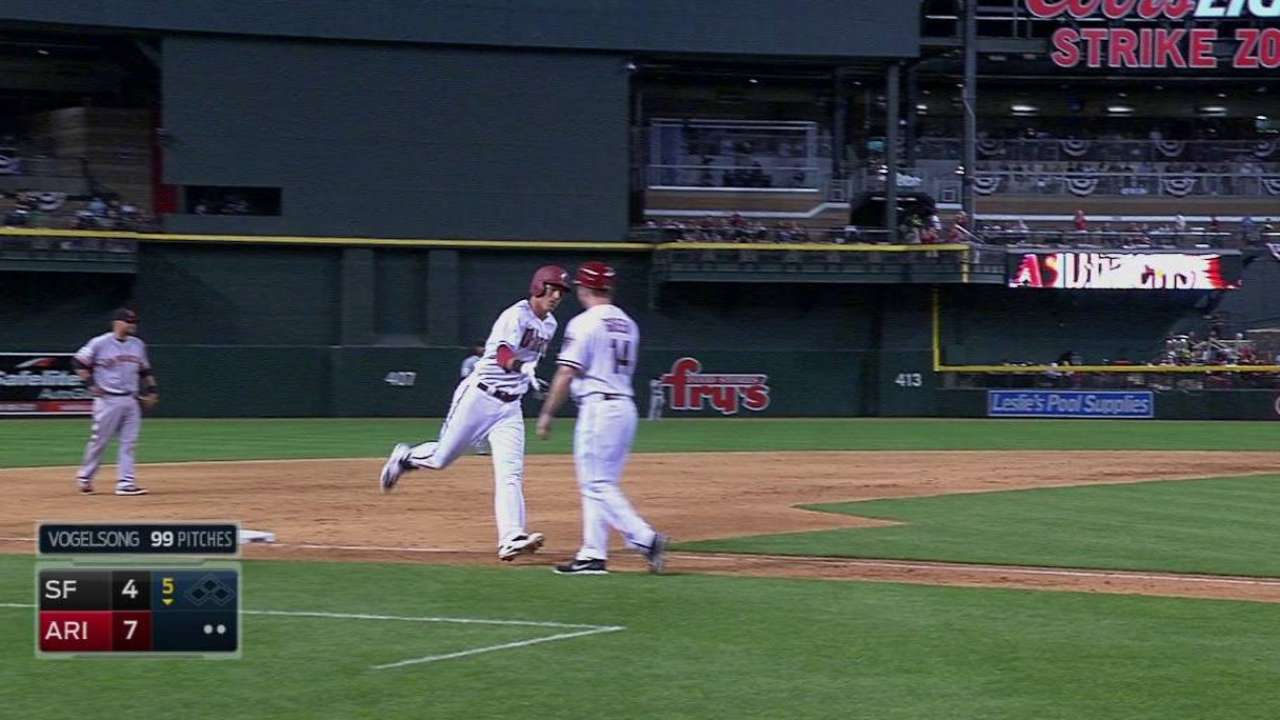 PHOENIX -- Third baseman Jake Lamb had to earn his way onto the D-backs roster this spring after the team signed Cuban free agent Yasmany Tomas to a $68.5 million contract during the offseason.
Lamb beat out Tomas, and two games into the regular season, he's beating opposing pitchers as well, with his latest offensive exploits coming Tuesday night as the D-backs defeated the Giants, 7-6, at Chase Field.
"He did a great job this spring," D-backs first baseman Paul Goldschmidt said. "It was definitely a competition; there was nothing given to him."
Lamb was 1-for-3 with a walk and four RBIs on Tuesday, which gave him a Major League-leading seven. He is the first rookie with seven RBIs in the first two games of his team's season since Johnny Groth did it for the Tigers in 1949.
"It's fun to watch," D-backs manager Chip Hale said. "He just played. He played well. He's a very quiet, confident kid and he sort of goes under the radar sometimes, but he's played a really good third base and he's a good hitter. He's not only a power hitter, but he's a good hitter with two strikes, and we're excited about his future."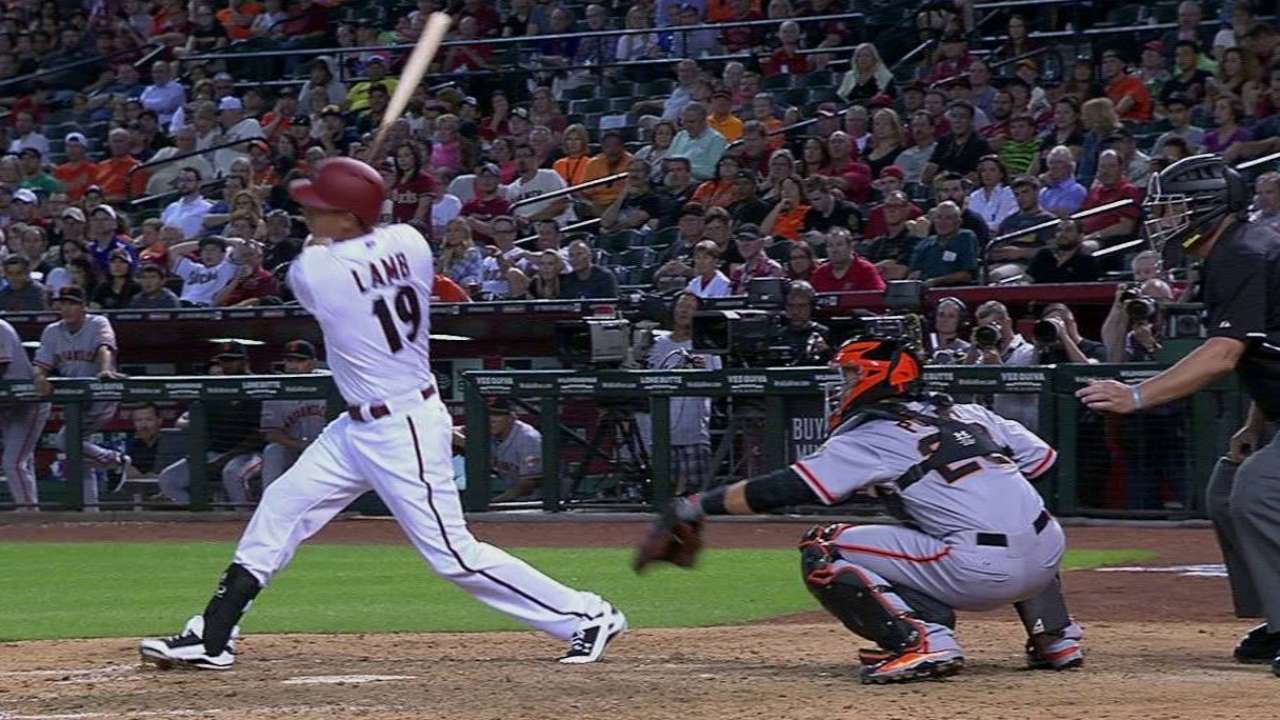 Lamb did not even get the start Opening Day as Hale elected to give veteran Aaron Hill the nod at third base. But Lamb found a way to impact the game as he delivered a pinch-hit, three-run double that pulled the D-backs to within 5-4.
Lamb appeared in 37 games for the D-backs last year, and though he hit just .230, he put his time in the big leagues to good use.
"He's always wanting to get better," Goldschmidt said. "All throughout spring, from the first day he's got here, he's definitely been impressive. He was one of the first guys there. He works really hard, whether it's in the weight room or early defensive drills, hitting in the cage, but also he's a really smart player, too."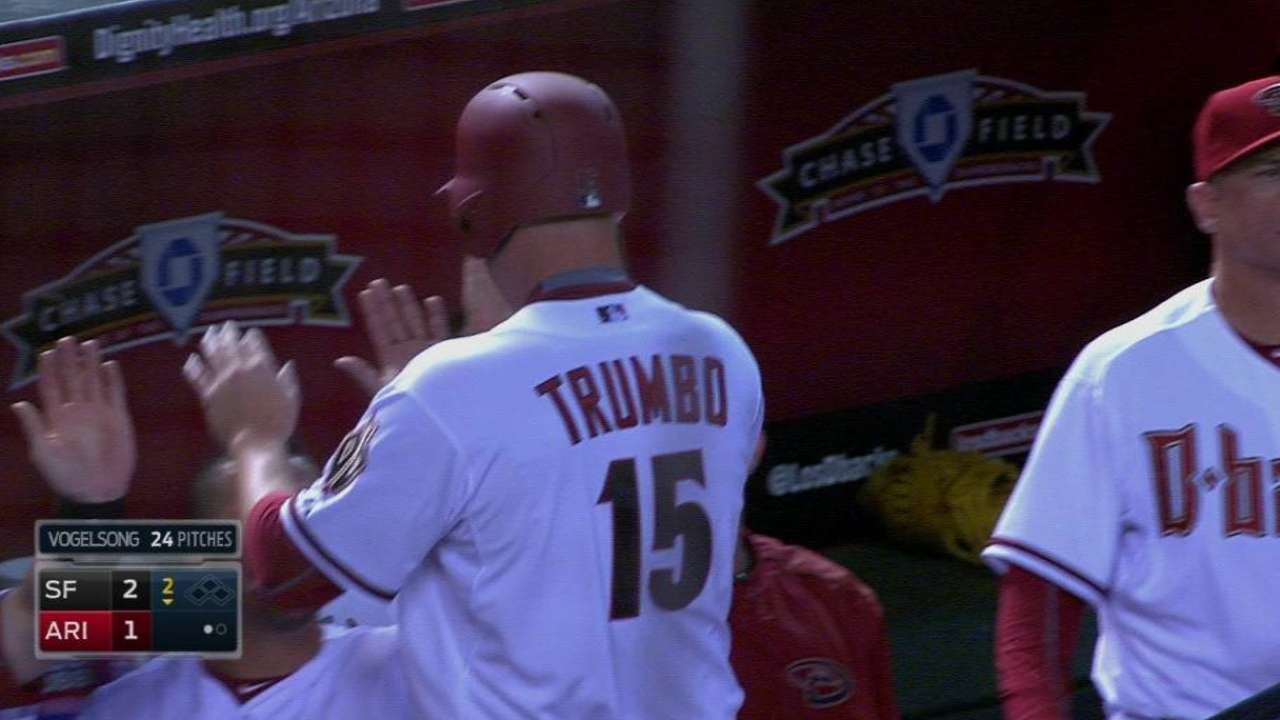 After already having driven in a run earlier in the game with a groundout, Lamb came up in the fifth with two on and the game tied at 4.
Lamb worked Ryan Vogelsong to a full count before hitting the eighth pitch deep into the right-field bleachers to give the D-backs the lead for good.
"I was just trying get a mistake and hit it," Lamb said. "I was looking fastball away, something to hit to left-center. I was proud of how I was fighting off pitches. He kept throwing changeups down, changeups down, and I kept fouling them off, fouling them off, and he went fastball up and away and I fouled it off and was a little frustrated with myself, so I told myself to zone down. And he hung the slider and I put a good swing on it."
Steve Gilbert is a reporter for MLB.com. Read his blog, Inside the D-backs, and follow him on Twitter @SteveGilbertMLB. This story was not subject to the approval of Major League Baseball or its clubs.