Lyles follows Kendrick's lead on mound
Righty opens outing with four scoreless frames as Rockies set club record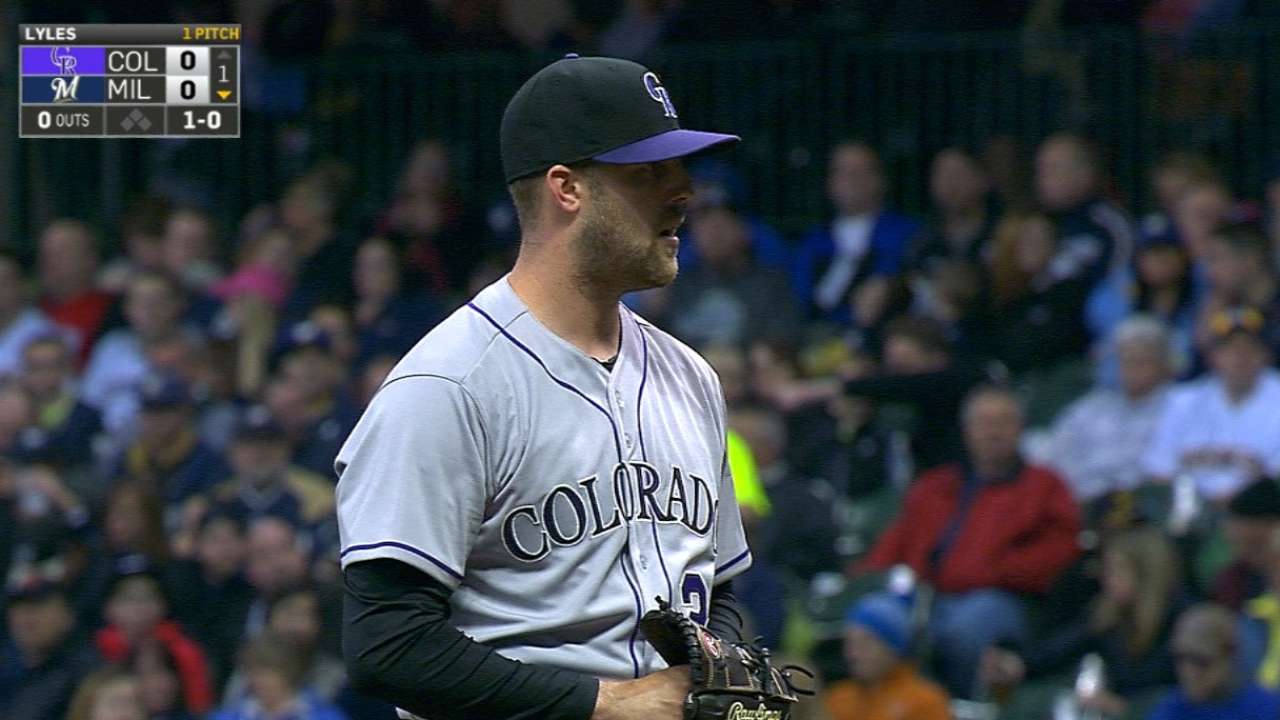 MILWAUKEE -- When Rockies right-hander Jordan Lyles was told that his performance Tuesday night helped set a team record -- 13 scoreless innings to start a season -- he immediately deflected credit. Lyles didn't give up a run until the fifth inning of the 5-2 victory over the Brewers, during which he threw six innings and gave up five hits.
"That goes to Kyle [Kendrick] for what he did [in Monday's opener], getting us off on the right foot," Lyles said.
It's fitting that Lyles wanted to share any praise that came his way with others. His work Tuesday was a study in relying on the help of teammates.
Lyles struck out two and forced eight ground-ball outs. One fly ball turned into the biggest play of the night. The Brewers' Adam Lind tried to leg out a triple on his deep fly to center over the glove of center fielder Charlie Blackmon in the fourth inning. But Blackmon fired to second baseman DJ LeMahieu, whose throw cut down Lind at third.
"After he turned second and we were able to have a good relay and get that first out of the inning, it was a big confidence boost," Lyles said.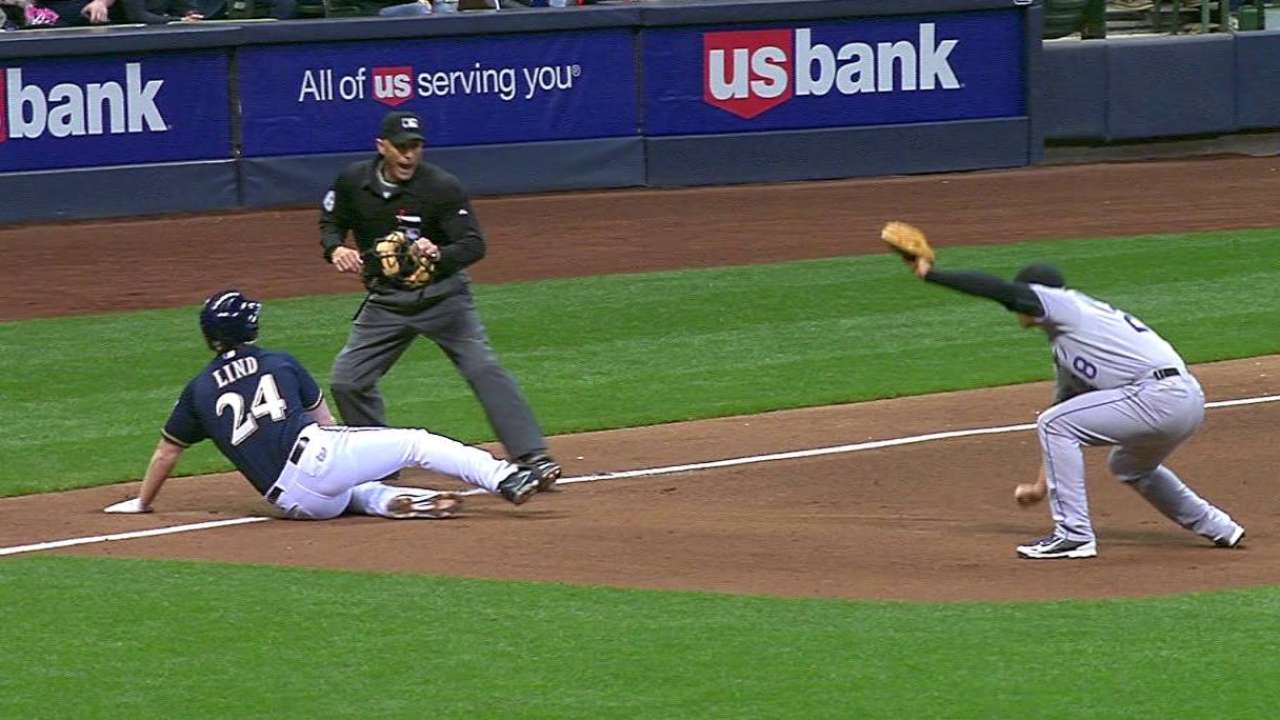 Much of Lyles' confidence came from within, however. He really needed it in the fifth.
After Gerardo Parra's leadoff double, Lyles let an 0-1 split-finger changeup slip, and the ball hit the bill of Jean Segura's batting helmet and struck him in the face. Segura was face-down near home plate, but he was able to leap to his feet and continue.
"It's tough," Lyles sad. "You don't want to see that happen."
But Lyles accounted for himself well.
Scooter Gennett loaded the bases on an infield bouncer that reached shortstop Troy Tulowitzki too slowly for the Rockies to have a play. But Lyles forced Logan Schafer into a double-play grounder, which got Milwaukee on the board. Carlos Gomez doubled in a second run, then Lyles retired the final four batters he faced.
"It's kind of tough, but Tulo and [catcher] Nick [Hundley] are there to get me back to where I need to be mentally," Lyles said. "We did a pretty good job of minimizing that damage right there."
It was a good beginning for Lyles, who pitched in the Majors each of the previous four seasons (three with Houston before joining the Rockies last year), but is just 24 years old. Lyles displayed a solid fastball Tuesday, which opened his curve, cutter and change.
"Lyles is young, but he's composed out there," Tulowitzki said. "He's young, but he pitches like a veteran."
Thomas Harding is a reporter for MLB.com. Read his blog, Hardball in the Rockies, follow him on Twitter @harding_at_mlb, and like his Facebook page, Thomas Harding and Friends at www.Rockies.com. This story was not subject to the approval of Major League Baseball or its clubs.