Considered an innings-eater, Latos can't get out of first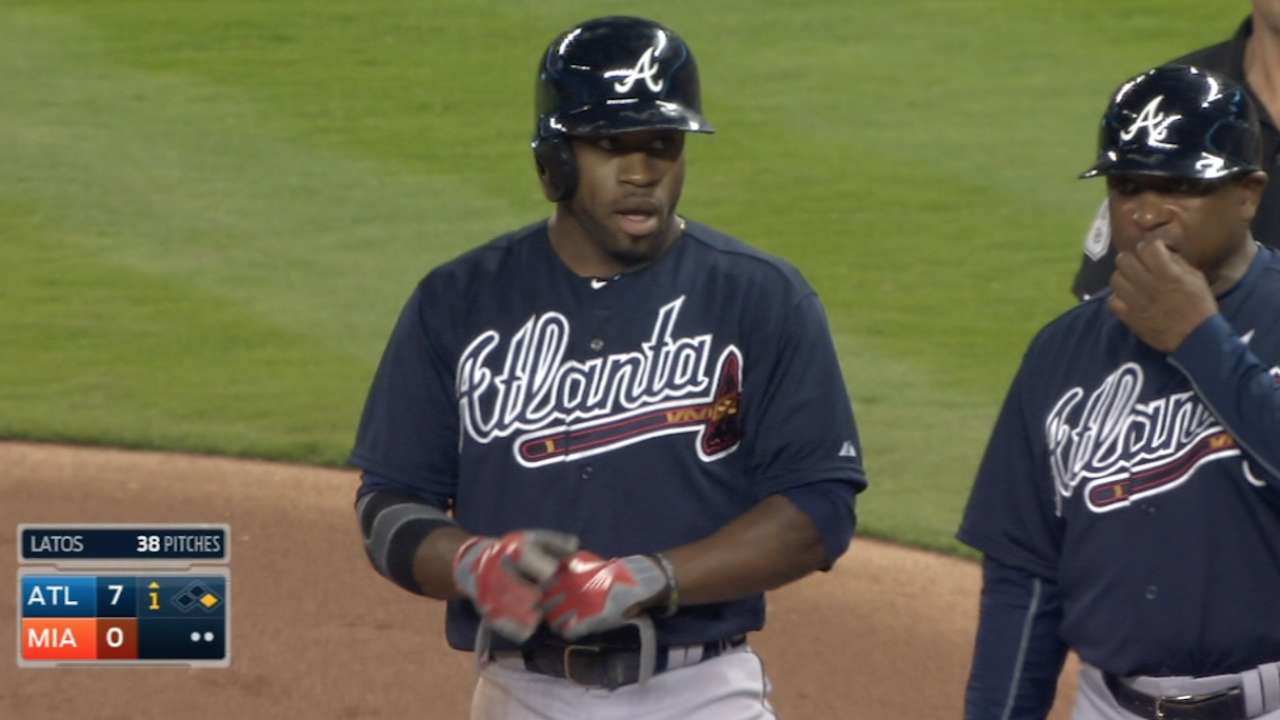 MIAMI -- Whenever Mat Latos takes the mound, you can usually bank on the right-hander pitching deep into games. That's what made his Marlins debut on Tuesday night so alarming, frustrating, and in his words, "embarrassing."
The Braves put up seven runs in a 28-minute top of the first inning and rolled to a 12-2 victory, while handing Latos his most agonizing big league defeat.
"It's the worst start I've had in six years," Latos said. "It [stinks]. That's the mildest way I can put it right now. I'm straight embarrassed."
Latos exited after just two-thirds of an inning, his shortest big league start. From a team perspective, the Marlins have now dropped two straight to the Braves. They'll try to avoid the sweep on Wednesday.
Latos' previous innings low came when he was on the Padres on Sept. 17, 2010. At St. Louis, the right-hander gave up eight runs in 1 1/3 innings.
"You always think your guy is going to get through it," manager Mike Redmond said. "As you could see tonight, when your starter goes out early like that, it makes it tough on everybody else."
The bullpen was asked to pick up 8 1/3 innings in a game that was out of hand before Miami came to bat.
Raised in South Florida, Latos was eager to make a strong first impression with his new club. His Marlins debut lasted 38 pitches, and he was out of the game after facing 10 batters.
"A little bit of the jitters, but it is what it is," Latos said. "There's no excuses putting my team in a seven-run hole, embarrassing myself. Not pitching to my best ability. That was outright embarrassing."
Getting knocked out of the game so early also was extremely uncharacteristic. In his 154 starts, just 16 of them have not lasted at least five innings.
Latos also becomes the first Marlins starter to give up at least seven runs in less than one inning since Ryan Dempster on Oct. 5, 2001, also against the Braves.
"Just throwing the ball down the middle of the plate," the right-hander said. "I don't know."
Joe Frisaro is a reporter for MLB.com. He writes a blog, called The Fish Pond. Follow him on Twitter @JoeFrisaro. This story was not subject to the approval of Major League Baseball or its clubs.