Karns settles down, saves wear on 'pen vs. O's
After rough first two innings, righty allows no hits in final 3 2/3 of outing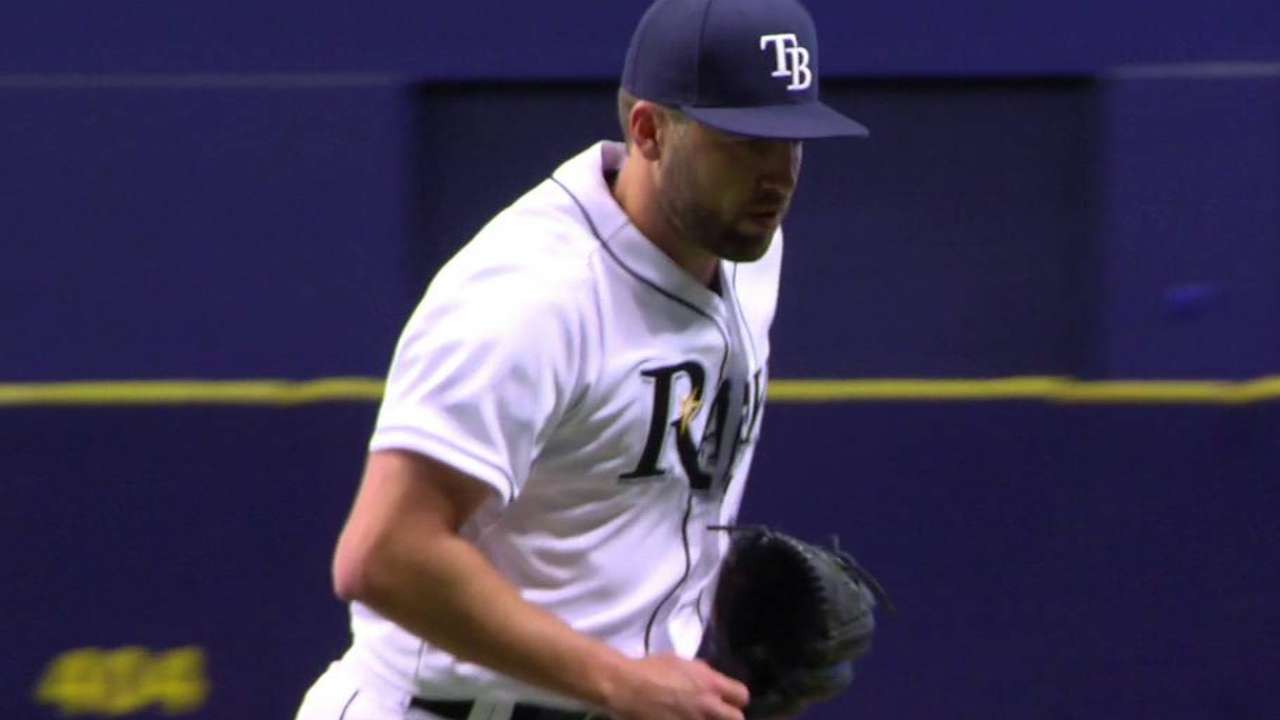 ST. PETERSBURG -- Kevin Cash told Nathan Karns to "bow up," and that's what the right-hander did after the mound visit from the Rays manager in Tampa Bay's 6-5 loss to the Orioles on Tuesday.
"We needed me to go lengthier than just two or three innings," said Karns, explaining Cash's message. "Pretty much just kind of stand your ground, you're going to be out there until you're running out of pitches. It kind of changed my mindset a little bit, and it worked for me."
Karns got off to a less-than-auspicious beginning, allowing six runs in the first two innings. But the Rays' rookie right-hander showed his mettle when he went to the mound in the third and promptly retired the side on six pitches with a strikeout of Chris Davis and retiring Manny Machado and Ryan Flaherty on groundouts.
In his first two innings, Karns allowed six runs on five hits and two walks while striking out one. In his final 3 2/3 innings, he did not give up a run or any hits, walked two and struck out three.
In doing so, he helped keep the Rays in the game, and he also saved some wear on the bullpen.
"It was an outstanding job," Cash said. "An outstanding effort on his part. He really bowed up and probably saved us. Could have gotten a little hairy there the way it was going. He just fell behind a couple of guys early in the game. ... Not the most ideal situation, obviously. What he did to pick up the rest of the game and bullpen was outstanding."
Karns noted that he tried to do too much in the first two innings.
"Just kind of got out of my game, trying to make pitch sequences that I normally don't try and do," Karns said. "It's just a learning curve. Trying to stay within myself at the beginning of the game. And eventually it kind of caught on."
Karns never felt as though he had lost control, though.
"I mean, the first inning, four hits in a row," Karns said. "If I was walking everybody, I'd feel a little different. The second inning, the only thing I'm really disappointed is two outs and an 0-2 curveball that was hung and hit out.
"... I had to battle out there. But after that I felt fine and kind of stayed within myself and kept going with the game plan."
Bill Chastain is a reporter for MLB.com. This story was not subject to the approval of Major League Baseball or its clubs.