MLB.com Columnist
Anthony Castrovince
Five early season takeaways
Gray, Tanaka and Marlins among hot topics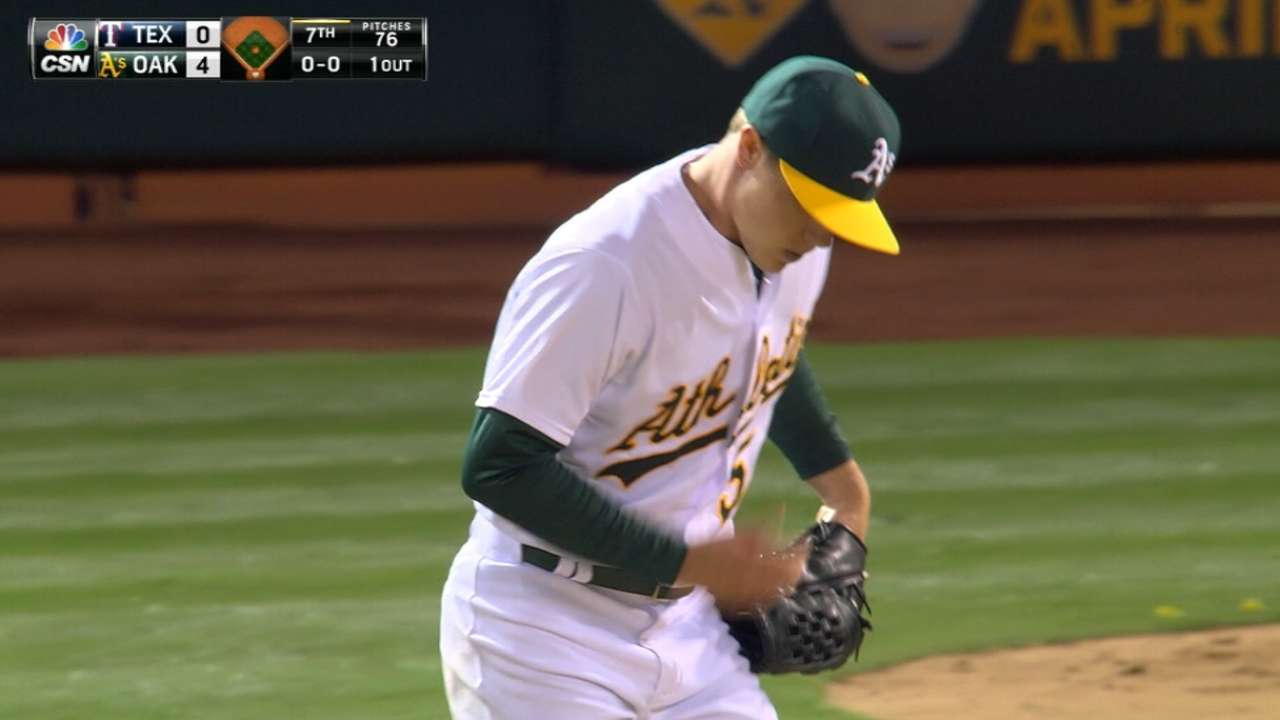 We had some fun (well, OK, I had some fun… I can't speak for the rest of you) Tuesday looking at some overreactions to the one-day sample that is Opening Day. But just because we ought to know better than to draw conclusions from early April output doesn't mean we should ignore the results completely.
With that in mind, here are five takeaways from what we've seen so far.
1. No no-no, but not for long
On Opening Day 1994, Randy Johnson no-hit the Indians for seven innings in their brand new ballpark, Jacobs Field. Bob Feller, the Tribe legend who tossed baseball's only Opening Day no-hitter on April 16, 1940, went on the local radio broadcast to talk about the achievement, in an admitted effort to jinx Johnson.
It worked. Sandy Alomar Jr. broke it up in the eighth, and Feller, as would be the case each season for the rest of his life, could celebrate like the living members of the 1972 Dolphins do every time the last undefeated NFL team goes down.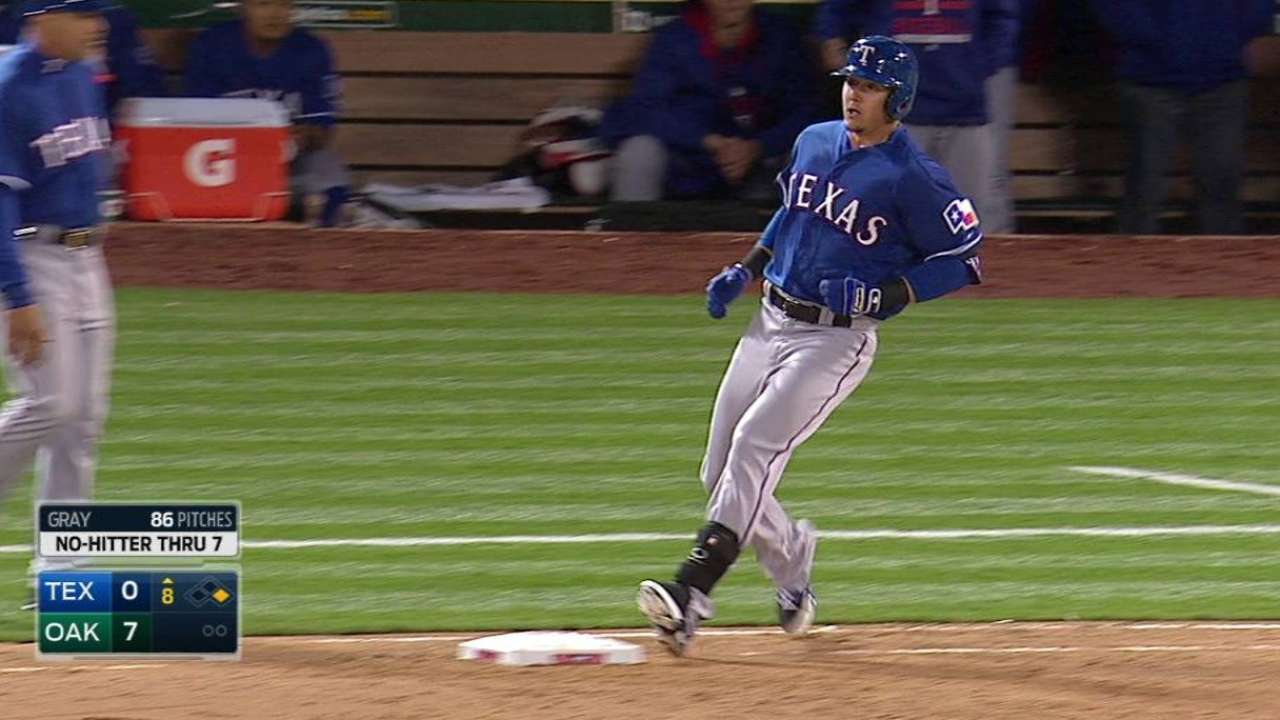 So Feller must have been smiling somewhere in Baseball Heaven when Sonny Gray gave up that Ryan Rua single in the eighth Monday night in Oakland. But in this age of pitching prominence, I feel fairly comfortable assuming somebody is going to toss a no-no at some point. We had five of them last year, after all, including the Jordan Zimmermann no-no on Closing Day.
With that in mind, the five pitchers listed in the "Bill James Handbook" as having the best chance of throwing a no-hitter in 2015 (using a formula that involves a pitcher's "out percentage") are as follows:
Clayton Kershaw (25)
Chris Sale (23)
Stephen Strasburg (21)
Corey Kluber and Max Scherzer (20)
Or maybe Zimmermann will do it again. He pitches Wednesday against the Mets.
2. Ta-knocked-around
No, you shouldn't dump your Masahiro Tanaka stock. If he's on your fantasy team, don't go trading him for, like, Gerald Laird (nothing personal, Gerald). If you're a Yankees fan, don't go assuming the season is sunk. If you're a columnist, please don't advocate that he go under the knife immediately, as if Tommy John surgery is akin to having a tooth pulled.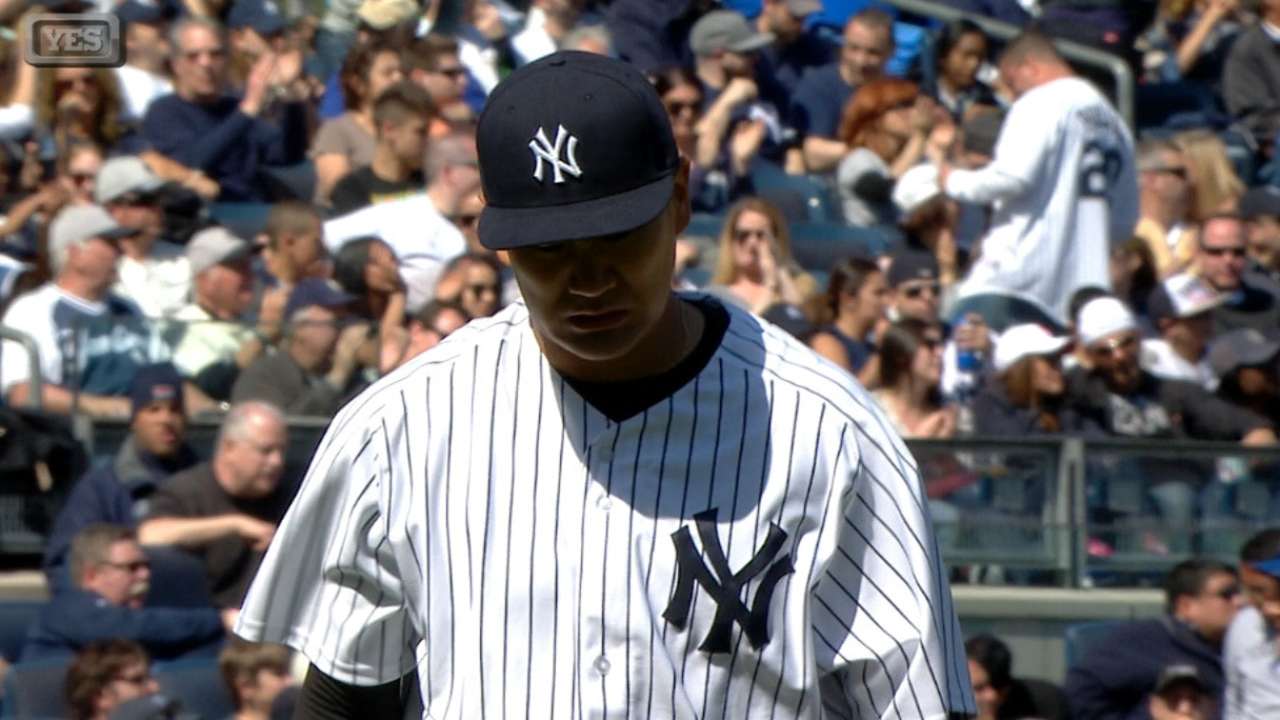 But Tanaka sure set off some alarm bells when he told reporters to expect diminished velocity on his four-seamer, and his Opening Day outing, in which he got pounded with a pitch selection heavy on the two-seamers, was anything but encouraging. Maybe Tanaka can survive and even thrive with a reinvented repertoire, but right now he's certainly not the guy with the awesome arsenal that the Yanks invested so heavily in.
We went into the season understanding that Tanaka's elbow could snap at any second, but you figured he'd at least be effective up until that possibly inevitable day. Tanaka is taking on a transition that usually comes at a much later stage of a pitcher's career, and -- this is no small point -- he's doing it under one of the most finely focused microscopes in all of professional sports. Here's wishing him well.
3. Something Fishy
Nobody wants to start off 0-2, but the manner in which the Marlins have found themselves at 0-2 was particularly frustrating. There were mental mishaps aplenty on Opening Day (and no, I'm not just talking about the open-roof fiasco that led to Marlins Park's first rain delay). And then Mat Latos -- the key rotation acquisition -- got absolutely shellacked Tuesday night. He'll have to stomach a 94.50 ERA for a few days. Pass the antacids.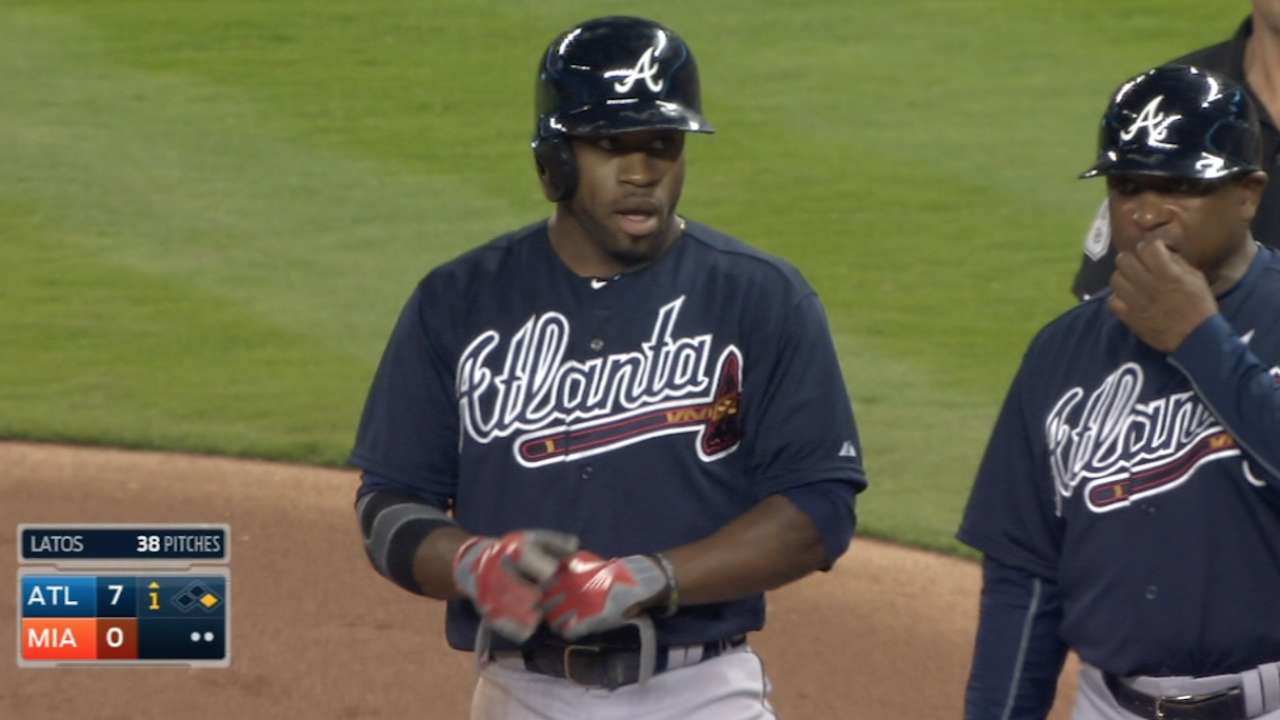 With Miami, a slow start means a little more. The prime storyline of the season is that the Marlins are trying to hold serve until Jose Fernandez can get back and put them over the top. They've had a quick trigger finger in the past with managers, so who knows if Mike Redmond, as respected as he is, is guaranteed to be on stable ground? More than anything, though, they're trying to establish credibility after an offseason centered on newfound stability.
While 0-2 is nothing to panic about, the roof issue is actually mildly interesting. If Miami errs on the side of keeping it closed whenever a little inclement weather is in the area, that could actually have an impact on the action. Marlins hitters say the ball carries better when the roof is open.
4. Underrated again?
Count me among the many people who didn't put the Royals down to repeat as American League champs (though I did pick them to win the Central last season). It's not that I don't love their defense-and-bullpen-reliant portfolio; it's just that I wonder if they'll have to lean on the bats more now with James Shields out of the rotation and the general unlikelihood that the trio of Kelvin Herrera, Wade Davis and Greg Holland will be as dominant as it was in 2014. And I still have questions about the bats.
But if the Royals were right about Alex Rios and Kendrys Morales and see growth from their cornerstone players, they're going to prove a lot of people wrong again.
So far, so good, on that front, as Rios and Morales both had strong camps and strong starts on Opening Day. Morales hit a double and drew three walks, and Rios, with a three-run shot in the seventh, displayed the same power profile he unleashed in Arizona in March.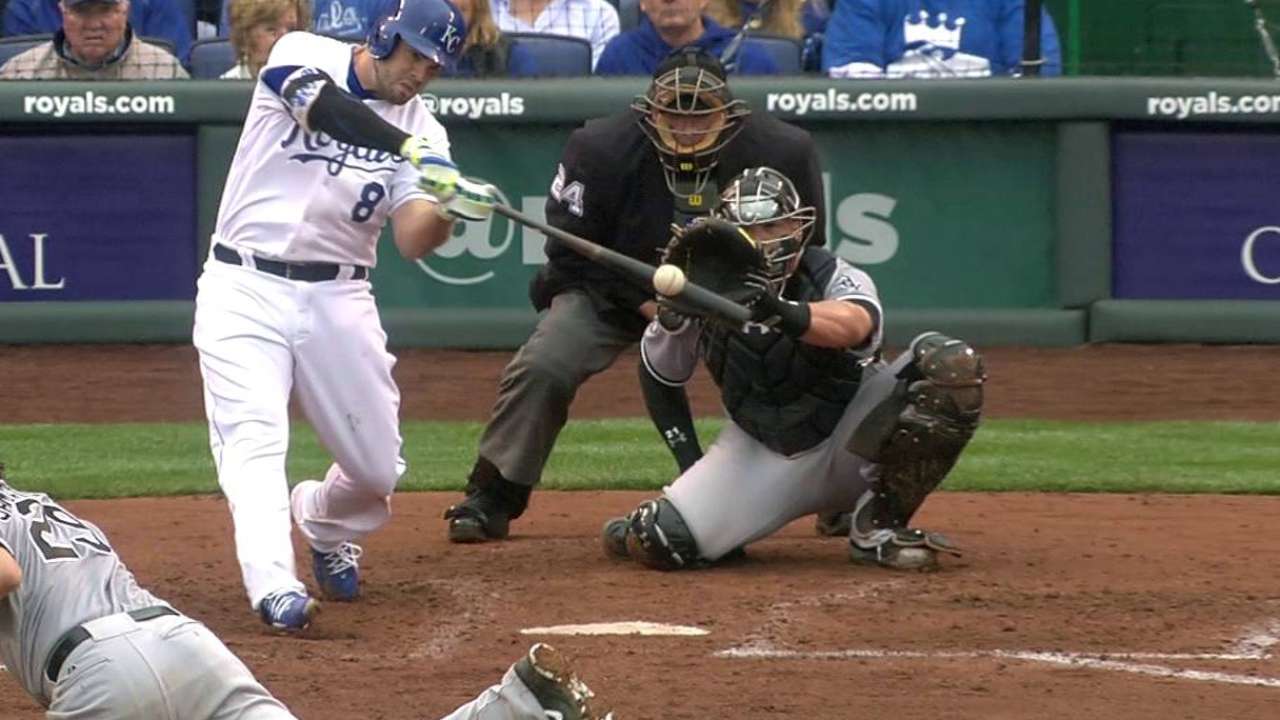 The most encouraging sign, though, came from Mike Moustakas, who dined at Oppo di Boppo with a big blast off Jeff Samardzija -- no small feat in cavernous Kauffman Stadium. We all know what an X-factor Moustakas is for this offense, and manager Ned Yost -- in characteristically head-scratching-but-possibly-brilliant fashion -- penciled Moose into the two-hole to build up the kid's confidence.
Again, so far, so good.
5. "Stars in his eyes?"
I made mention of Travis Snider's strong Opening Day in the aforementioned overreactions piece, only because it's silly to harp on any single game. But one Orioles fan quickly countered that singling Snider out as a strong under-the-radar acquisition by the O's is hardly an overreaction at all.
On this, I totally agree. In fact, I've been applauding the Snider pickup in every piece I've written on the Orioles since they made that move in January. At surface glance, Snider's big league career, to date, has been disappointing, given his former top-prospect status. But he made some serious strides in selection and in batted-ball distance as 2014 evolved, he's only 27, he plays good defense, and the O's -- as is often the case with them in recent years -- might be getting him at just the right time.
Now, does that mean you should go ga-ga over Snider's first two games in Orioles orange, rewriting "Jukebox Hero" with the words "Lunchbox Hero" and naming your first-born son Travis? No (although the song could be fun, and Travis isn't a bad name). Just don't totally dismiss what's happening here as an absolute April aberration. This could be the start of a solid season.
Anthony Castrovince is a reporter for MLB.com. Read his columns and follow him on Twitter at @Castrovince. This story was not subject to the approval of Major League Baseball or its clubs.