MLB.com Columnist
Lyle Spencer
Power and pitching: Padres built to bulldoze
Revamped roster gives Black thunder in lineup, high-caliber arms in rotation and bullpen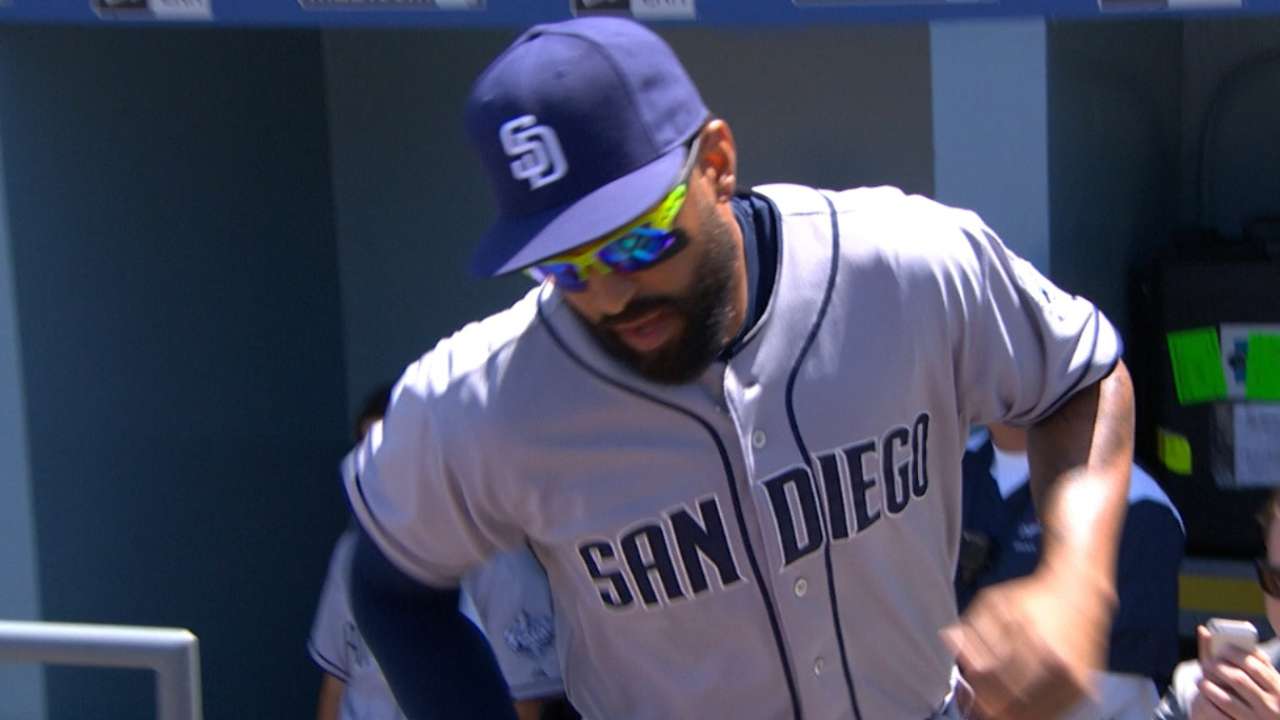 LOS ANGELES -- Clayton Kershaw, with Zack Greinke right behind him. There are better ways to open a season than against the Dodgers' terrific tandem -- especially when you're a brand-new outfit seeking an identity. As measuring sticks go, Kershaw and Greinke are dynamite incorporated.
In their all-out effort to become relevant again in the National League West and beyond, the Padres are aglow, their season-opening loss notwithstanding. They have loaded up on firepower -- offensively and on the mound, adding a certified ace in James Shields and the game's premier closer, Craig Kimbrel.
The all-new outfield of Matt Kemp, Justin Upton and Wil Myers, with big brother Melvin Upton Jr. coming aboard as well, should support a superb pitching staff with serious power production. Third baseman Will Middlebrooks and catcher Derek Norris also are threats to launch baseballs.
The model for these Padres would seem to be the great Orioles teams of the 1960s and '70s, powered by manager Earl Weaver's two favorite things: three-run homers and high-caliber arms.
"Our main focus is pitching and defense -- and timely hitting," Shields said, having seen what those elements did for his Royals last October. "Obviously, three-run homers are great, but you can't count on them. They're an added bonus. We want to win with timely hitting."
Timely power, a luxury San Diego manager Bud Black has learned to live without, also is a good thing.
"In years past, we had to push it a little more [on the bases]," Black was saying as rain fell Tuesday evening in a region in dire need of moisture. "We stole bases, [used the] hit-and-run more. We had to put a little bit of pressure on the pitcher and catcher."
Black paused, weighing his punch line.
"Now," he said, "the opposing pitcher will feel pressure when we're in the box."
Even, Black added, at Petco Park, where Kemp, Justin Upton and new shortstop Clint Barmes have thrived in the past.
Thunder is coming from the Padres, whose 109 home runs last season were surpassed by every NL club but the Cardinals, with 105.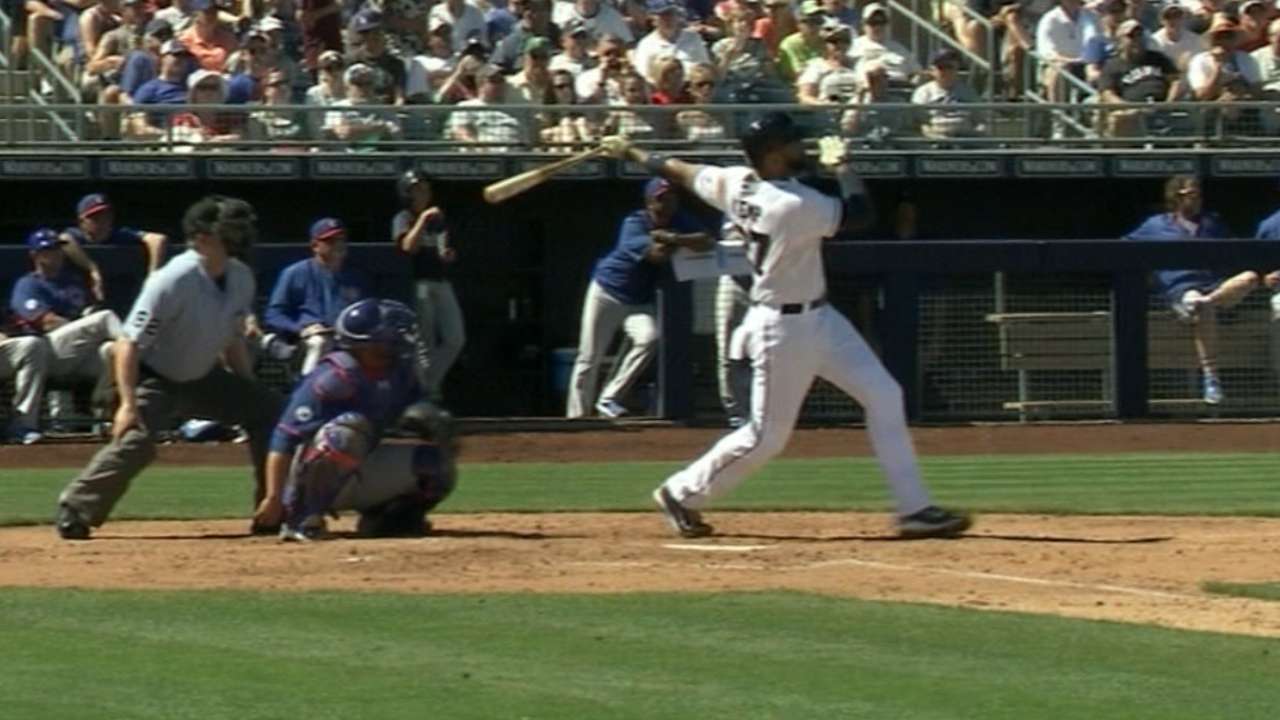 A healthy Kemp had 25 homers last year for the Dodgers and a career-high 39 in 2011. Justin Upton also had a career best in '11 with 31, producing 29 last year for the Braves. Melvin, the artist formerly known as B.J., had 28 homers in 2012 but fell to 12 in Atlanta last year.
Middlebrooks went deep 17 times for the Red Sox in 2013. Norris had 10 homers for the A's last season. Barmes is known for his defense, but he unloaded 23 homers in 2009.
Toss in holdover second baseman Jedd Gyorko (23 homers in 2013) and outfielder Will Venable (22 homers in '13), and muscle runs up and down Black's lineup. He can be confident that San Diego will not finish last in the Majors in runs scored (535) and slugging (.342), as in 2014.
"I will make a prediction," Black said. "We will not lead the league in stolen bases or stolen-base attempts."
Shields, who outpitched Kershaw in holding the Dodgers to two runs in six innings on Monday, feels the right pieces are in place.
"Getting that many runs [three] against Kershaw is a feat," Shields said. "We've got a good hitting team. I think we know what we're capable of doing. We don't try to do more than what our abilities are."
Shields is followed in a potentially lights-out rotation by Tyson Ross, Andrew Cashner, Ian Kennedy and Brandon Morrow, with Odrisamer Despaigne also available. Josh Johnson, making a comeback bid, represents a huge potential ace in the hole.
"I've been very fortunate to be part of some tremendous rotations," Shields said, reflecting on his days with the Rays and Royals. "Our rotation is definitely up there. One through five, we've got a chance to win. And we've got depth.
"Josh Johnson looks great throwing bullpens. He's worked his [tail] off. He's a great teammate, out here watching our bullpens every day. He wants to prove he's still got it."
That seems to be the mission running through this fascinating Padres troupe.
Lyle Spencer is a national reporter and columnist for MLB.com. Follow him on Twitter @LyleMSpencer. This story was not subject to the approval of Major League Baseball or its clubs.