Braves' 7-run first deep-sixes Latos, Marlins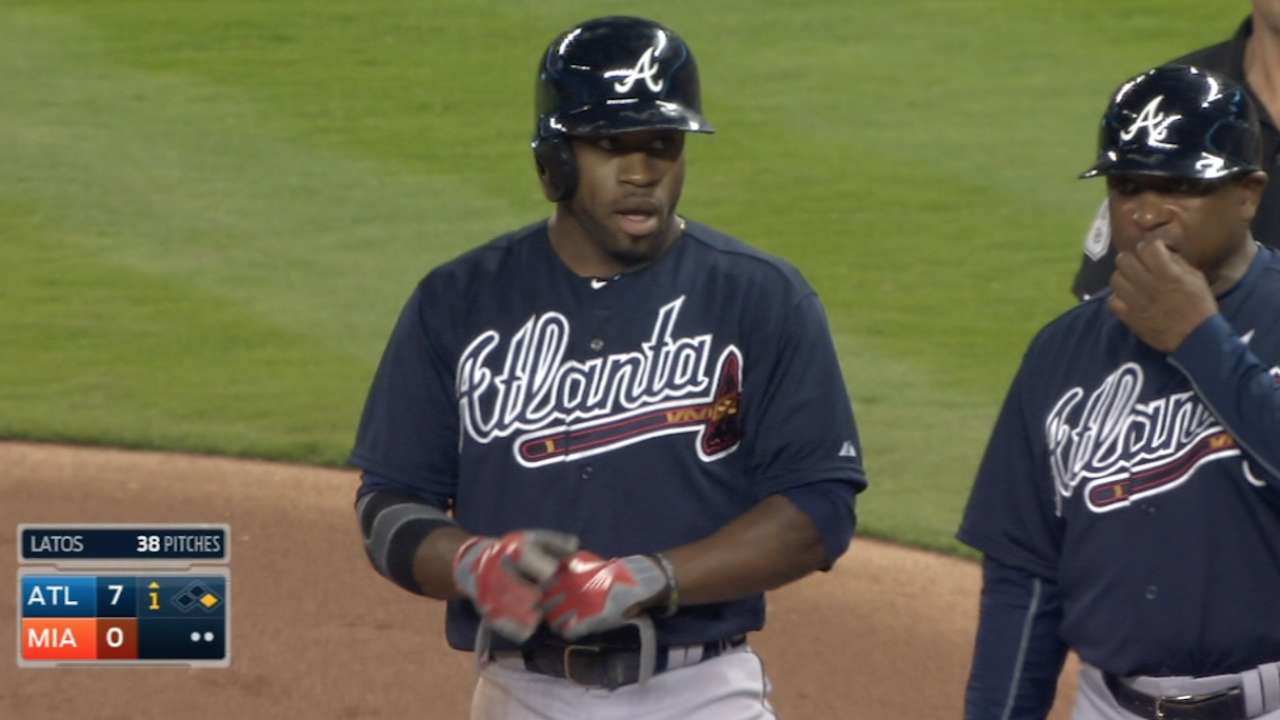 MIAMI -- The top of the first inning took 28 minutes. To Mat Latos, it seemed like it would never end.
The Braves sent 12 to the plate and scored seven times off the Marlins' starter, giving Alex Wood plenty of early support to coast to a 12-2 victory over Miami on Tuesday night. Atlanta also secured the series win at Marlins Park.
"This is just the second game of the season, but I'm really pleased with the way our offense has been grinding out at-bats," Braves manager Fredi Gonzalez said.
Freddie Freeman, Christian Bethancourt and Chris Johnson each had RBI doubles in the first. Andrelton Simmons added a two-run single, and Latos exited after two-thirds of an inning -- his shortest career start.
"It's ridiculous to put the team through that," Latos said. "Cost the ballgame. Glad to get that out of the way, I guess."
Donovan Solano broke up the shutout with a pinch-hit RBI triple off Wood in the fifth. Atlanta made it a 10-run game with four in the ninth off Steve Cishek.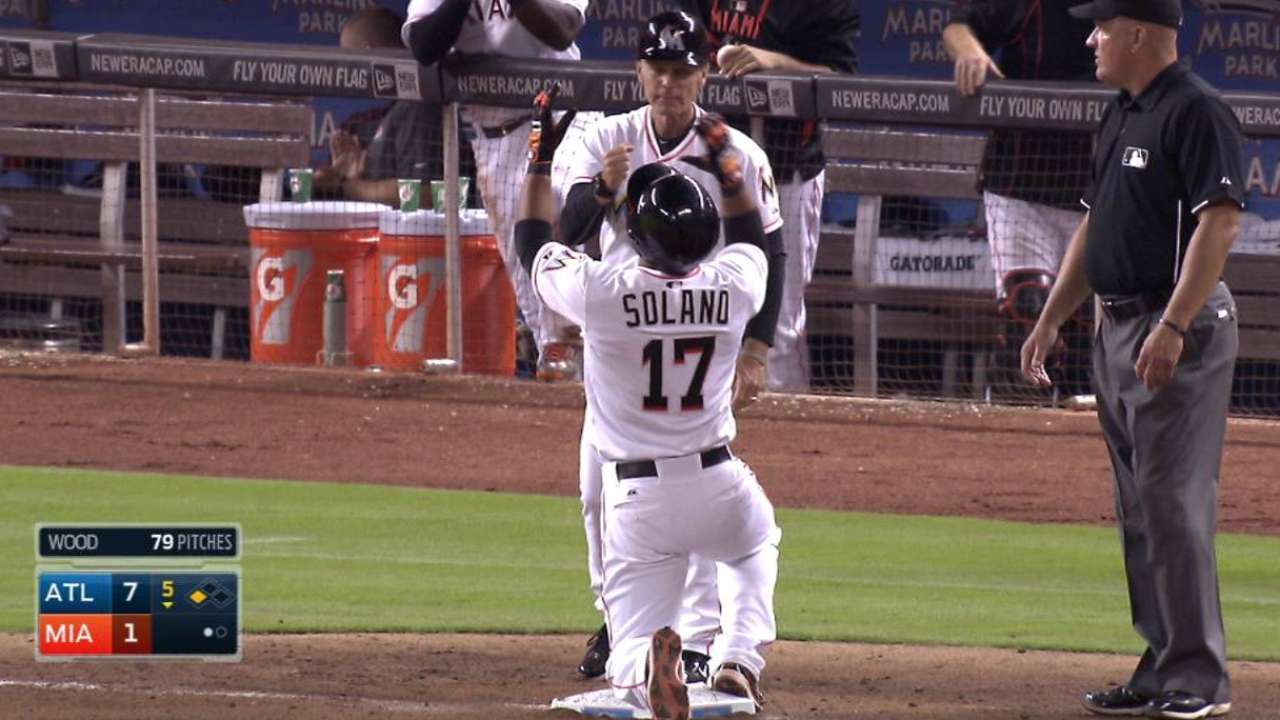 MOMENTS THAT MATTERED
Latos' early exit: For the first time in his career, a span of 154 starts, Latos didn't make it through the first inning. The 28-year-old's previously shortest stint came when he was on the Padres. On Sept. 17, 2010, Latos allowed eight earned runs in 1 1/3 innings in St. Louis. The most runs Latos has allowed in an outing are eight. Both times came against the Cardinals. More >
Bases loaded backfires: Down seven before coming to bat isn't an optimum situation to be in. But Miami did have a chance to chip back a bit in the first inning, loading the bases with no outs. But the club left them loaded without scoring for the second time in as many games. Wood struck out Michael Morse and got Martin Prado to tap into a 5-4-3 double play. On Opening Day, Miami also failed to score after filling the bases with no outs in the seventh inning.
Markakis provides the spark: After Jace Peterson's liner to left accounted for the game's first out, Nick Markakis hit a 0-2 slider the other way to score Eric Young Jr. with the game's first run. Markakis' effective plate appearance set the stage for Freeman and Bethancourt to follow with consecutive RBI doubles.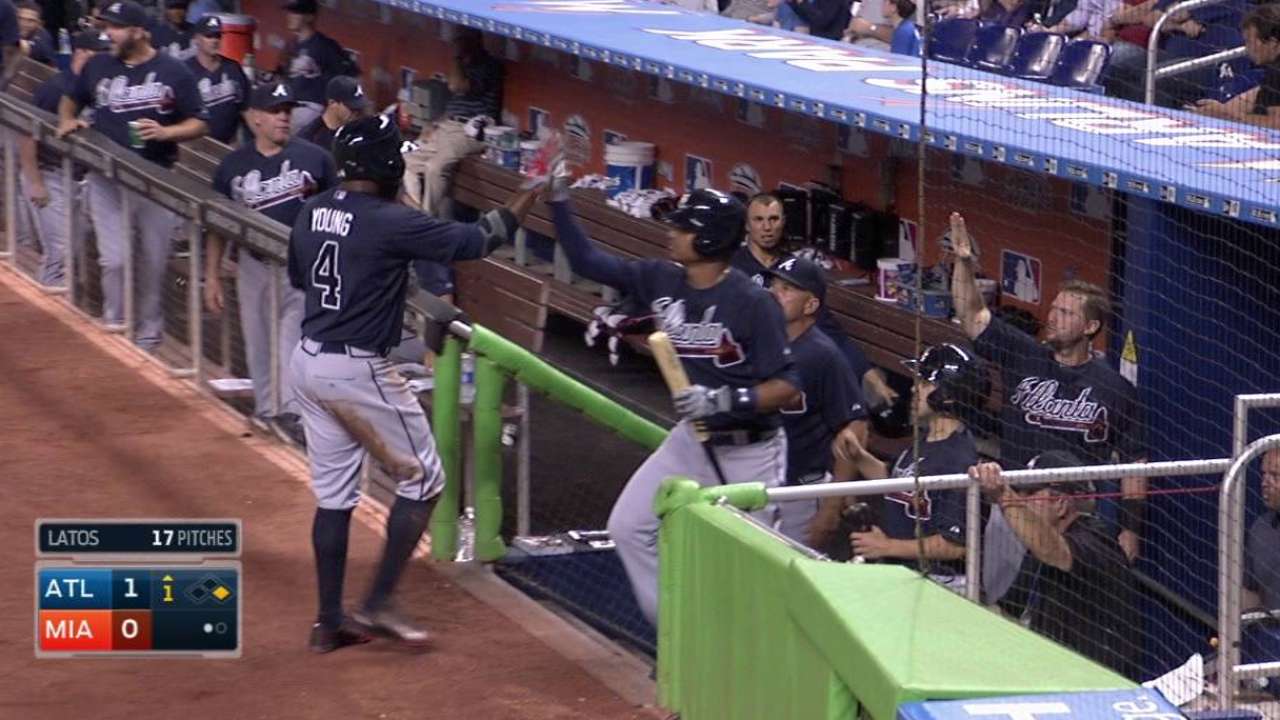 Wood holds strong: After having to wait as his team sent 12 batters to the plate in the first inning, Wood found himself in trouble when he loaded the bases before recording his first out. But the stoic southpaw preserved the early seven-run advantage by striking out Morse and inducing a Prado double play. Opponents are 1-for-10 against Wood with the bases loaded since the start of the 2014 season. More >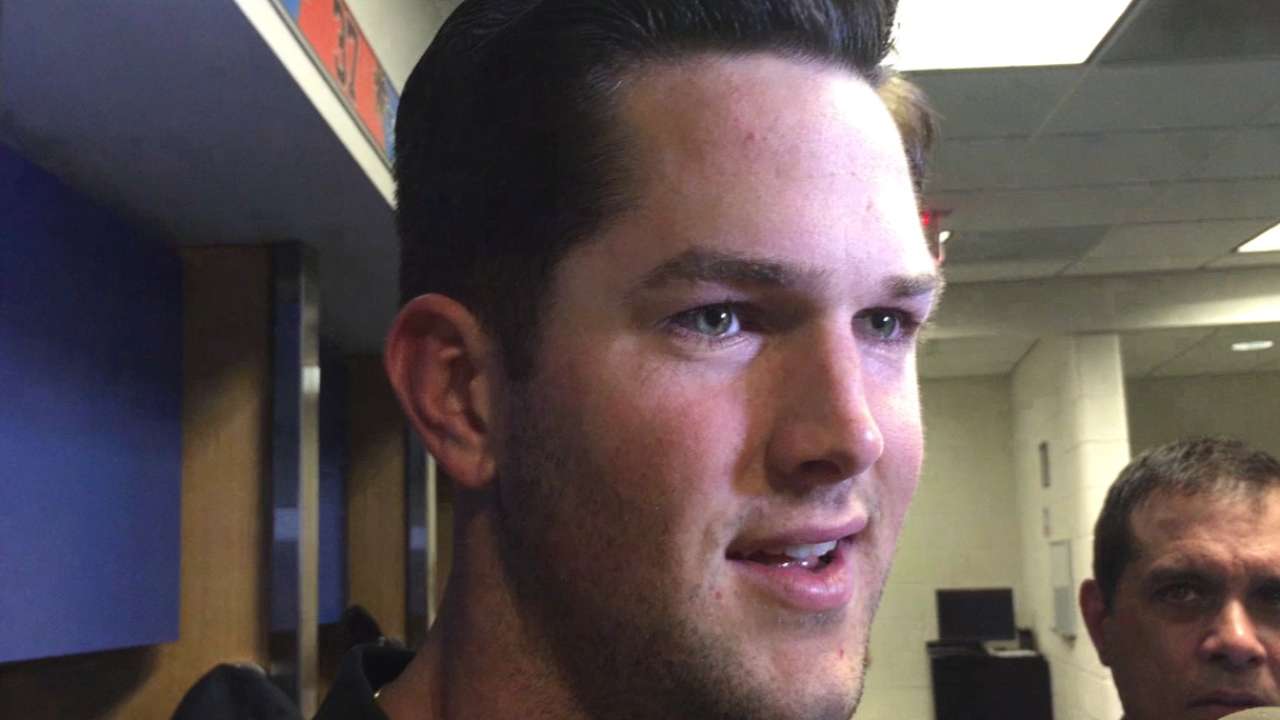 QUOTABLE
"He just didn't have it. [Pitches were] flat and up in the zone. They squared quite a few balls up. Not a whole lot to say." -- Marlins manager Mike Redmond, on Latos' performance
"The only guy striking out right now is me. I'm part of the 2013 and 2014 seasons. So I've got to keep that going." -- Freeman, who has accounted for four of Atlanta's 12 strikeouts
SOUND SMART WITH YOUR FRIENDS
The last Marlins starter to give up at least seven runs in less than one inning was Ryan Dempster on Oct. 5, 2001, against the Braves. That day, Dempster's line was similar to Latos -- seven runs in two-thirds of an inning.
This marked the first time the Braves have scored 12 runs while striking out five or fewer times since their 13-10 win over the Rockies on June 10, 2014 -- which had also stood as the most recent time they had tallied seven first-inning runs.
WHAT'S NEXT
Braves: Shelby Miller will make his first start for Atlanta as the Braves attempt to complete a series sweep on Wednesday. He will be pitching to backup catcher A.J. Pierzynski, who spent a portion of last year as his batterymate with the Cardinals.
Marlins: Tom Koehler, 10-10 with a 3.81 ERA in 2014, closes out the three-game set. The right-hander made four starts vs. Atlanta in '14, and was 0-1 with a 2.77 ERA.
Joe Frisaro is a reporter for MLB.com. He writes a blog, called The Fish Pond. Follow him on Twitter @JoeFrisaro. Mark Bowman is a reporter for MLB.com. This story was not subject to the approval of Major League Baseball or its clubs.