Kimbrel stoked to join Padres' radical makeover
All-Star closer excited for 'win now' mentality; strikes out side in debut outing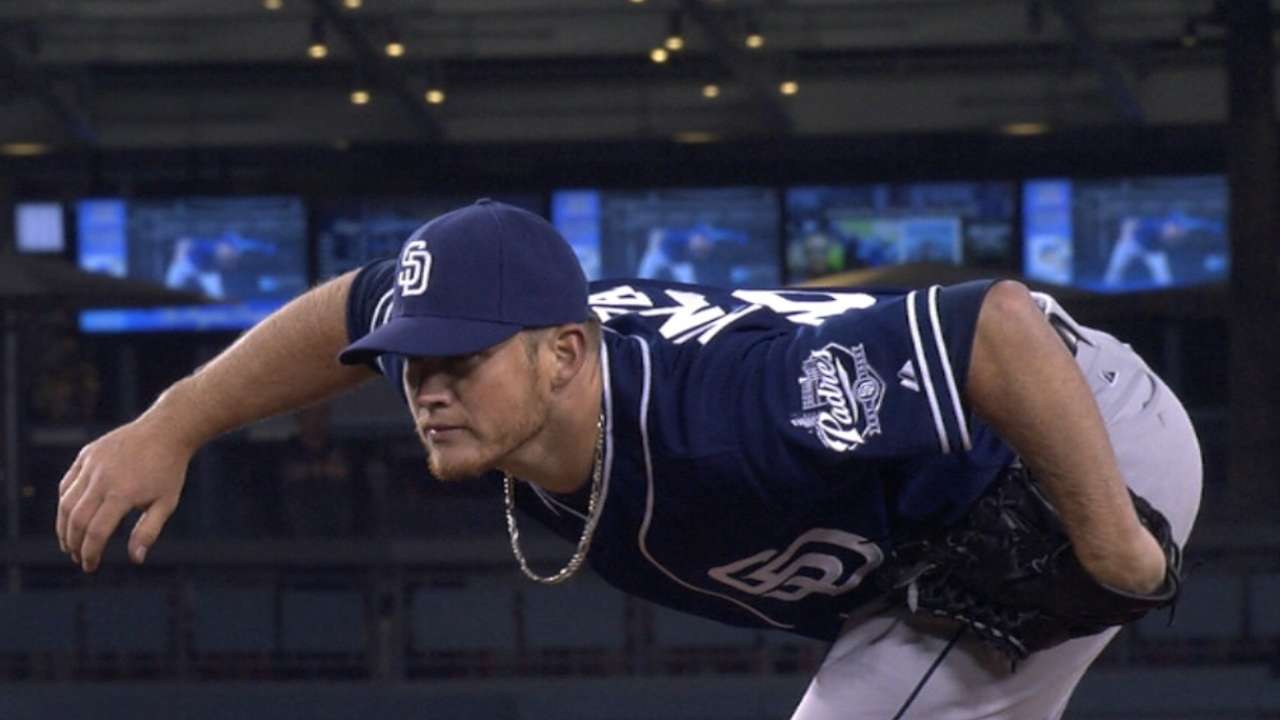 LOS ANGELES -- When Craig Kimbrel pushed open the doors to the visitors' clubhouse at Dodger Stadium on Monday, just 45 minutes before first pitch, his new Padres teammates didn't exactly rush to help him with his bags.
"Everyone was asking why I was late," Kimbrel said, smiling.
The joke was on Kimbrel, as his teammates interjected some levity in his situation; traded less than one day before Opening Day and having to hastily gather his things and family and fly from Miami to Los Angeles in time for Monday's game.
Kimbrel was in uniform, No. 46, in time for player introductions, and might have made his Padres debut had the game not slipped away from San Diego late, as the Dodgers rallied for a 6-3 victory.
Afterward, Kimbrel, 26, stood in front of his locker and answered questions about the whirlwind events of the past 24 or so hours, being traded by the Braves, the only organization he had ever known, to join the Padres, the latest notable acquisition by general manager A.J. Preller.
"It did catch me a little off-guard," Kimbrel said. "It was shocking that it was a day before Opening Day, and it wasn't something you are expecting."
While Kimbrel never made it into Monday's opener, he didn't have to wait long to make his first pitch for his new team.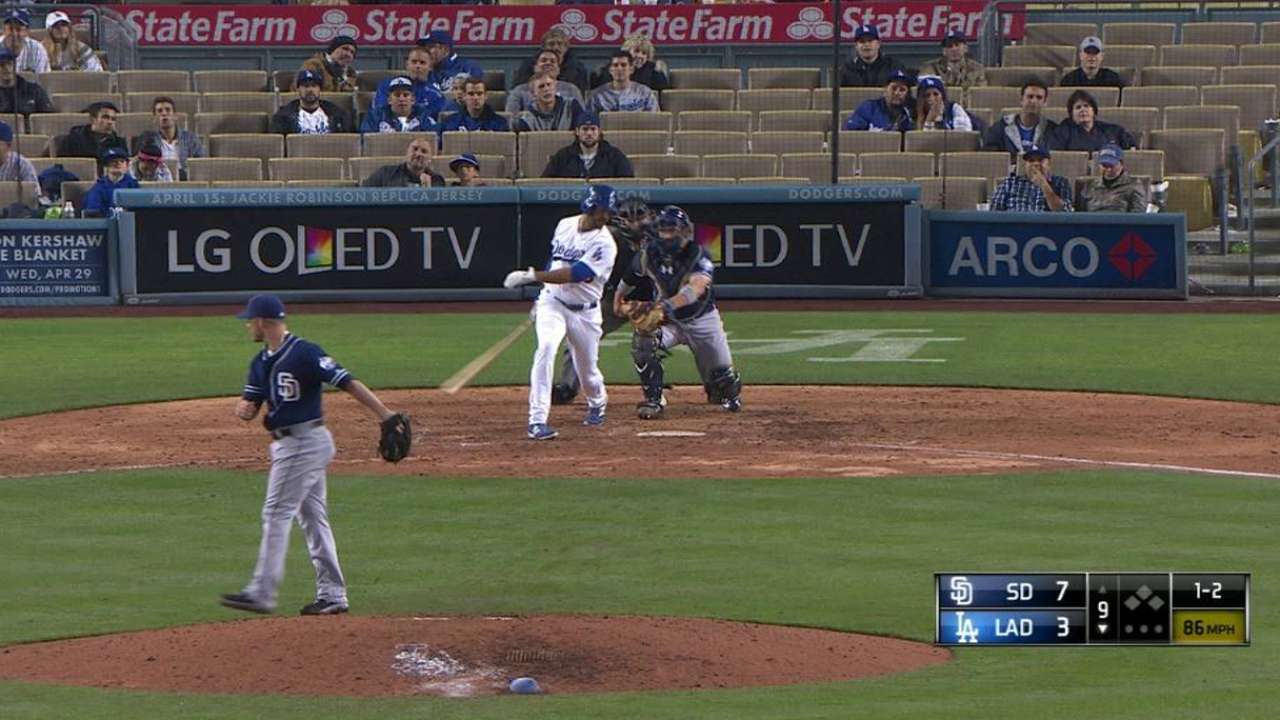 Kimbrel entered Tuesday night's game, charged with holding a four-run lead in a non-save situation. That made no difference to him.
He blew through the three hitters he faced, striking out the side on 16 pitches, 10 for strikes, as the Padres defeated the Dodgers, 7-3.
"It felt good, it's the same job, got to get the outs and finish the game," he said. "The jersey might have changed, but the object of the game hasn't."
The Padres acquired Kimbrel, a four-time All-Star who has led the National League in saves each of the last four seasons, to bolster the back end of their bullpen. They took on outfielder Melvin Upton Jr., the brother of Padres left fielder Justin Upton, and his contract, to make the deal work.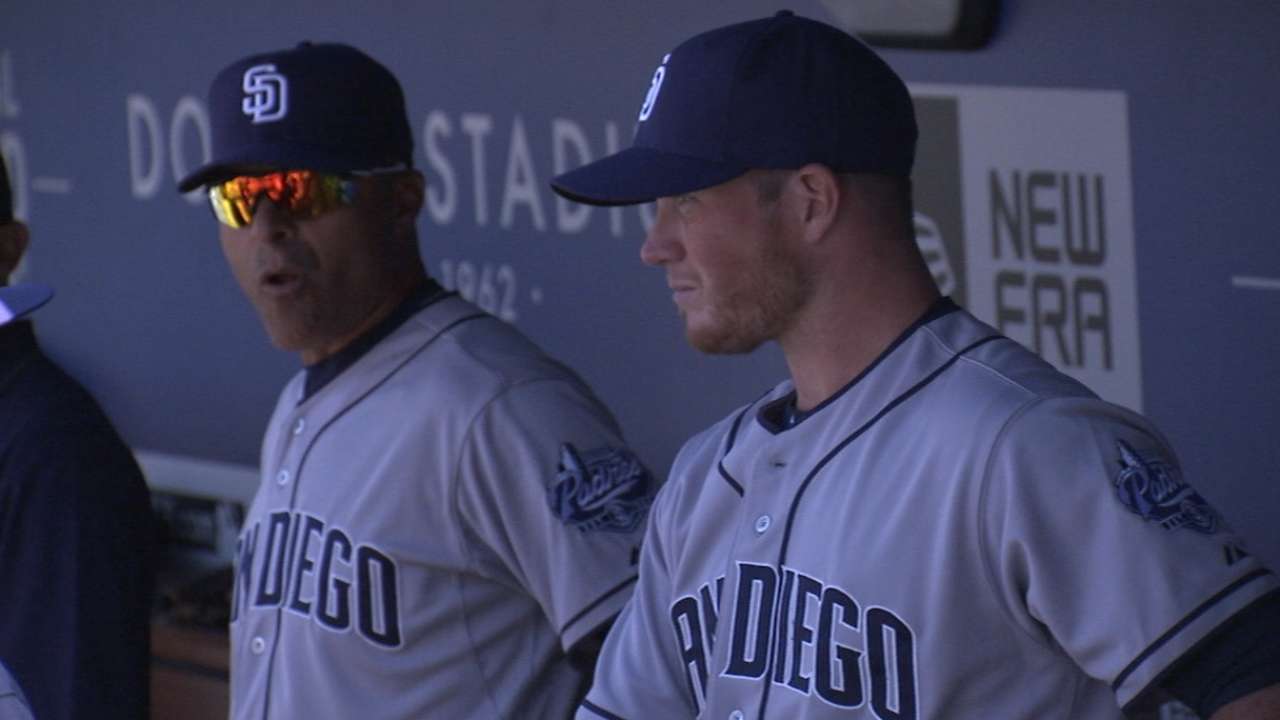 Preller also parted with two prospects, the most notable of which was righty Matt Wisler, who many considered the top pitching prospect in the organization's farm system, which grows thinner each time Preller makes a trade.
But as Preller said Sunday after the deal, this was an opportunity too good for the Padres to pass on. Manager Bud Black shared that sentiment as well.
"What he's done in his career, the last four years, speaks for itself. He's a legitimate ninth-inning guy. A four-time All-Star, a big arm, an impact bullpen guy. ... He makes us better," Black said.
"When it first came to pass, it jars you a little bit. You feel good about it and you feel good about it for the team. It's a big lift to us in a lot of ways."
Kimbrel, drafted by the Braves in 2008, moved quickly through their system, reaching the big leagues in 2010. He saved 46 games the following season and has posted an ERA under 2.00 in each of the past three years.
"Those memories are awesome, I'll never forget them," he said of his time with the Braves. "But this is a new chapter, I'm on the West Coast now, and I'm excited to get started."
Justin Upton, who played with Kimbrel in Atlanta, gave Preller a glowing endorsement of his new closer before the deal was done. Kimbrel admitted to watching with interest from afar as Preller went about revamping the Padres' roster.
Now he's a part of it -- and a big one, at that.
"You can tell this organization is going after it, it's not a few-years deal, it's right now. As a player, that's exciting," Kimbrel said. "You don't know how long you're going to play this game.
"[Being here] you could tell everyone is excited ... from the front office to the players. That gets me excited. I'm ready to get the ball and get started."
Corey Brock is a reporter for MLB.com. Keep track of @FollowThePadres on Twitter. This story was not subject to the approval of Major League Baseball or its clubs.