Scioscia not going to strictly platoon Joyce vs. lefties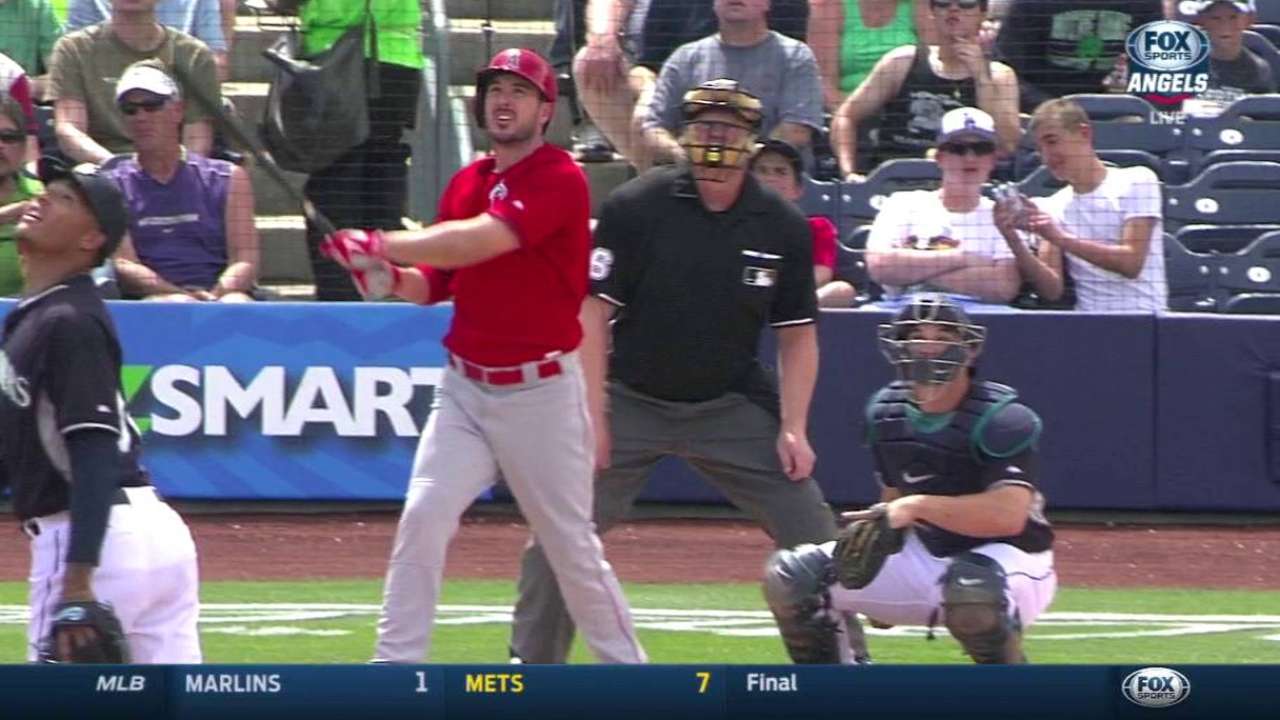 SEATTLE -- Matt Joyce entered his first season with the Angels hopeful of being used in an everyday role and not sitting against lefty starters, like he did the majority of his time with the Rays.

"Matt will get his chance to play versus some lefties at times, and at times, we're going to match up," Angels manager Mike Scioscia said prior to Tuesday's game against Mariners and lefty James Paxton. "The one thing with Matt -- when he's swinging the bat well, you don't just want to automatically take him out because of a left-hander."
On Tuesday, though, Scioscia put the right-handed-hitting Collin Cowgill in place of Joyce in left field, batting Cowgill eighth and placing David Freese in the cleanup spot that's occupied by Joyce against righties.
Scioscia told Joyce he'd only be sitting against the tougher lefties, and Paxton -- with a 2.66 ERA in 98 Major League innings -- certainly qualifies.
"I wouldn't say that I'm really surprised," Joyce said. "For the last week, I haven't really been dialed in. Sometimes that's just the way it goes. If I was squaring a lot of balls left and right and was feeling good this past week, I'd be a lot more surprised than I am."
Joyce has a career .573 OPS against lefties, compared with an .819 OPS against righties. But he's had only 93 plate appearances against lefties with the Rays the last two years, and that's the double-edged sword: You're not going to get at-bats against same-side pitchers if you aren't good against them, but you can't get good against them without much experience.
"It's extremely tough," Joyce said. "It's extremely tough when you're going well and you're seeing them a lot. I don't think it's anything that I'm really frustrated with. I'll take the at-bats from lefties as they come and just keep working. That's all you can do -- keep preparing and keep grinding. It's a long season, so I'm sure I'll get plenty of at-bats against them."
Some additional notes from Tuesday:
• The Angels will host their annual 5K and 1 Mile Family Fun Run at Angel Stadium on Saturday morning. On Sunday, Scioscia will participate in the Walk for Kids, hosted by the Orange County Ronald McDonald House.
• Asked if he would trade more off-days for more doubleheaders, Scioscia said, "Within reason, yes. I would trade anything to get this game more seasonal. You're going to see the World Series go into November again, and it's just [taking chances that] something happens back East and you have snow for two weeks and you're sitting there trying to finish a game."
Scioscia also said he's "all for going to a 154-game schedule, mixing one doubleheader a month to shorten the season by six days. It would make sense."
Alden Gonzalez is a reporter for MLB.com. Read his blog, Gonzo and "The Show", and follow him on Twitter @Alden_Gonzalez. This story was not subject to the approval of Major League Baseball or its clubs.