Maddon getting up to speed on NL Central
Recognizes challenges of managing in new league
CHICAGO -- Joe Maddon can read all the scouting reports the Cubs' so-called "brainiacs" provide, but the manager wants to get his eyes on the National League Central players and his opposing managers quickly.
"I've got to learn the National League," Maddon said. "I don't know these teams. You look at a scouting report, and when you actually know what this guy looks like visually, it's a lot easier to understand the scouting report. ... I have to understand the National League, I have to understand the Central fast, because we play them so often. I have to understand the other managers and how they think quickly. Those are my challenges."
He'll get a good look early. The Cubs play Central Division opponents in all but six of their first 32 games through May 10. They have seven games against the Cardinals and Pirates in that stretch, but lost one game versus St. Louis on Tuesday, when it was postponed because of rain.
Last season, the Cubs went 9-17 in the first month; in 2013, they went 10-16. Maddon has emphasized the need to get off to a good start.
"We put ourselves in a big hole the last two years," Cubs president of baseball operations Theo Epstein said. "We have more talent this year and we have a more realistic chance to do some damage and really compete this year.
"The start is so essential, especially when you're in a real competitive division," Epstein said. "I thought it was nice we had a really good final third to Spring Training. We started out slow and kind of found our way and we played some really good baseball the last week to 10 days. Let's try to have that carry over."
The Cubs started Cactus League play 0-6-1, but went 15-9 in the final 24 games.
"I think the guys are really excited," Epstein said of the new season. "A lot of new things, obviously -- a new manager, new veteran presence, new video board, new teammates. They're really eager to go out and play and compete."
The Cubs finished second in the Major Leagues with 48 home runs -- the Dodgers clubbed 49 -- but those games were in the desert, which Maddon dubbed "Colorado south." In April in Chicago, they'll have to manufacture runs, which was a problem in the season opener as the team went 0-for-13 with runners in scoring position.
"The little things matter even more here early, and your pitching better pitch well because they'll have some things going for them early," Epstein said.
• The Cubs' 25-man active Opening Day roster had a 28.63 average age, second-youngest in the NL and sixth-youngest in MLB, according to STATS, Inc. The Rangers' average age of 27.92 was the youngest in the Majors. The Cubs begin the 2015 season with two rookies on the active roster: outfielders Jorge Soler and Matt Szczur.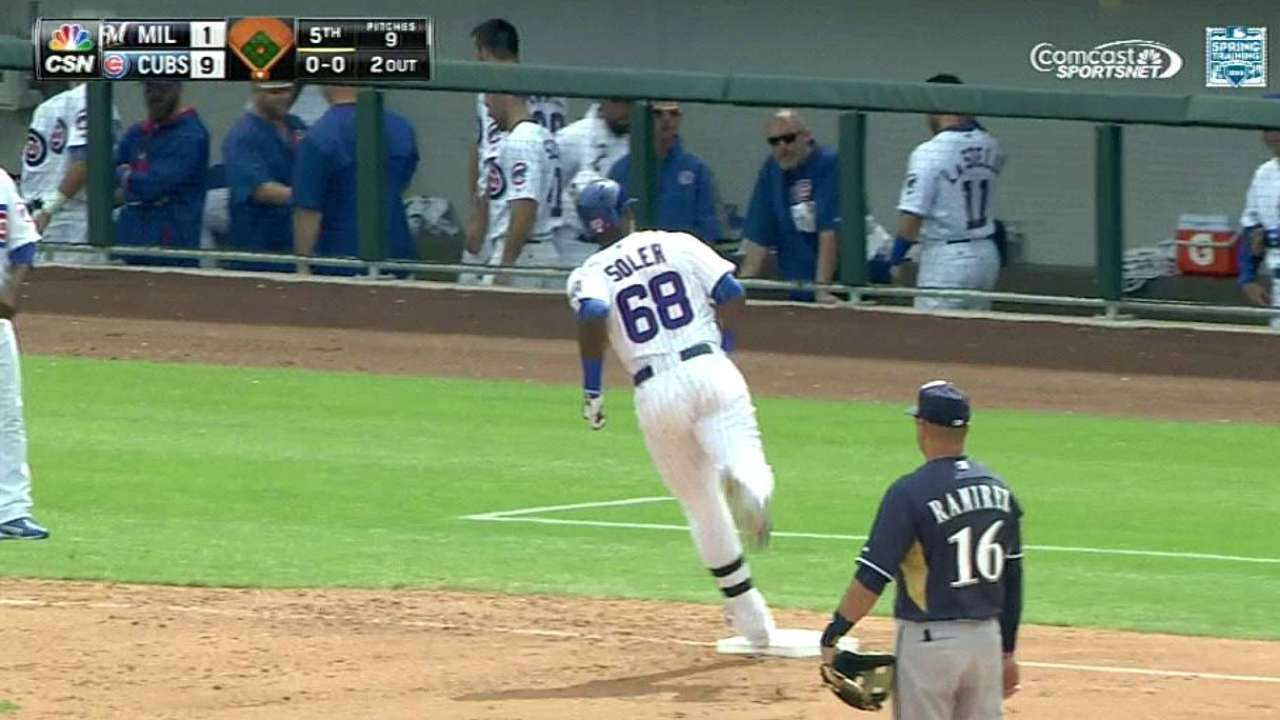 • Four of the Cubs' Minor League affiliates begin play Thursday. Triple-A Iowa opens its season at Memphis with Donn Roach slated to start, and will play its first home game April 17 against Oklahoma City. Double-A Tennessee travels to Mississippi to start the season. Class A Advanced Myrtle Beach hosts Wilmington, and Class A South Bend entertains Bowling Green on Thursday. Myrtle Beach and South Bend both are new to the Cubs organization.
• Cubs players, owners, alumni and management will take part in the annual Bricks and Ivy Ball, Cubs Charities' primary fundraising event, on Wednesday at Union Station. The '80s-themed event includes cocktails, dinner, musical entertainment and a live and silent auctions. Cubs Charities programs will be highlighted and Cubs Scholars recipients will be recognized. Last year, the Cubs and Cubs Charities combined to support donations of more than $4.5 million and thousands of autographed items, experiences and tickets to deserving nonprofit organizations.
Carrie Muskat is a reporter for MLB.com. She writes a blog, Muskat Ramblings, and you can follow her on Twitter @CarrieMuskat. This story was not subject to the approval of Major League Baseball or its clubs.