Avila shows signs of rediscovering opposite-field pop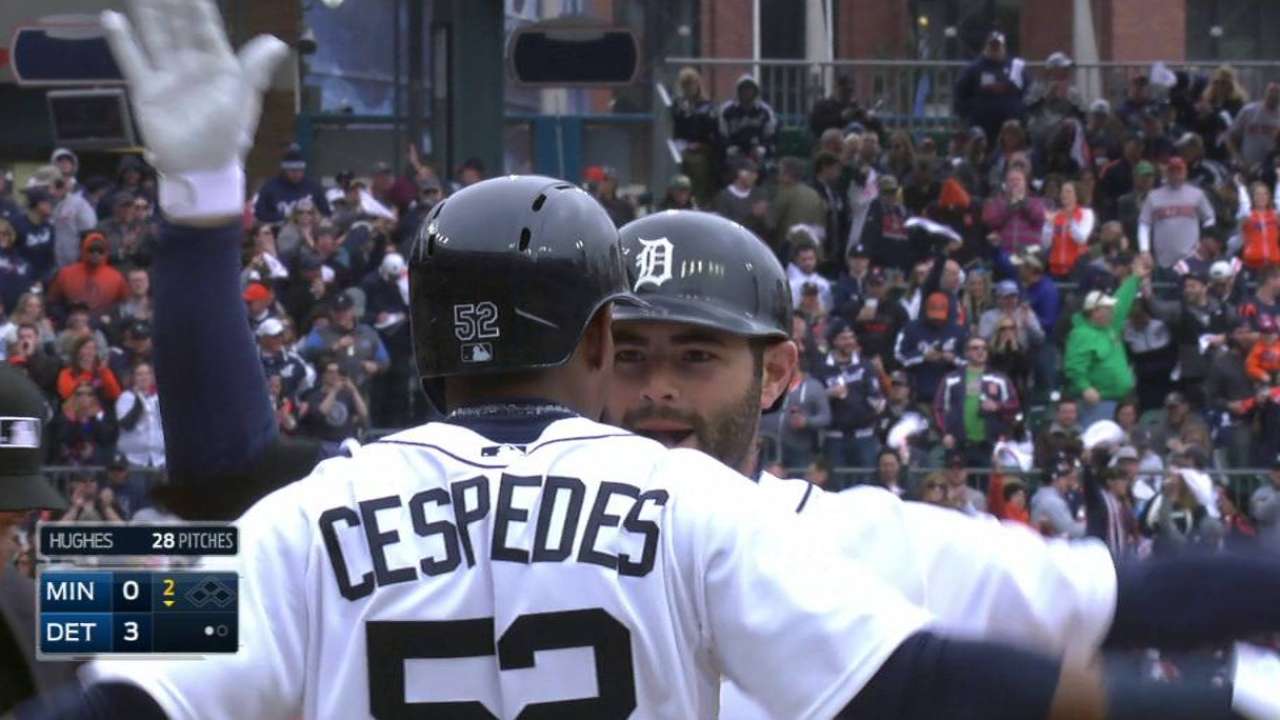 DETROIT -- The Tigers had their share of firsts on Opening Day, including the first two home runs of the Major League season. One was a two-run homer from Alex Avila over the left-field fence.
It was the first opposite-field shot for Avila since Sept. 15, 2013. If he's going to become a productive left-handed hitter again, he cannot go that long without hitting for power to the opposite field.
He gets it, because he remembers.
"Last year, I don't think I had any home runs to left field," Avila said Monday, "where the majority of my power is to left field. I think half of my home runs have been to left-center, left field."
Six of Avlia's 19 home runs in his breakout 2011 season went to left or left-center field, according to baseball-reference.com. His hit chart from that year, according to STATS, showed more than twice as many line-drive hits off right-handers went to left field than to right, and nearly three times as many off lefties. When he pulled the ball, he tended to hit it on the ground for outs.
The same trend held in 2012, though the production declined. The shift began in 2013, though six of Avila's 11 home runs that year went the opposite way. Then most everything was pulled in 2014. And defenses responded.
According to the Bill James Handbook, Avila was the 23rd-most shifted batter in the big leagues last year -- on 219 plate appearances, or 68.4 percent of his season total. He batted just .177 on grounders and liners when facing the shift, compared with .325 with no shift. Only Cleveland's Carlos Santana saw a bigger gap in averages among the top-25 shifted players.
Against right-handed pitchers, Avila had just 18 hits to left field, compared with 34 to center and 35 to right. He had 12 hits to left field against lefties.
"I fell into some bad habits the last few years," Avila said, "and sometimes it can be tough to break out of those. It's a constant work in progress. I want to be able to handle those pitches out and pitches in, especially with the shift. The thing is normally when teams shift, they're going to pitch you to hit into that shift, so I've got to be able to capitalize on some mistakes."
That was the adjustment on Avila's part that didn't get as much attention as the hockey-style catching mask.
"He's been concentrating, since Day One of Spring Training, on hitting the ball the other way, staying inside the ball, making more contact," manager Brad Ausmus said.
Monday's home run capped a six-pitch battle with Phil Hughes, against whom Avila was just 1-for-15 with seven strikeouts. Hughes alternated fastballs and cutters, putting Avila in an 0-2 hole before Avila worked the count even, fouled off a fastball in, then got a cutter on the outer half. One at-bat later, Avila sent a fastball into left field for a single.
Avila also doubled off the left-field fence in the corner at Joker Marchant Stadium last week.
"From everything I've been told, when he had those good offensive years with the Tigers, that's where he drove the ball in the air," Ausmus said. "That's what he did [Monday]. Hopefully we move in that direction."
Jason Beck is a reporter for MLB.com. Read Beck's Blog and follow him on Twitter @beckjason. This story was not subject to the approval of Major League Baseball or its clubs.