Yankees confident Tanaka can succeed with guile
Pitching coach Rothschild acknowledges ace's transition is 'work in progress'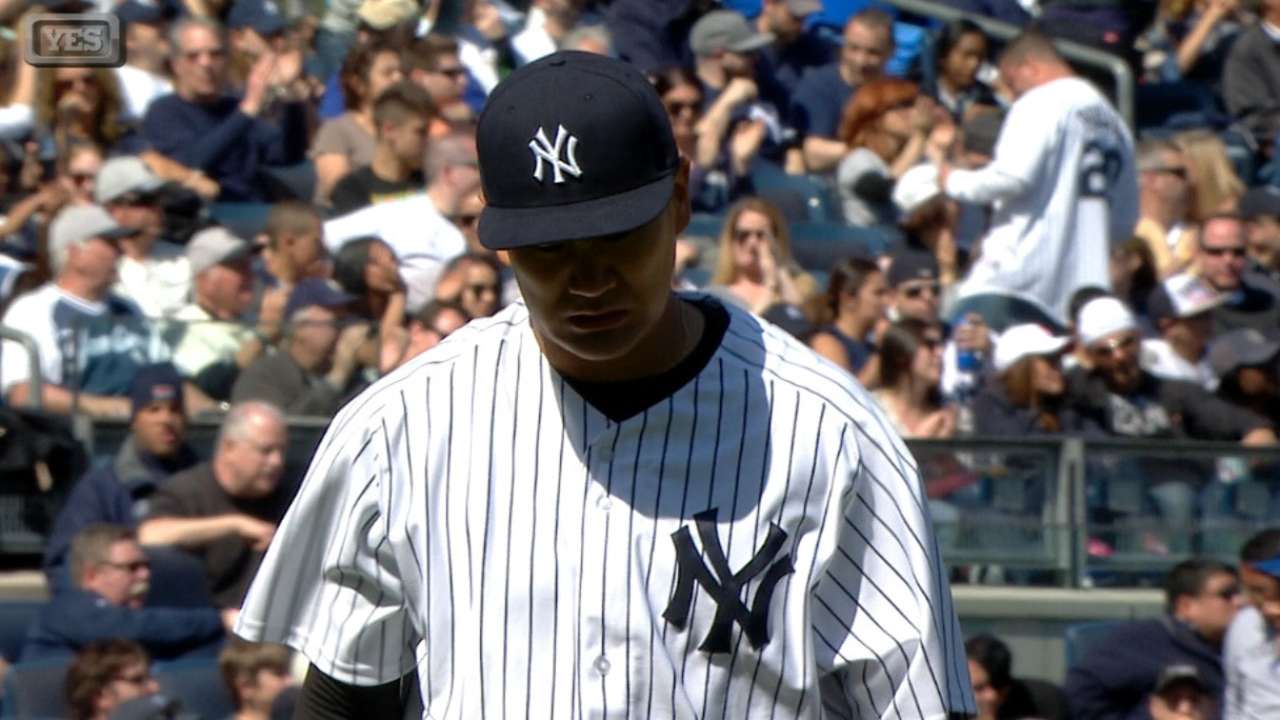 NEW YORK -- The Yankees are prepared for the possibility that Masahiro Tanaka's pitches will travel a few miles per hour slower all season, according to pitching coach Larry Rothschild, but they continue to believe that the right-hander has the stuff to compete at the big league level.
Tanaka relied heavily on breaking balls over four innings in Monday's 6-1 loss to the Blue Jays, throwing just 27 fastballs out of his 82 pitches -- and none of those fastballs generated a swing and miss. Rothschild said that Tanaka's major issue was falling behind in the count during Toronto's five-run third inning, but he seems confident that Tanaka is healthy.
"Physically, he seems to be fine," Rothschild said. "I've watched him between starts all spring, play catch in between, and he's building arm strength still. We went slow early in the spring, knowing that it's going to be a work in progress, really. I think he's holding his own right now."
On the advice of four specialists, Tanaka opted for rehab after sustaining a small tear of his right ulnar collateral ligament last July. He made two starts in September, and he reported no issues while posting a 3.07 ERA over 14 2/3 Grapefruit League innings, walking one while striking out 13.
Late in the spring, Tanaka acknowledged that he was trying to stay away from using his four-seam fastball, instead focusing on throwing a two-seamer that features more sink. Tanaka's reasoning was that his four-seamers were hit hard last year, but the decision sparked curiosity if Tanaka is favoring his elbow or is otherwise hesitant to let it go.
"I think he'll get the stuff back that you've seen in the past; whether the fastball is a [mph] or two slower, I don't know," Rothschild said. "But I think he'll be OK."
Tanaka touched 94 mph with one of the five four-seamers he threw on Monday, but he mostly sat from 90-91 mph. The Blue Jays made adjustments the second time through the order, and in their clubhouse, there were some raised eyebrows when Tanaka said he was shying away from throwing four-seamers "because they were being hit," though there was truth to the statement.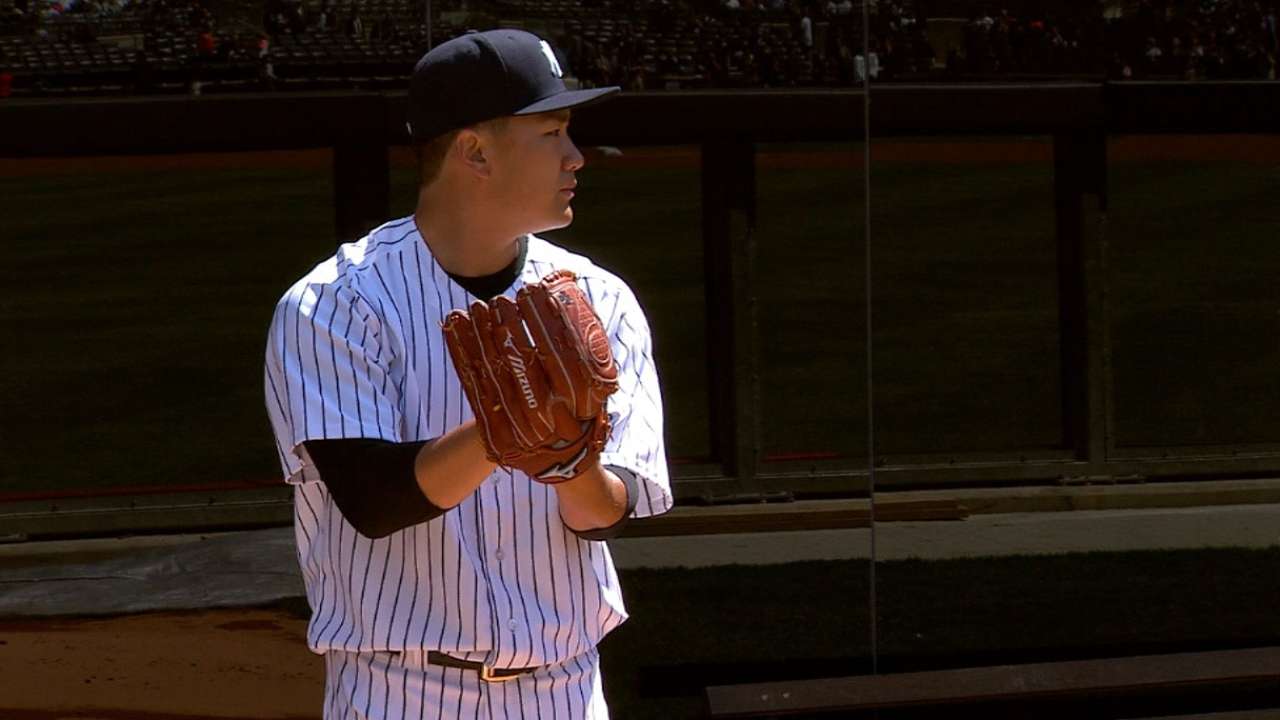 "The two-seamer should be good," Tanaka said through an interpreter. "It's not like I'm not going to throw the four-seamer anymore. I use both pitches effectively in situations where I feel the need to throw each pitch."
Before Monday, the Yankees had been encouraged that Tanaka never reported any discomfort or sought medical treatment for an elbow issue at any point this spring. Tanaka's priority seems to be providing a full season of 30-32 starts, even if it requires some alterations to his approach to do so.
One concession appears to be having Tanaka pitch with a more east-west approach, as compared to the north-south style he used as a rookie in 2014, when he used his fastball up and forced chases out of the zone with his devastating splitter.
"It's more important that we take him through the paces and give him every opportunity to be healthy this year, than to rush him and have him full bore and throw full out the first start," Rothschild said. "It's just the way it is, and it's the smartest thing to do.
"I really don't look at him any differently than any of our other pitchers right now. Guys get hurt all the time -- it could happen any time -- but right now, other than the performance you saw [Monday], there's really not a lot of signs of it."
Bryan Hoch is a reporter for MLB.com. Follow him on Twitter @bryanhoch and read his MLBlog, Bombers Beat. This story was not subject to the approval of Major League Baseball or its clubs.