Davis has new mindset after being reinstated
O's slugger says it's 'a blessing to play at this level each and every day'; Clevenger optioned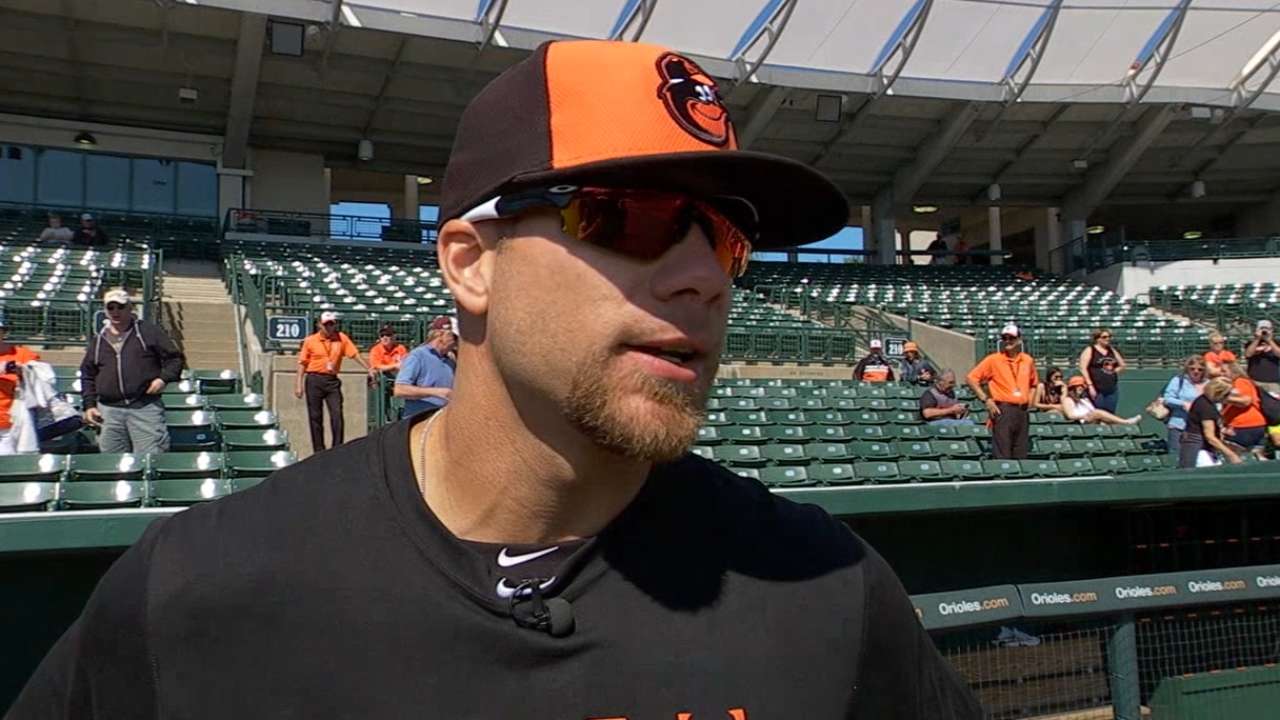 ST. PETERSBURG -- First baseman Chris Davis returned to the starting lineup in the Orioles' 6-5 win over the Rays on Tuesday night.
Davis batted fifth and served as the designated hitter, going 0-for-3 with a hit-by-pitch.
"First couple at-bats I was pretty fired up," Davis said. "My adrenaline kind of got the better of me. I was overswinging a little bit. As the game progressed I settled down a little bit, started seeing some pitches, took some better swings and just had better takes. Definitely a little rusty but it felt good to be back in there."
In a corresponding move, the team optioned catcher Steve Clevenger to Triple-A Norfolk.
Davis is hoping that his 25-game suspension -- which ended on Opening Day -- is now behind him.
"There's no doubt [I have a new mindset]," said Davis, who now has a TUE (therapeutic use exemption) for his ADHD medication.
"I think you realize when something like the suspension comes up, it's really a privilege to be here and a blessing to play at this level each and every day. I mean, we work hard, day in and day out to prepare ourselves and to give ourselves the best opportunity to succeed. But at the end of the day, it's a privilege to be here and be a part of this team."
Davis' suspension last season was for two positive tests of Adderrall and he is expecting he'll face some hostile crowds away from Camden Yards. He already got a taste of things during Spring Training.
"One of the biggest things for me was going through 2013, all the false accusations and having to hear all that stuff about steroids because I was having success," Davis said.
"I think that kind of prepared me to go out there and play, whether they are cheering for you or against you [in the stands]."
O's manager Buck Showalter is planning on working Davis in slowly and playing him at first base on Wednesday.
"It's been 209 days since he played in a Major League game," Showalter said. "I know he's excited. So are we to have him back. It's been a long road for him. He'd be the first to tell you it was self-inflicted. But I don't think anybody here doesn't think he paid a dear price for it."
Brittany Ghiroli is a reporter for MLB.com. Read her blog, Britt's Bird Watch, and follow her on Facebook and Twitter @britt_ghiroli. This story was not subject to the approval of Major League Baseball or its clubs.