Five Thoughts: Kemp continues excellent spring on Opening Day
Bill Center, longtime sportswriter for U-T San Diego, is an employee of the Padres.
Matt Kemp carried his torrid Spring Training into the start of the regular season Monday afternoon. The Padres' right fielder -- and former Dodger -- celebrated his return to Dodger Stadium by going 2-for-4 with a double, driving in all three San Diego runs in a 6-3 loss.
Kemp was warmly welcomed back to Dodger Stadium in his first game out of the visiting clubhouse.
Kemp finished the spring with a .370 batting average, a .393 on-base percentage and a .741 slugging percentage. He went 20-for-54 with six doubles, a triple and four homers.
The slugging percentage was the highest among National League hitters and Kemp's 11 extra-base hits tied for first. He ranked second in OPS (on-base percentage plus slugging percentage) at 1.134, fifth in batting average and ninth with 14 RBIs in 18 games.
Notes from the scorebook
• I can't remember the last time I was more excited going into a Padres season. In his first offseason as general manager, A.J. Preller not only overhauled the roster, he gave hope to a fan base that has spent much of the past 16 seasons wandering in baseball's outback.
Preller -- with the backing of ownership -- capped a whirlwind offseason Sunday afternoon by acquiring All-Star closer Craig Kimbrel and outfielder Melvin Upton Jr. from the Braves for Carlos Quentin and Cameron Maybin, two players who might not have made the Padres' Opening Day roster. Add Kimbrel to James Shields, Kemp, Justin Upton, Derek Norris, Wil Myers and Will Middlebrooks, and you have the remaking of the entire franchise. That includes not just the on-field lineup, but the perception of the Padres as projected both to the club's fans and Major League Baseball. Eleven of the players on the Padres' 25-man roster for Opening Day were not with the team at the end of last season.
• Although I love Opening Day, too much stock is put into the results of the first game -- win or lose. Yesterday's game at Dodger Stadium is no more meaningful than a win or loss at Dodger Stadium on May 23. That said, the Padres had the division-rival Dodgers and 2014 NL Most Valuable Player Award and NL Cy Young Award winner Clayton Kershaw behind by a 3-2 score, but they couldn't hold on.
Statistical note: Last season, the Padres were an incredible 60-1 when leading after six innings. This season, they are 0-1.
• James Shields was raised in Valencia and made a number of trips to Dodger Stadium as a youth. But Monday marked the first time the right-hander pitched at Chavez Ravine. Since 2006, Shields had pitched in 286 games, all but one as a starter. Monday's was his first game in the NL. Shields allowed two runs on six hits -- including an Adrian Gonzalez solo homer -- and two walks in six innings. He had eight strikeouts.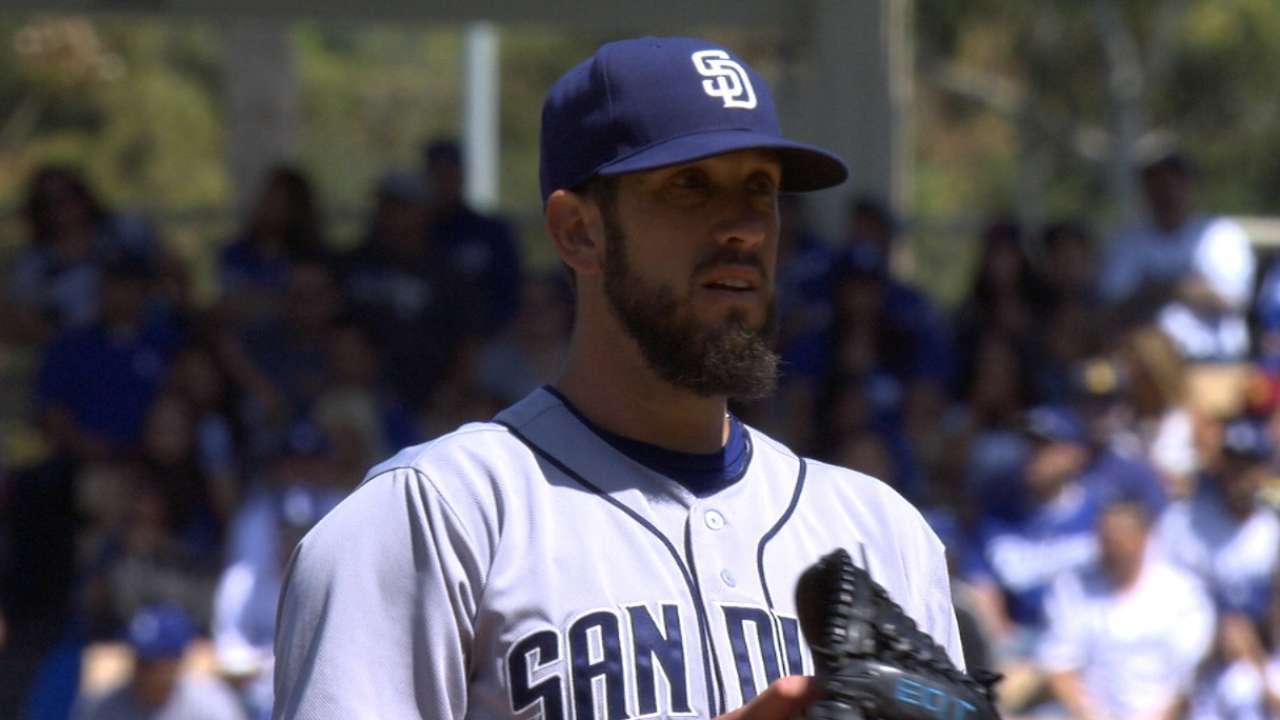 • Tuesday night's starter, Tyson Ross, tied for the NL lead with 25 strikeouts in Spring Training. Shields tied for third with 23. San Diego's starting rotation averaged 8.32 strikeouts per nine innings this spring, which led the NL and was second in MLB.
• As a team, the Padres hit .286 in Spring Training with a .340 on-base percentage and a .447 slugging percentage. Among NL teams, they ranked second in batting average, third in OBP and fourth in slugging. San Diego's 33 homers in 30 Cactus League games ranked sixth in the Major Leagues and fourth in the NL.