Orlando ecstatic to finally realize big league dream
Longtime Minor Leaguer becomes third Brazil native to play in Major Leagues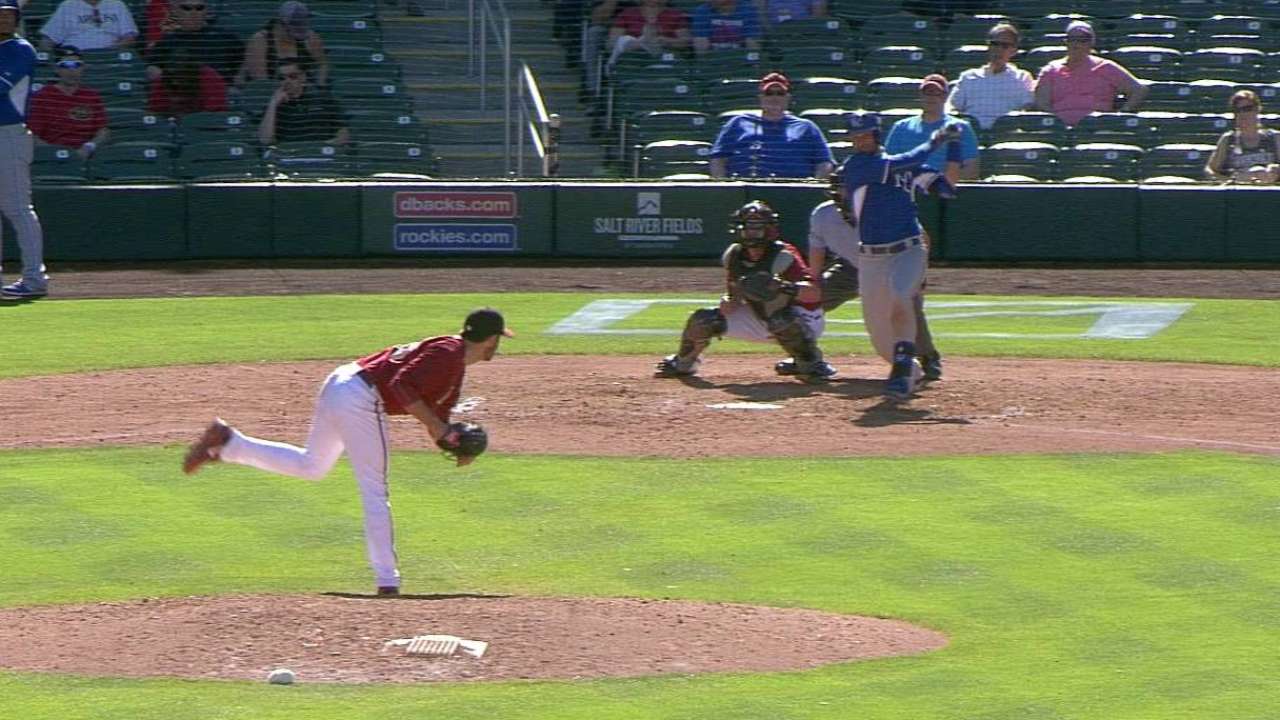 KANSAS CITY -- After last Saturday's final exhibition game, Royals manager Ned Yost called outfielder Paulo Orlando into his office.
Orlando didn't know what to think. This spring was his greatest chance, he felt, to finally make a big league roster after nine long years in the Minor Leagues -- nine years and over 4,000 plate appearances.
But now came the moment of truth as Orlando looked straight into Yost's eyes.
"I was just nervous," Orlando said.
Then Yost reassured him. Orlando had made the team.
"He started to cry," Yost recalled. "And then he said, 'Wait, there's no crying in baseball.' But I said, 'Go ahead and cry. We'll both cry.'"
And when Orlando went back inside the clubhouse, his teammates were waiting for him. Fellow outfielder Jarrod Dyson noticed the tears in Orlando's eyes and said, "Go ahead, man. Cry. We all did the first time."
Orlando's first call went to his wife, and sure enough, they cried tears of joy as well.
It's not just the nine years Orlando toiled in the Minors. It is also about the incredible odds. Orlando grew up in soccer-rich Brazil, and as a youngster, he preferred track over all other sports.
Baseball was an afterthought, but those gifted long legs -- Orlando is 6-foot-2, 210 pounds -- became a weapon on the diamonds around Sao Paulo, and the White Sox international scouts were intrigued enough to sign him as a 19-year-old. Three years later, the Royals traded Minor League pitcher Horacio Ramirez for Orlando.
The Royals had noticed Orlando playing against them in the Carolina League, and they liked his athleticism -- Orlando stole 123 bases his first five years in the Minors. Soon, the 29-year-old will become just the third Brazilian to play in the Major Leagues -- Cleveland's Yan Gomes and the White Sox Andre Rienzo are the others.
"Not many guys play baseball in my country," Orlando said.
Baseball, though, did not come easy for Orlando -- he hit just .262 during his first pro season, and .253 the next.
"After my first two years of baseball, I said, 'Man this is so hard,'" Orlando said. "But the guys who helped sign me said to keep going and that I was doing OK. So I kept going."
"I got hurt then," he said. "And then they sent me back to Double-A. I never got frustrated, I just got kind of mad at myself."
Last year at Triple-A Omaha, Orlando hit .301 and stole 34 bases.
"I'm so happy right now," he said. "I just want to help this team get back to the playoffs again."
Jeffrey Flanagan is a reporter for MLB.com. Follow him on Twitter at @FlannyMLB. This story was not subject to the approval of Major League Baseball or its clubs.