Veteran leader Wright eyes return to prominence
Third baseman's preparation, motivation remain undeterred after more than a decade in the bigs
WASHINGTON -- David Wright hops down from his oversized black pickup truck and walks into a Port St. Lucie, Fla., coffee shop, where one of the baristas immediately recognizes him. "Hi, David!" she squeaks, in a tone suggesting he may as well be a police officer or a dentist. He orders a green tea, nothing in it, and chats with her for a moment before ducking back outside into the heat.
For the next hour and a half, one of the most accomplished players in Mets history sits at a cafe table in Ray-Ban sunglasses and a neon green shirt. Dozens of people walk in and out without a word. No one asks for an autograph. No one asks for a selfie. No one throws him so much as a sideways glance.
This is Wright at 32. More than a decade into his big league career, he is no longer the celebrity heavyweight who once threw lavish Times Square charity events, his face plastered across the sides of buses parked outside. Part of that is his own doing, a personal aversion to A-list life. Part of it is a byproduct of six straight losing seasons. Part of it is out of his control, the result of a career that has somehow deflated.
"I didn't set out in this game trying to be some sort of celebrity, trying to be in the gossip sections, trying to go to red-carpet events," Wright said. "That just wasn't me. I set out to become a good baseball player."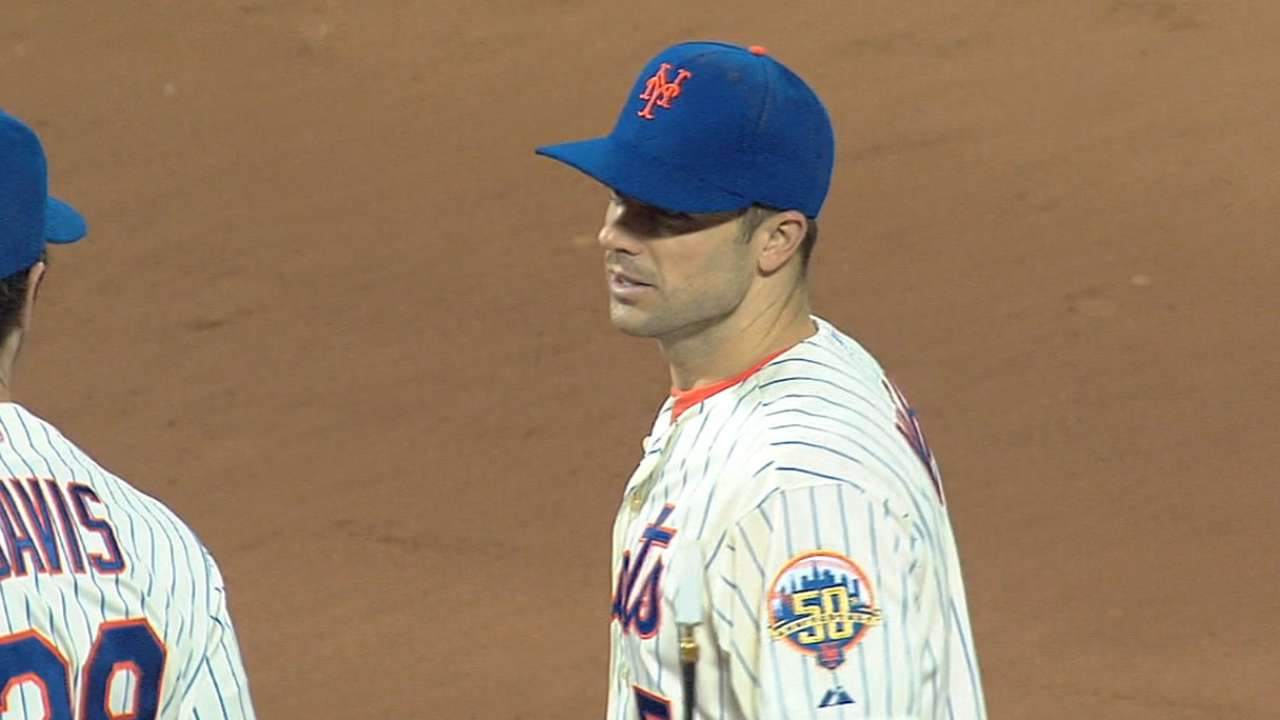 At 32, Wright's ability to remain one may define his club's season. The Mets have a precise idea of what they are going to receive from Matt Harvey , even in his first year back from surgery. They understand that the pitching staff around him will be adequate at worst, stellar at best. They recognize every strength and weakness in their lineup.
What they don't know is whether Wright will ever be what he once was. Which is troubling for a Mets team that desperately needs him to.
* * * * *
In 2005, Wright's first full big league season, he hit 27 home runs, one of 37 players to reach that plateau. This wasn't the late-1990s, when records toppled like Jenga pieces, but balls were still flying out of stadiums with relative frequency. The next year, Wright hit 26 homers, as did 51 other players. When Wright reached 30 for the first time in 2007, he found himself lost in a crowd of 25 others.
Though the decline of offense around baseball is a topic unto itself, it's clear that Wright was one of the victims. Tack on some major injuries -- a Matt Cain fastball to the head in 2009, a lower-back stress fracture that cost him 58 games in 2011, a strained right hamstring that sidelined him for seven weeks in '13, a weakened shoulder that sapped his numbers of their potency last summer -- and it's no wonder that Wright's star has dimmed. A general lack of power around him in the lineup has only exacerbated the trend.
But it wasn't always this way. A former supplemental-round Draft pick, Wright was one of the five most productive players in baseball from 2006-08, if Wins Above Replacement is an accurate measure. He made the National League Championship Series in his second full year with the Mets, before narrowly missing the playoffs in 2007 and '08, his age-24 and age-25 seasons. That was difficult for Wright, but he could take solace in the knowledge that his physical prime was only just beginning.
"When I was there, he was one of the best players in the game," said Blue Jays shortstop Jose Reyes , Wright's teammate from 2004-11.
"The expectations were off the charts," said former Mets general manager Jim Duquette, who analyzed Wright's career first as a general manager and front-office executive, and more recently as a media member. "I thought early on, he met them."
Then came the injuries and a move to Citi Field, which had a similar dampening effect. Though Wright never admits to changing his approach after the Mets tore down Shea Stadium, where a towering scoreboard tamed most winds blowing in from right-center field, it's clear that he began pulling the ball more in his new home. Last summer, with his shoulder barking, Wright did not hit a single home run to the right half of the field, which one scout attributed as much to his shoulder as to the evolution of his swing.
"He makes too many changes," the scout said. "He's always trying to change something. It's almost like he's too coachable."
That same talent evaluator pointed to Wright's first home run this spring -- a booming shot over Tradition Field's batter's eye in straightaway center -- as evidence that he may finally be trending back in the right direction. New hitting coach Kevin Long insists that Wright's batting-practice sessions look different than anything he studied on video this winter, comparing the straight trajectory of his balls to the "banana" arc of ones he hit last summer. Early this offseason, Wright flew out to Arizona to work directly with Long.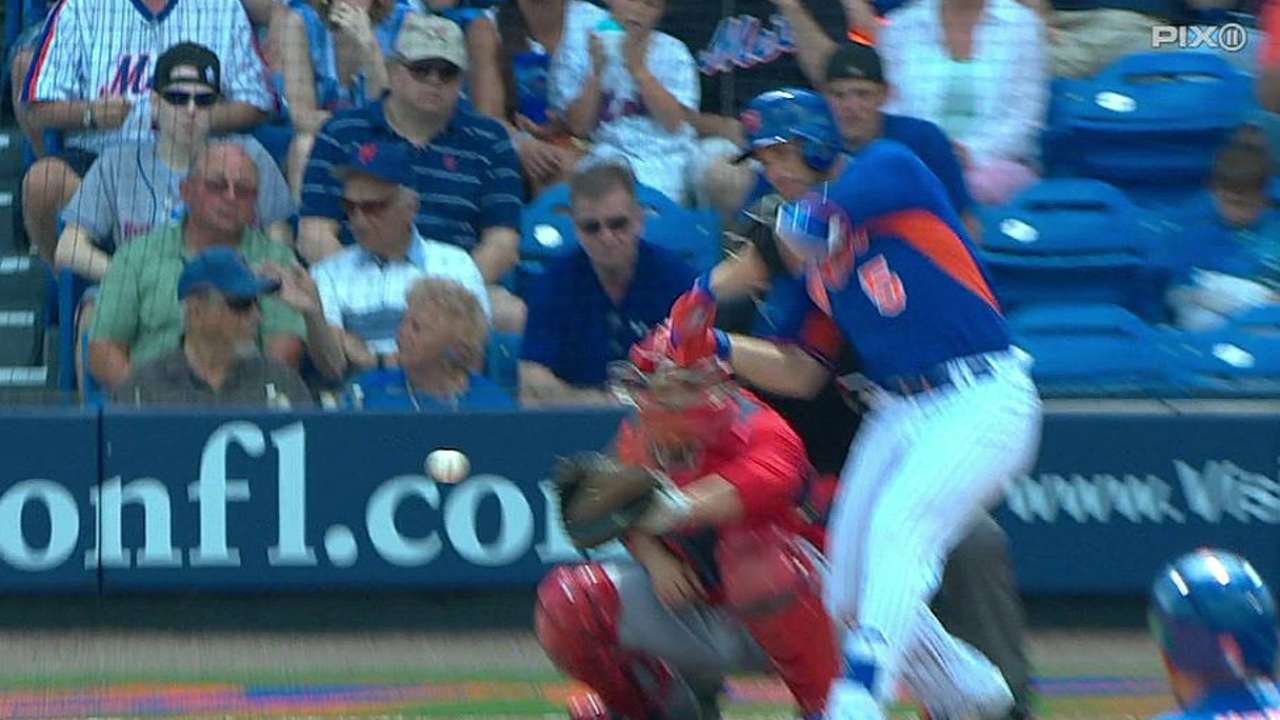 "I'm just trying to make him the best player that I can possibly make him at this given time," Long said. "To say, 'I want him to be like he was in 2007 or 2008,' I don't know. Maybe it's still in there. Nobody knows. I don't think he even knows."
What the Mets do know is that while Curtis Granderson may be due for a better season, Lucas Duda may repeat as a 30-homer slugger and Michael Cuddyer may give them added pop, none of them loom as significant as Wright.
"If he doesn't play well, I don't think it matters if all those guys have very good years," said former Mets GM Steve Phillips, who drafted Wright 38th overall in 2001. "By far, he is their most important player."
* * * * *
"It's actually better to drink coffee later in the day," Wright is saying. "I read somewhere that when you first wake up, your body produces a chemical even stronger than coffee, so you don't really need it."
This is the new normal for Wright, something he's been perfecting for the past half-decade of his life. Long a creature of routine, Wright has molded that into an obsession in his 30s, relying more and more on rigorous preparation to maintain his health.
Among his quirks: Wright tries to sleep for nine hours a night, every night. His wife makes him breakfast most mornings, though it takes some pressing for him to reveal that he doesn't cook it himself. On Sundays, the two of them hard-boil enough eggs to last the week. Wright puts avocados "on everything." He drinks one coffee per day, never two. He avoids most clubhouse foods, eating a salad each day from a personalized metal bowl. On road trips, he goes nowhere without his resistance band and a foam roller, which he uses early in the afternoon, five or six hours before game time, as part of an elongated workout routine.
Combined, those habits represent Wright's realization that health is no longer easy to come by at age 32. Over his first six big league seasons, Wright averaged 156 games per year. In his next four, that number plummeted to 126.
It was before most of his major injuries that the Mets committed financially to him for a second time, giving Wright eight years and $138 million in December 2012. Had he waited a year and tested free agency, many agents and front-office executives believe he would have made closer to $200 million.
And yet the deal represented a significant risk for the budget-conscious Mets -- the type of contract that general manager Sandy Alderson loathes doling out to players in their 30s. In this case, the GM relented in large part because of what Wright brings off the field, considering them the same types of attributes that can help keep him on it.
Said Alderson: "You've got to bet on somebody, and he's a good guy to bet on."
* * * * *
When asked about his decisions, his motivations, Wright justifies everything with the trump card of a World Series title. Even on a humid, overcast day in Port St. Lucie, he can smell the crispness of October baseball. Bringing a championship to Flushing would be sweeter than doing so anywhere else, he says. It could heal everything.
But with each passing year, it becomes less and less likely that the Mets will win with Wright at his best. A decade ago, winning at least one title during the third baseman's career seemed inevitable. The odds loom longer now, in spite of the much-improved team around him. Youth doesn't last forever.
Wright knows that. He understands he had a chance to leave, and may have already won a title if he had. He knows there is a chance that even if he does win a World Series, he will do so as a diminished player. Then Wright thinks about the cheers that third-base coach Tim Teufel -- a role player on the Mets' last championship team in 1986 -- still gets in Flushing to this day.
"Would it have been easier to maybe jump ship at a time when the organization wasn't doing well, and go somewhere else, to maybe a better team that was better-suited to win in the moment?" Wright said. "Would that have been fun? Maybe. But it wouldn't have been nearly as rewarding as doing it here.
"I expect us to win. If we don't, then when it's time to hang 'em up, I can put my head on my pillow and say, 'You know what? I gave it everything I have, hopefully I've left the organization in a better place than when I came.' And I'll be OK knowing that individually, I did everything I possibly could, that I left it all on the table for this organization. That's going to be a feeling of satisfaction."
One thing Wright does not envision is becoming a coach like Teufel, a manager like Wally Backman or a broadcaster like so many other '86 Mets. For too long, Wright says, he has put off starting a family. For too long, he has been "selfish" with his life, putting his career before everything else. And so Wright's most ambitious post-baseball aspirations include retiring to Virginia and becoming a Little League coach.
If he has a ring to flash, then all of this will be worth it -- the late-night workouts and the midday salads and the sacrifices and the swing changes and the criticisms and the successes and the failures.
And if he doesn't? The thought of it is poison.
"It's about winning baseball games," Wright said. "I understand that for how long I've played, theoretically, there's not a whole lot of time left for me to accomplish what I set out to accomplish."
Wright paused. "I'm ready to win."
Anthony DiComo is a reporter for MLB.com. Follow him on Twitter @AnthonyDiComo. This story was not subject to the approval of Major League Baseball or its clubs.