Top dogs: Giants' first 3 batters answer bell
Aoki, Panik, Pagan combine for eight hits, four runs, two RBIs in opening win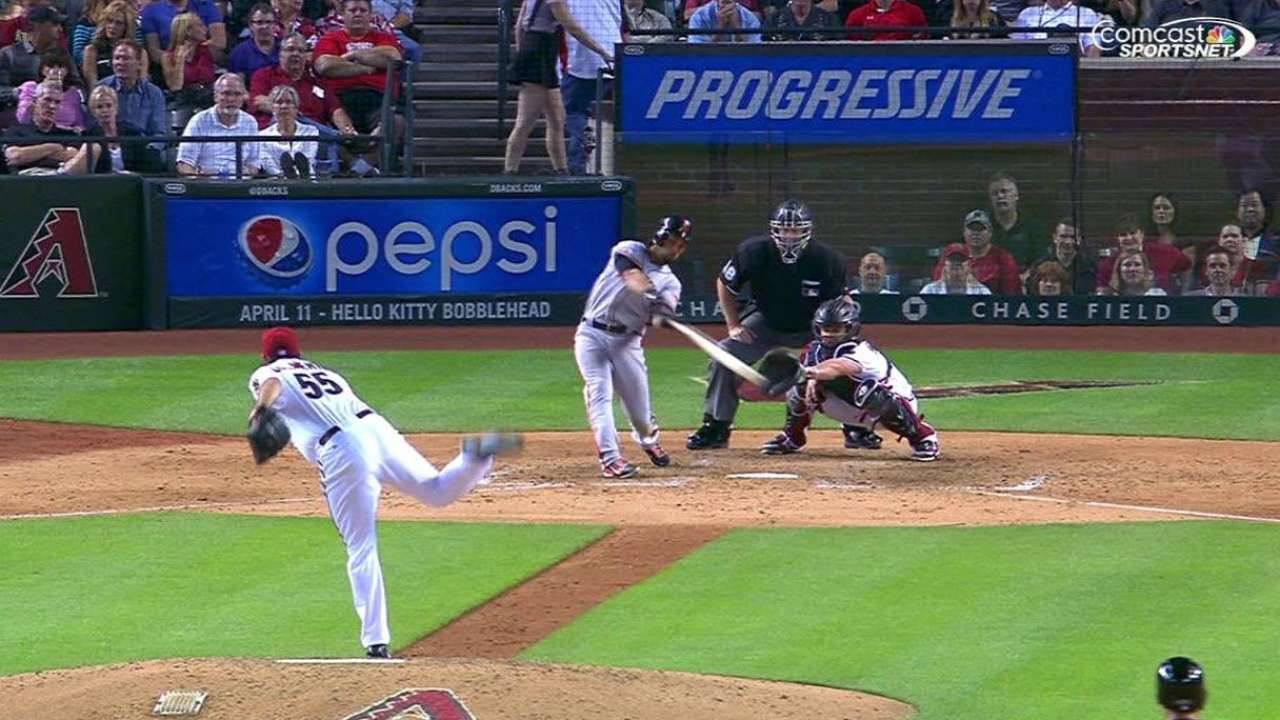 PHOENIX -- With Monday night's 5-4 season-opening triumph over the Arizona Diamondbacks, the Giants demonstrated the vast difference between Spring Training and the regular season.
Consider these figures: .194, .208, .200. Those were the respective Cactus League batting averages for Nori Aoki, Joe Panik and Angel Pagan. Nothing they did during practice games in the Sonoran Desert suggested they would thrive immediately once the Giants started playing for keeps.
Yet the trio, which occupied the top three spots in the batting order, combined to go 8-for-9 with four runs scored and two RBIs, both by Pagan, in the first five innings on Opening Night. Aoki, Panik and Pagan provided the necessary complement to Madison Bumgarner's resolute seven-inning effort as the Giants improved to 35-23 in season openers since moving to San Francisco in 1958.
"It just goes to show you that you can throw Spring Training stats out," Giants manager Bruce Bochy said. "The bell rung and the guys answered it."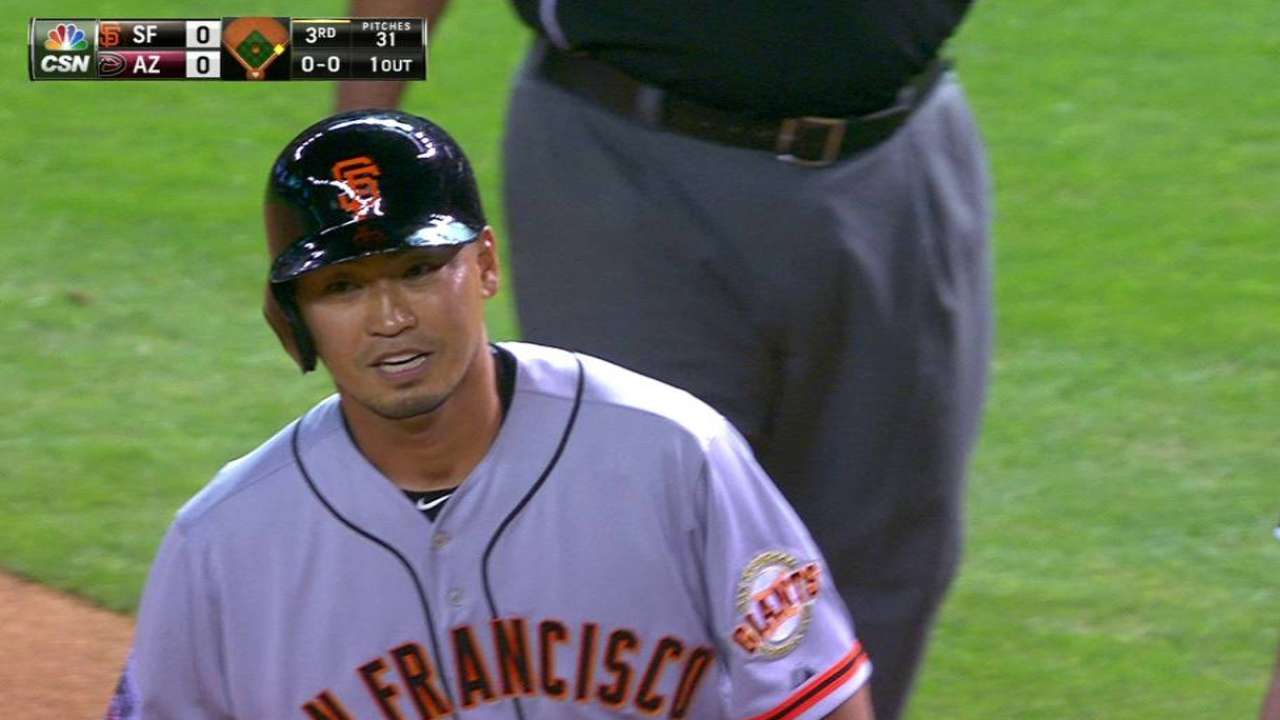 Each of the threesome hit safely in the third inning, when the Giants scored their first run, and in the fifth, as the defending World Series champions scored four runs to snap a 1-1 tie.
"When we're going," Panik said, "it's going to be fun to watch."
Bochy briefly deliberated during Spring Training over the spots in the batting order he would assign to Aoki and Pagan, who both fit a leadoff hitter's profile. Bochy decided with relatively little fuss to drop Pagan lower in the order, given his experience with handling various roles. Pagan's RBI single in the third inning and run-scoring double in the fifth were early indications that Bochy made the right choice.
"I think it's a good fit for Angel," Bochy said. "He really can hit anywhere."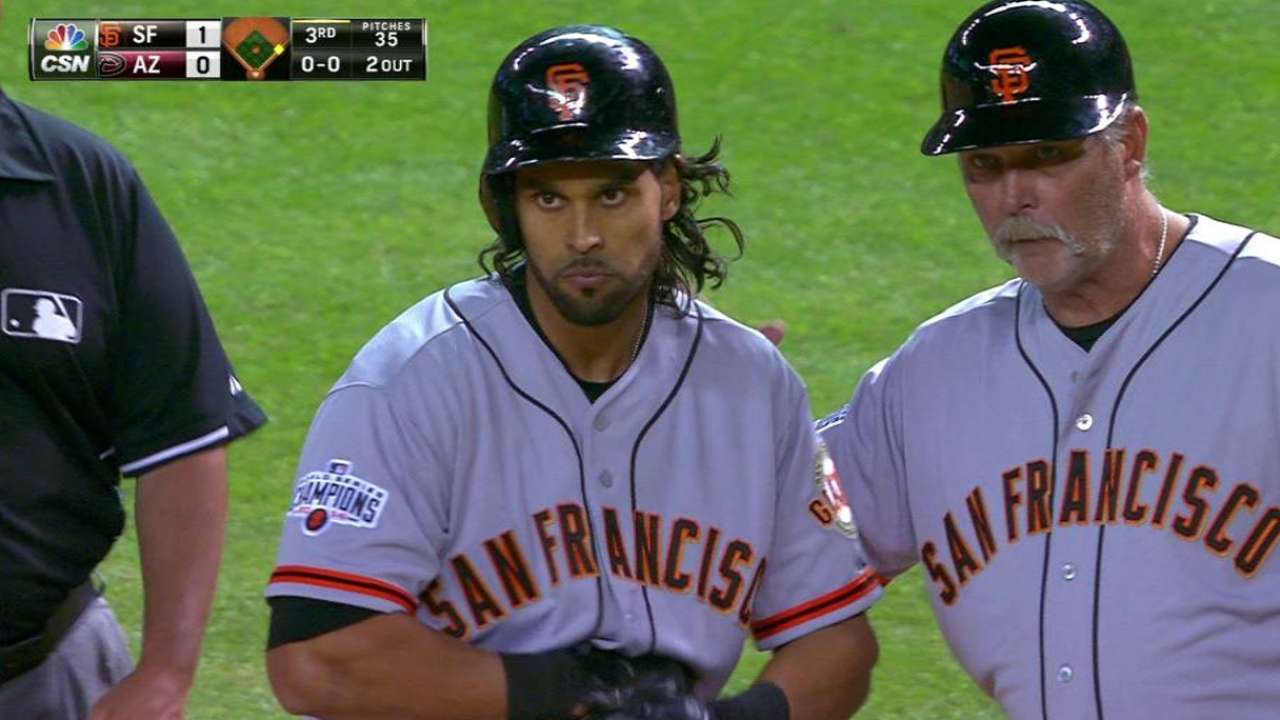 Meanwhile, Panik appreciated hitting behind Aoki, who batted primarily leadoff in his three previous Major League seasons.
"Nori's very good at working counts, which allows me to be more aggressive in certain situations," said Panik, who scored twice while sandwiching singles around a third-inning double.
This was Panik's first big league season opener, though it may not have appeared that way, given his successful imitations of a 10-year veteran late last season and into October. But despite enduring as much pressure as he did last year, Panik regarded Opening Night as a new experience.
"I had a little bit of butterflies, just because it's a new season and everything starts from scratch," he said.
Chris Haft is a reporter for MLB.com. Read his blog, Haft-Baked Ideas, and follow him on Twitter at @sfgiantsbeat. This story was not subject to the approval of Major League Baseball or its clubs.