MLB.com Columnist
Barry M. Bloom
Bumgarner, Giants' pitching rock, continues roll
With rest of rotation in question, postseason hero leaves no doubts
PHOENIX -- Madison Bumgarner picked up just where he left off this past October, and it didn't happen a moment too soon. With their starting rotation suddenly in shambles, the defending World Series champion Giants needed the left-hander more than ever Monday on Opening Night against the D-backs at Chase Field.
Jake Peavy was scratched from Tuesday night's start because of a bad back. Matt Cain won't be available to start as planned Wednesday night. A flexor tendon injury on the inside of his right forearm may keep him out as long as two weeks, manager Bruce Bochy said.
That makes every Bumgarner start even more important. Just like last postseason.
"I don't know what else you can say about him," said Bochy after a game the Giants hung on to win, 5-4, after Bumgarner staked them to a 5-1 lead. "You saw what he did for us in the postseason. He won 18 games last year. I mean, this guy's special. His first start, he goes out there and throws a terrific game for seven innings, gets us deep into the game. He gave us what we needed. We just keep moving forward with him how good he is."
Right now, Ryan Vogelsong will take Peavy's start Tuesday and Tim Lincecum could be moved up to pitch Wednesday. Tim Hudson is slotted for the Padres' home opener at Petco Park on Thursday. After that, Bochy said he hopes Peavy will be ready to pitch sometime this weekend. All he knows is that Bumgarner will be back on the bump in San Diego on Saturday.
It was just like that in October. Bumgarner's appearances were money right down to the five innings of shutout relief that were integral in San Francisco's 3-2 win over the Royals at Kansas City in Game 7. Cain was recovering from right elbow surgery and wasn't available. Every time Bochy sent his other starters out there, it was a roll of the dice.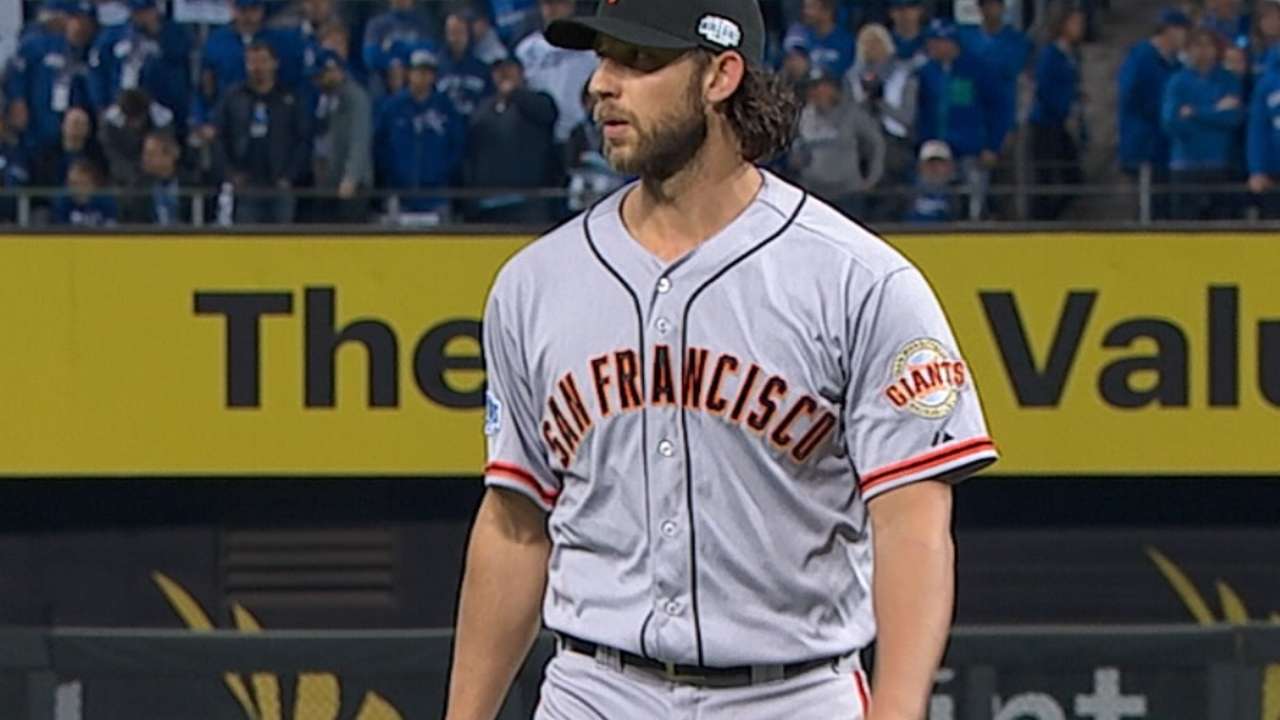 Remember that Hudson, pitching with hip and ankle injuries, couldn't get through the first two innings of Game 7. Peavy, pitching on gas, also couldn't make it out of the second inning of a 10-0 Game 6 loss.
And somehow because of the 25-year-old Bumgarner the Giants still won the World Series for the third time in five seasons. Bumgarner won Games 1 and 5, saved Game 7 and was named MVP of the Series. He pitched 21 innings and allowed just one earned run. No other starter recorded a win.
The Giants point out in their game notes that if Bumgarner never pitches in another World Series game, his 0.25 ERA would be the lowest of anyone to throw at least 20 innings in the Fall Classic.
And here Bumgarner was out there on Opening Night with his club again facing imminent disaster. Pressure? What pressure?
"There is no pressure," Bumgarner said after holding the D-backs to a run and six hits while striking out three, walking one and hitting two batters in seven effortless innings. "It's just about competing and that's it. You go out there and compete as hard as you can and you can be at peace with whatever the result is. There's no pressure."
Bumgarner, Lincecum and Cain are the only three starters to have been with the Giants when they have won each of those World Series. Bumgarner is the only one to make at least one start in each Series. He's 4-0 in the World Series, having allowed one earned run and 14 hits in 36 innings.
Epic numbers. For the three postseasons, Bumgarner is 7-3 with a 2.14 ERA in 14 appearances, 12 starts.
Lincecum starred as a starter in 2010, was functional in relief in '12 and was lost in space in the bullpen this past October, relegated to one appearance. Cain started in 2010 and '12, but, as noted, was hurt last year and is still having trouble bouncing back from the surgery.
Peavy said he told Bochy that he couldn't pitch on Tuesday night, a first for the 33-year-old veteran right-hander.
"He's a warrior," Bochy said. "But he's been around long enough now that he's smart."
Cain said he has been told not to throw for at least a couple of days.
"We'll just see how it goes, how it feels," Cain said. "You never know what to expect. [Coming back] has been a little tougher than I thought, but I've never had to go through the process. It's definitely a new journey for me."
Bumgarner is on a seemingly endless roll. He has always been healthy and so far has been fortunate enough not to have to take that journey. Bumgarner, Cain and Lincecum are all close, and he's watched with much empathy as his two staff mates have tried to overcome their problems -- Lincecum dealing with his mechanics and Cain with his injury.
"You never want to see anybody go down. It's tough to come back," Bumgarner said. "I can't speak from experience, but you see it a lot. It's tough. You've got to keep grinding it out, find a way to get back out there and listen to your body and make the adjustments you need to make."
Be that as it may, it's much easier to compensate for injury and shortcomings during a short series than it is over the course of the 162-game season, which just began in earnest again with the first game Monday night.
Bumgarner knows the only thing he can control is his next performance. What happens between now and then is up to Bochy and the baseball gods.
"I'm just trying to get better always," Bumgarner said. "I'm not worried about what happened six months ago or three months ago or a week ago. I'm just trying to get ready for today, and tomorrow I'll get ready for that day. That's the way I like to go about my business."
Barry M. Bloom is a national reporter for MLB.com and writes an MLBlog, Boomskie on Baseball. Follow @boomskie on Twitter. This story was not subject to the approval of Major League Baseball or its clubs.