With two mighty swings, A's make a statement
OAKLAND -- The A's perhaps altered a popular narrative right from the start, swatting two home runs that netted them five runs on Monday in front of an audience that may have questioned their ability to hit for power this season.
Ben Zobrist launched a two-run homer in his first at-bat in green and gold, in the opening frame of an 8-0 win over the Rangers, and Stephen Vogt added a three-run shot in the seventh. Both finished with two hits.
"I think we have more consistent power throughout the lineup," said Vogt. "We may not have a 30-home-run guy like we've had the last couple of years. You're going to miss that kind of power. That's special power. But up and down the lineup, you're going to see guys hunting for 10 or 15 homers.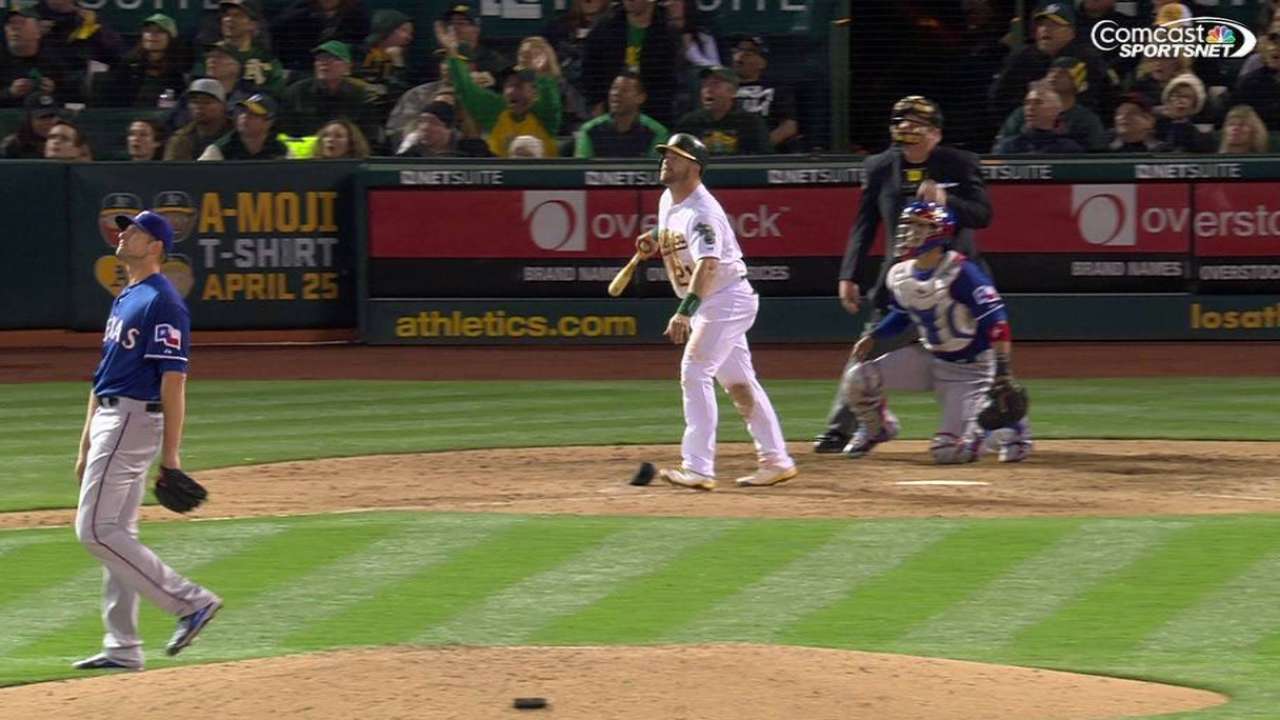 "We have the ability to have five or six guys in double digits, maybe more."
Zobrist's long ball was his third in seven career Opening Day starts, but he already seems convinced that this one tops them all. The debut as a whole, he said, is "pretty tough to beat, it really is."
"For those fans that maybe didn't know how well we were playing in Spring Training, they were able to see what this team's capable of," said Zobrist, who cautioned, "The game's a lot harder than we made it look tonight.
"On the first night, it's always nice to show up for your fans and put on a good show and get them excited about the season. We're excited, and we feel great as a team."
Said manager Bob Melvin: "When you're with a new team and you've been with a different team as long as Ben [was], to be able to walk up there and hit a home run his first time up and get the reception he did from our fans, it really makes you feel good."
Zobrist hasn't hit more than 12 home runs since he compiled 20 in consecutive seasons from 2011-12. Billy Butler's power numbers have also dropped in recent years, and Ike Davis has yet to come close to repeating his 32-homer 2012 season. But the potential for more is there, and the A's see it in others, too, including Vogt, Brett Lawrie and Marcus Semien.
"I think we have some power, some guys that maybe had some off years the past couple years power-wise," said Melvin. "We might not have as much as we had in the past, but we're going to win some games with some home runs."
Jane Lee is a reporter for MLB.com. Read her blog, Major Lee-ague, and follow her on Twitter @JaneMLB. This story was not subject to the approval of Major League Baseball or its clubs.