Control woes catch up to Collmenter in fifth inning
D-backs starter pitches out of jams early before allowing four runs in final frame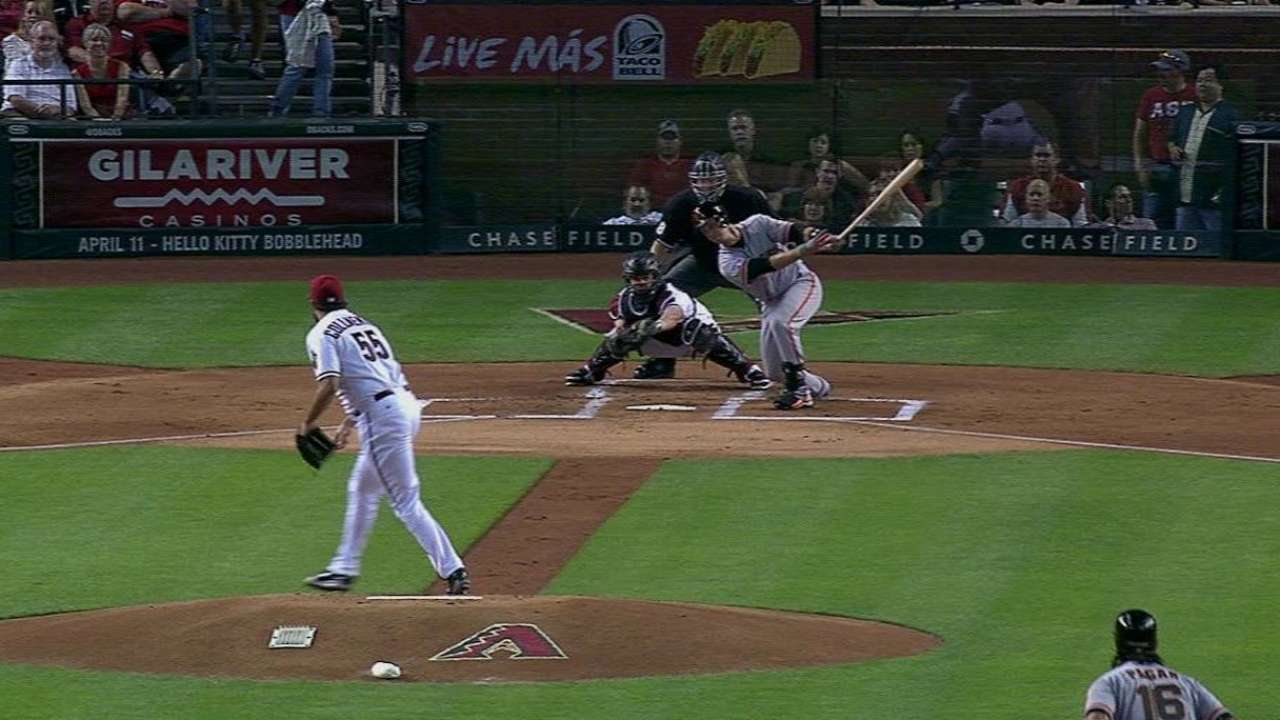 PHOENIX -- It was clear early on Monday night that D-backs starter Josh Collmenter did not have his usual command, and that means trouble for the right-hander, who relies on hitting his spots and keeping hitters off balance in order to be successful.
Right from the start, though, the Giants made Collmenter work as he had to pitch out of a second-and-third-with-one-out situation in the first.
"I just wasn't making good pitches," Collmenter said after Arizona's 5-4 loss on Opening Night. "They just were getting too much of the plate, and if the changeups were down, they were still over the middle of the plate. I just wasn't able to pitch in to the lefties as well as I would have liked today."
Collmenter was able to limit the Giants to one run in the third by once again pitching out of a jam, and he repeated the feat in the fourth when he managed to pitch out of another jam without a run scoring.
But long innings like those take a toll on a pitcher, and eventually something has to give.
That's what happened in the fifth as the first three Giants hitters of the inning got hits. Finally with two on and two out, D-backs manager Chip Hale removed Collenter in favor of having southpaw Andrew Chafin face the left-handed-hitting Brandon Crawford.
"He battled," Hale said of Collmenter. "He just got to the point where he was at 89 pitches. It didn't seem like he had a whole lot left. But Colly did a good job to limit the damage up until then. It's too bad. Those are his runners out there. You hate to have to take him out. He battled so much. Four and two-thirds and to throw 89 pitches is a lot."
Chafin hung a breaking ball to Crawford, who ripped a double to right, scoring two and giving the Giants a 5-1 lead.
"It spun a little bit," Chafin said. "I wanted to have a little bit more bite than that, but it didn't and he was able to put it in play."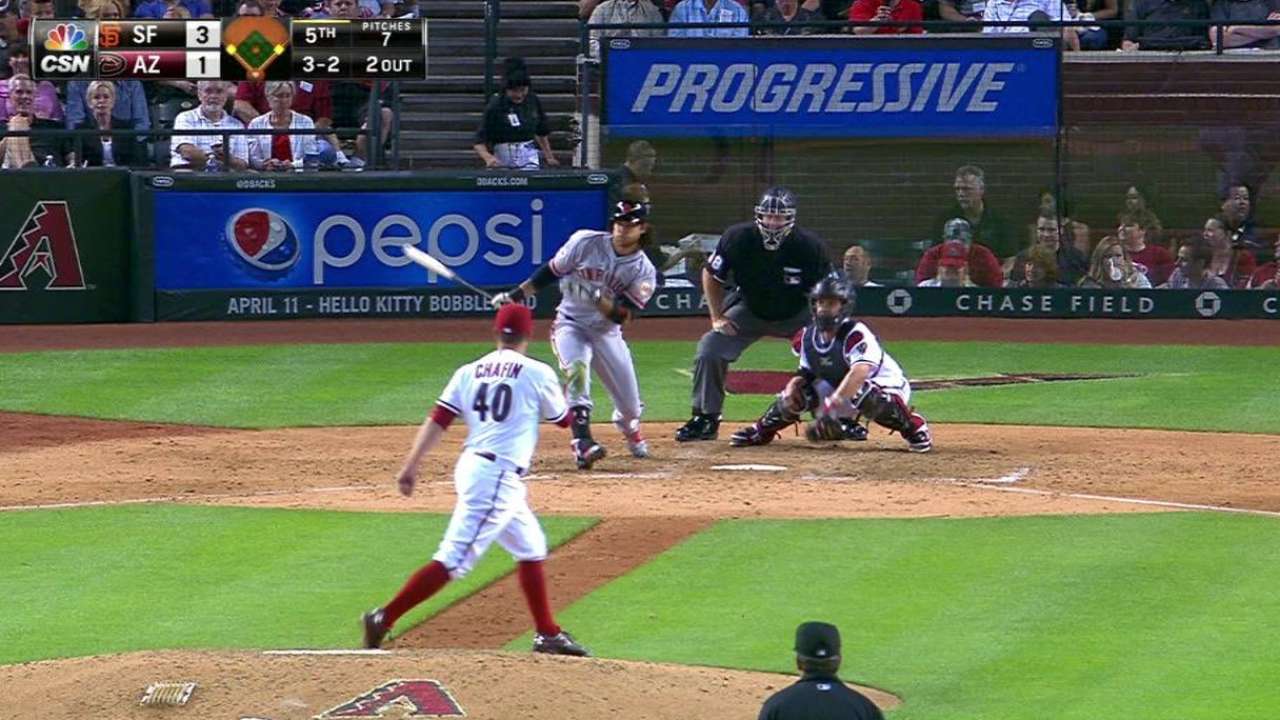 The first three hitters in the Giants' lineup were particularly hard on Collmenter. Nori Aoki, Joe Panik and Angel Pagan combined to go 8-for-9 against Collmenter, and they scored four of the five runs he allowed.
"I wasn't as fine as I wanted to be," Collmenter said. "For me to be successful, I have to throw fastballs where I want them, and I was more all over the place than I'd like to be and got behind in some counts and had to make some pitches that they could put the bat on, and they did that. Sometimes they blooped them in, sometimes they hit them well. I just didn't keep them off balance enough."
Steve Gilbert is a reporter for MLB.com. Read his blog, Inside the D-backs, and follow him on Twitter @SteveGilbertMLB. This story was not subject to the approval of Major League Baseball or its clubs.