MLB.com Columnist
Anthony Castrovince
Marlins need more season-ing after rocky start
Opening Day rain, miscues just blip on radar in 2015 of expectations
MIAMI -- Marlins president David Samson was strolling by the home dugout before Monday's game when somebody asked aloud, "Roof open today?"
"Open," Samson said with a smile.
Oh yes. Open-ing Day. That was the feeling around Marlins Park. Let the sun shine on this Miami squad with the $325 million slugger, the beefed-up lineup and rotation, and an overall frisky feeling in 2015.
But as we know so well, this game of ball can be as unpredictable as the southeastern Florida weather patterns.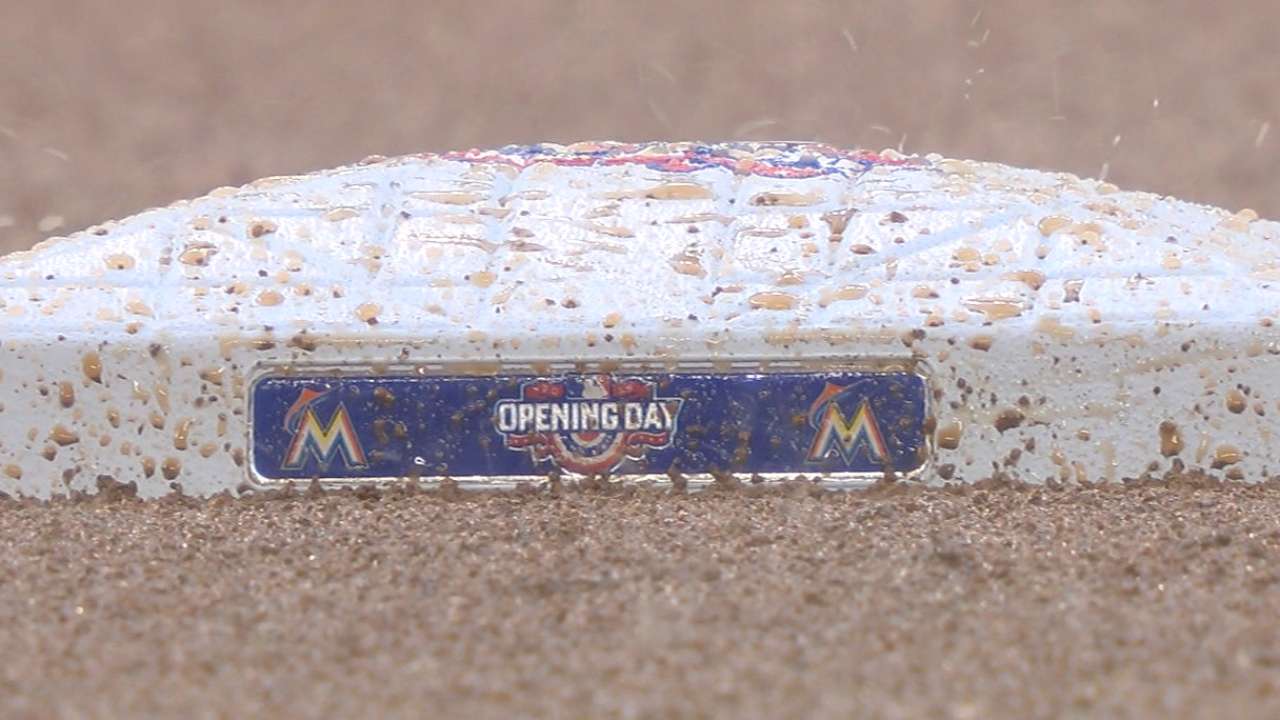 Much like the moisture that unexpectedly dumped on the Marlins and their fans a couple innings into the opener, necessitating a frantic unfurling of the retractable roof and a 16-minute timeout, the rebuilding Braves unexpectedly stole the show, too. What had looked to be the sunshiny start of the eagerly anticipated 2015 season for the home club instead morphed into an enclosed and air-conditioned 2-1 defeat in front of 36,969 briefly saturated attendees.
There were mistakes made by Miami. Not just the Marlins' players, who ran into some big outs on the basepaths and came up empty in the clutch, but also by Samson himself. He admitted to misdiagnosing cloud movement, and the brief, unforeseen storm that followed arguably played a part in the end result. After all, had Dee Gordon had a more tractable track to churn his fleet feet, his perfect bunt attempt with one out in the eighth and the Fish down a run might have been an inning igniter, rather than an inning killer in which Gordon kissed the ground.
And so, in the aftermath, you had Samson in the clubhouse, apologizing to Gordon and promising him that, should Gordon's career end at 2,999 hits, "I've got your back."
That's all well and good, but in the present tense, the Marlins are best left to chalk up this entire experience as a case of first-day jitters. Perhaps they'll use a different weather service moving forward, and perhaps there will be some clubhouse discussion about the mental machinations necessary to be a winner. But on the whole, one game certainly doesn't cloud our overall perception of what this club can be.
What it did, instead, was reinforce the randomness of the one-day sample in this sport, unless you were in the minority who predicted the season's first rain delay would come in a facility with a retractable roof or that the Braves' bullpen would be an unstoppable force the day after Craig Kimbrel was sent to San Diego.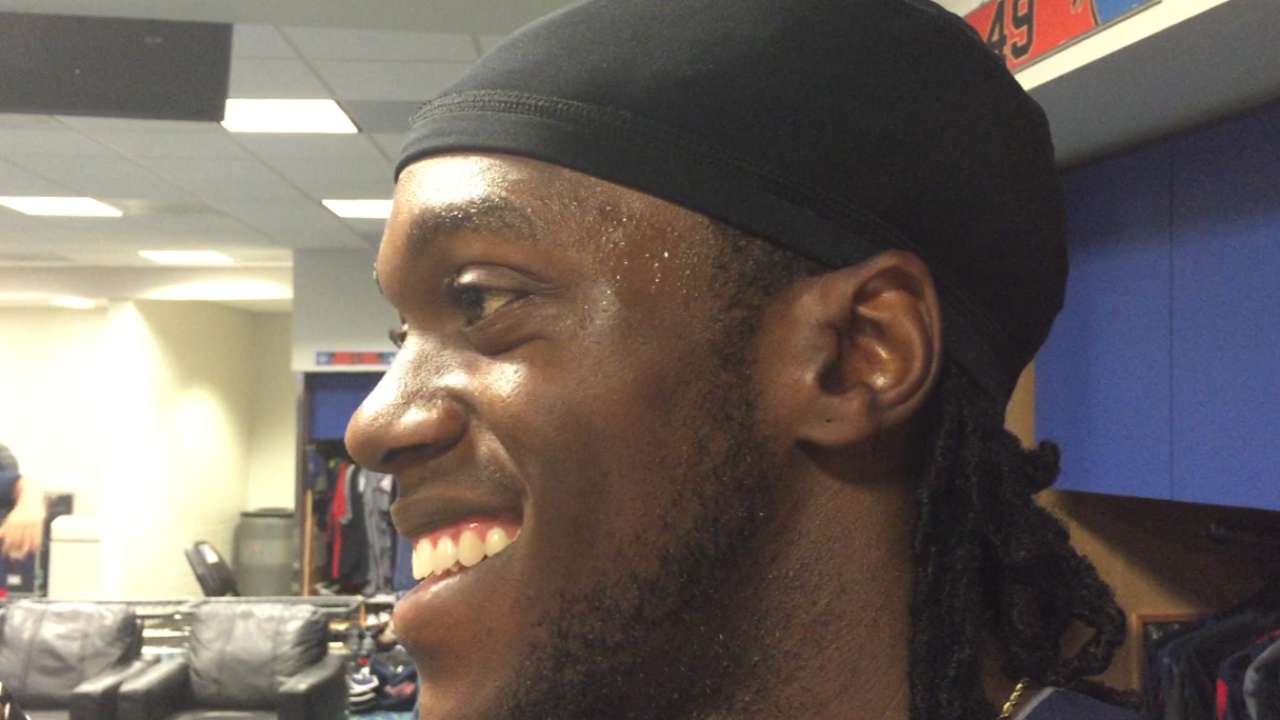 Yes, Luis Avilan, Jim Johnson and Jason Grilli were overpowering in protecting the slim lead a terrific Julio Teheran left behind. It bears repeating, on the heels of Teheran's six excellent innings, that Atlanta's rotation is still the organizational strength it has so often been, regardless of how the rest of the roster looks to the naked eye.
The overarching story, still, is a Miami team that has become a popular pick to click in, at minimum, the National League's Wild Card race. Expectations are high around here, and perhaps more realistically so than they were in the Ozzie Guillen era (if we can use the term "era" rather loosely).
That's what made Monday so frustrating. The Marlins coughed this one up, wasting a solid Henderson Alvarez outing and many a chance to pounce at the plate. Gordon got struck down on a stolen-base attempt after driving home Miami's lone run in the second, and in the seventh, Jarrod Saltalamacchia grounded into a double play against Avilan with the bases loaded and none out and Adeiny Hechavarria popped out to end the threat. The aforementioned $325 million man was also an offender, for Giancarlo Stanton ran himself off the bases with an overaggressive attempt at advancing to third in the fourth, popped up on a first pitch to end the sixth with a man on and swung through some high cheese from Grilli to lead off the ninth.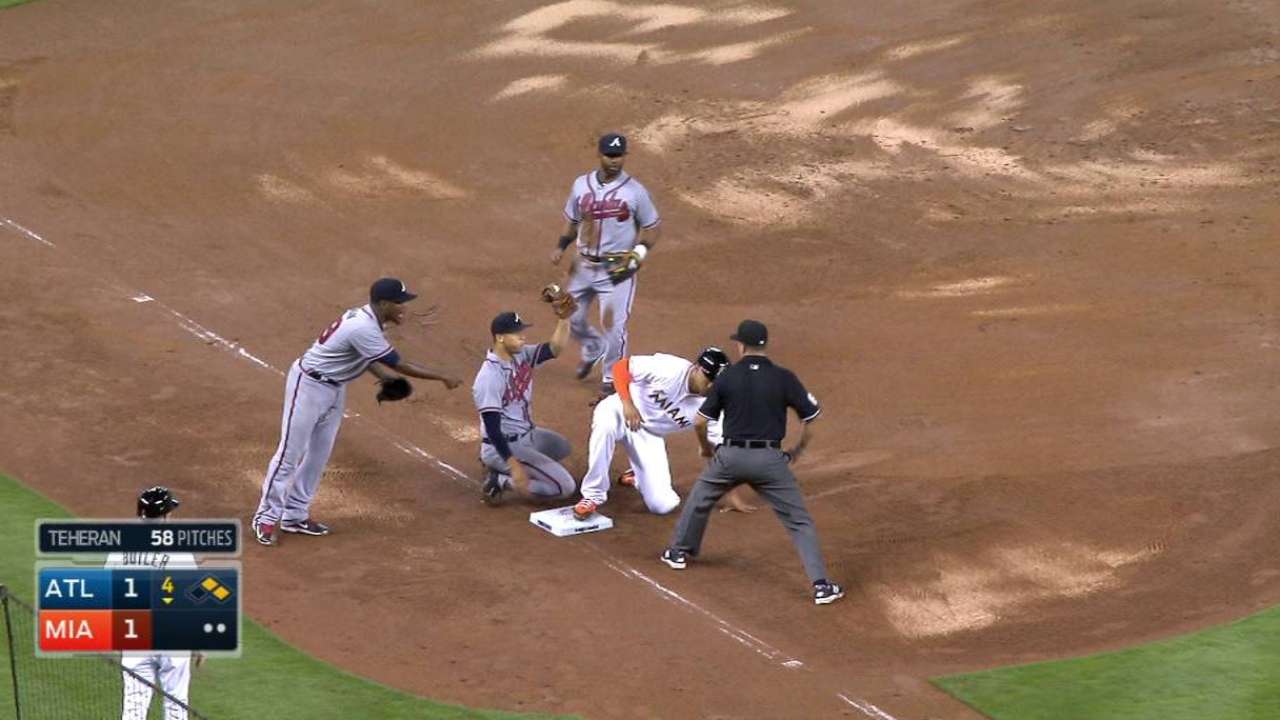 The baserunning blunder -- in which Stanton saw an opportunity with nobody covering third as he rounded second, only to be thrown out by an on-target throw from Kelly Johnson and tag from Andrelton Simmons -- was what seemed to sting Stanton most.
"It's just one game," he said. "But when you lose games mentally, rather than by your play, that's different."
And that sight of Gordon slipping on dirt that had no business being wet? That was hard to swallow.
"It gets slick," manager Mike Redmond said. "When it gets wet, it does get slick. When you close that roof down, it doesn't dry. I'm sure that had a lot to do with it."
OK, so this was not the opener the Marlins envisioned. But between the bright green walls, the gaudy center-field artwork and the chaos at The Clevelander, this is a place that already specialized in sensory overload, and now Miami has a deep enough roster to distract you, too.
Let's just accept that strange things happen in baseball, especially in April, and, for the Marlins, the sun will still come up tomorrow.
Hopefully, it'll allow the roof to stay open, too.
Anthony Castrovince is a reporter for MLB.com. Read his columns and follow him on Twitter at @Castrovince. This story was not subject to the approval of Major League Baseball or its clubs.