MLB.com Columnist
Lyle Spencer
After perfect opener, Rollins eyes Hollywood ending
Dodgers new shortstop capped debut with game-winning three-run homer
LOS ANGELES -- Born and raised in Oakland, where Rickey Henderson and the Bash Brothers once ruled, Jimmy Rollins doesn't have to be reminded when the Dodgers most recently won a World Series. That kind of wound in a 9-year-old kid isn't easily closed.
"Their last one was '88 -- I remember it well," Rollins, the man of the hour, said late Monday afternoon in recalling the Dodgers' Fall Classic triumph 27 seasons ago over Oakland. "I was a very big A's fan, since I was about three years old."
A fixture in Philadelphia since 2001, with a 2008 World Series ring and 2007 National League Most Valuable Player Award in his possession, Rollins has come to Hollywood to be an action star at the ripe age of 36.
The script could not have had a more fantastic beginning for J-Roll in his new role with a Dodgers cast assembled by club president Andrew Friedman and his staff for manager Don Mattingly.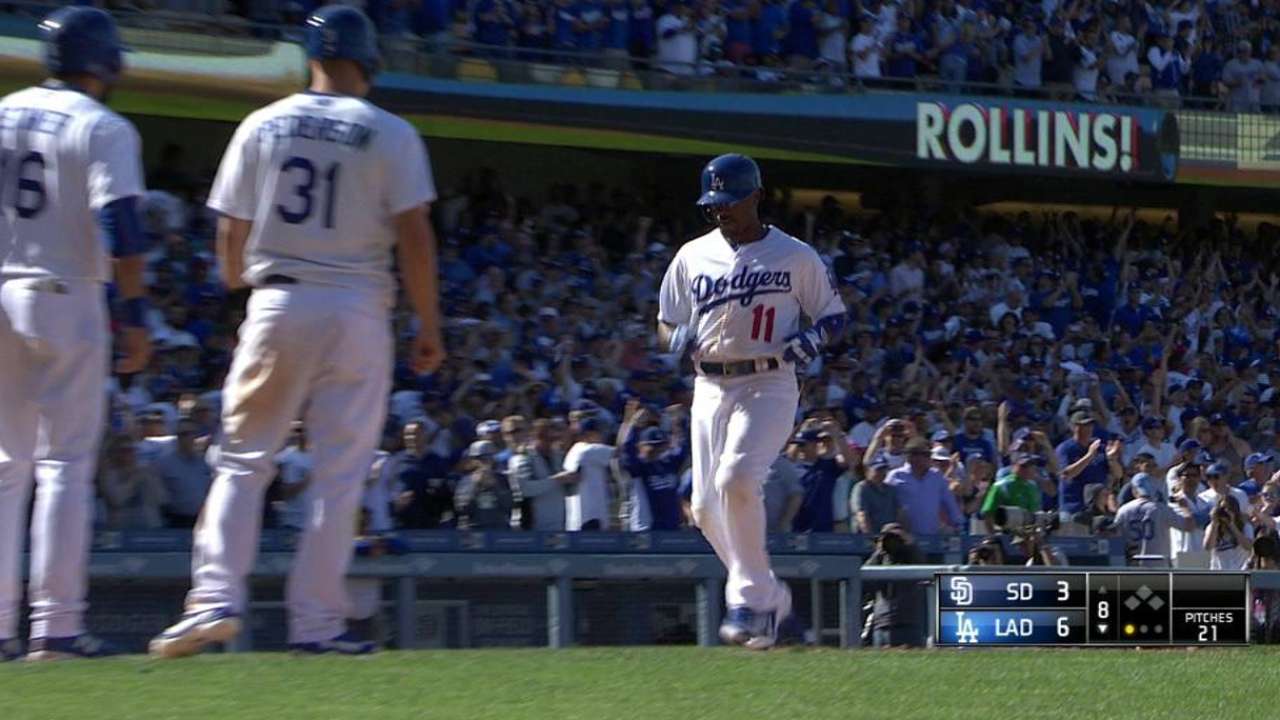 Rollins' three-run homer off Padres reliever Shawn Kelley was the difference in a 6-3 Opening Day victory in front of 53,518 fans -- most of whom came to their feet clamoring for a bow from the new man in town as he returned to the dugout. Teammate Carl Crawford sent Rollins out to acknowledge the fans.
"C.C. grabbed me and said, `Hey, they're still on their feet,'" Rollins said. "I was just, `OK.'" Humbly, he jumped to the steps and let the folks know he was grateful for their appreciation.
An explosive package at 5-foot-7 and 175 pounds, Rollins pointed out that he has hit game-winning blasts before. This was career homer No. 217 for the man who went deep 30 times with 20 triples in his magnificent MVP season, stealing 41 bases as well.
What made this day so meaningful for Rollins was a sense that it could be the start of something big, something that would ease deep-rooted frustrations among Dodgers fans waiting for another ending like the one in '88. This is a new outfit with a new attitude, and in the middle of it all is this little big man with the winning resume.
"Until we all got together [this spring], I knew we had talented players," Rollins said. "But we have a team. They [Friedman and Co.] have a vision, and if everything comes together, magic will happen."
Rollins smiled, aware of his subtle word play. Magic Johnson, part of the ownership group, was seated by the home dugout alongside Tommy Lasorda for a riveting opening to what promises to be an enthralling rivalry. The teams are connected by a freeway, but not a great deal of shared history -- certainly not on the level of the Dodgers and Giants.
The Padres have a clear intent of changing all that with their offseason haul of high-level talent. But it's not as if the Dodgers, with back-to-back National League West titles, but no October satisfaction, sat on their hands.
"Hopefully," Rollins said, "we do our job and make Andrew and them look like geniuses."
The Padres clearly won the offseason, with new general manager A.J. Preller making bold moves virtually right up to the first pitch thrown by Clayton Kershaw in a duel with new San Diego ace James Shields.
It looked as if the Padres might summon brand new closer supreme Craig Kimbrel, wearing the uniform for a few hours, to finish it when they carried a one-run lead into the seventh. But Adrian Gonzalez and Howie Kendrick banged back-to-back doubles with two outs to get the Dodgers even and arrange the stage for Rollins' blast to right on a full count.
If the Padres' bullpen had held the lead after Shields' six strong innings, the story would have been Matt Kemp coming back to Dodger Stadium to drive in three runs with a single and double off Kershaw.
Instead, it was Rollins' show, with a lot of help from his new friends.
For years in Philadelphia, Rollins and Chase Utley were a team within a team, a double-play combo with few peers. Kendrick and Erick Aybar had a similar dynamic with the Angels.
"You form a bond with your second baseman or shortstop," Rollins said. "Howie and I found out that we admired each other for a long time from across the pond. Now we have a chance to play together."
Kendrick, who turned a pair of big double plays to go with his clutch double and triple, has a new baseball brother to fill the Aybar void.
"Jimmy's really cool," Kendrick said. "Philadelphia wasn't an easy place to play, but he's really laid-back. He told me he likes it here. You've got the fans behind you all the time.
"He's really a kid at heart. That's what I like about him."
That kid in Oakland 27 years ago couldn't have imagined finding happiness in the blue uniform of the hated Dodgers.
"I'm getting over that barrier," Rollins said through a winning smile.
Lyle Spencer is a national reporter and columnist for MLB.com. Follow him on Twitter @LyleMSpencer. This story was not subject to the approval of Major League Baseball or its clubs.