MLB.com Columnist
Mike Bauman
Royals believe good things in store for 2015
AL champs display confidence gained from last year's success
KANSAS CITY -- For the first time in 29 years, the Kansas City Royals began a season as the defending American League champions. But the way they played Monday, the wait for the next pennant will not be anything like that length of time.
The same elements that succeeded for the Royals late last season, and succeeded again during a remarkable 8-0 run through the AL postseason, were completely in force Monday.
They made for a 10-1 victory over the Chicago White Sox, a team whose offseason moves have placed them solidly in the contender category.
And that victory made for a splendid Opening Day experience, a joyous Royals rebirth at Kauffman Stadium. The Royals received their 2014 AL championship rings in a pregame ceremony and then started the defense of that championship with a top-shelf, all-around performance.
"There were just so many storylines in that game," Royals manager Ned Yost said. "For our players coming back, getting their rings, then putting on a great performance in front of a sold-out crowd."
The table was set for victory, as it so often is, by the starting pitcher. With James Shields departed, there was an opening for an Opening Day starter. It was seized by Yordano Ventura, who may be only 23 years old, but performs with the kind of poise that makes him appear to be a veteran on the mound.
A fastball that averaged 97 mph last season doesn't hurt, either, but Ventura also had his changeup and his curve working Monday.
"He's a kid that has tremendous composure," Yost said. "This kind of situation doesn't faze him at all. He was really throwing the ball well."
So there was Opening Day success, rather than Opening Day jitters for Ventura.
"I'm very grateful that I got this opportunity, but for me I wanted to focus on what I had to do on the mound," Ventura said through an interpreter, fellow starting pitcher Jeremy Guthrie. "So, with all the hoopla that was going on, I was very focused on what I had to do to help the team win and pitching a good game."
Ventura, clearly an ace in the making, had success last year, and demonstrated Monday that he will be building on that success.
"I came into spring really confident, having worked a lot on all the pitches," Ventura said. "I thought going through Spring Training I was getting to a spot where I was really comfortable with all the pitches. If felt great for me, and I just want to be able to continue with it."
So Ventura outpitched Chicago starter Jeff Samardzija. Ventura gave up one run over six-plus innings, before departing with a cramp in his right thumb. "I'm not concerned about missing any time with what happened," Ventura said, regarding the cramp.
Offensively, the Royals were opportunistic, which was typical, and powerful, which was not always the case. There was an opposite-field solo home run by third baseman Mike Moustakas, installed as an unlikely but on Monday, productive, No. 2 hitter.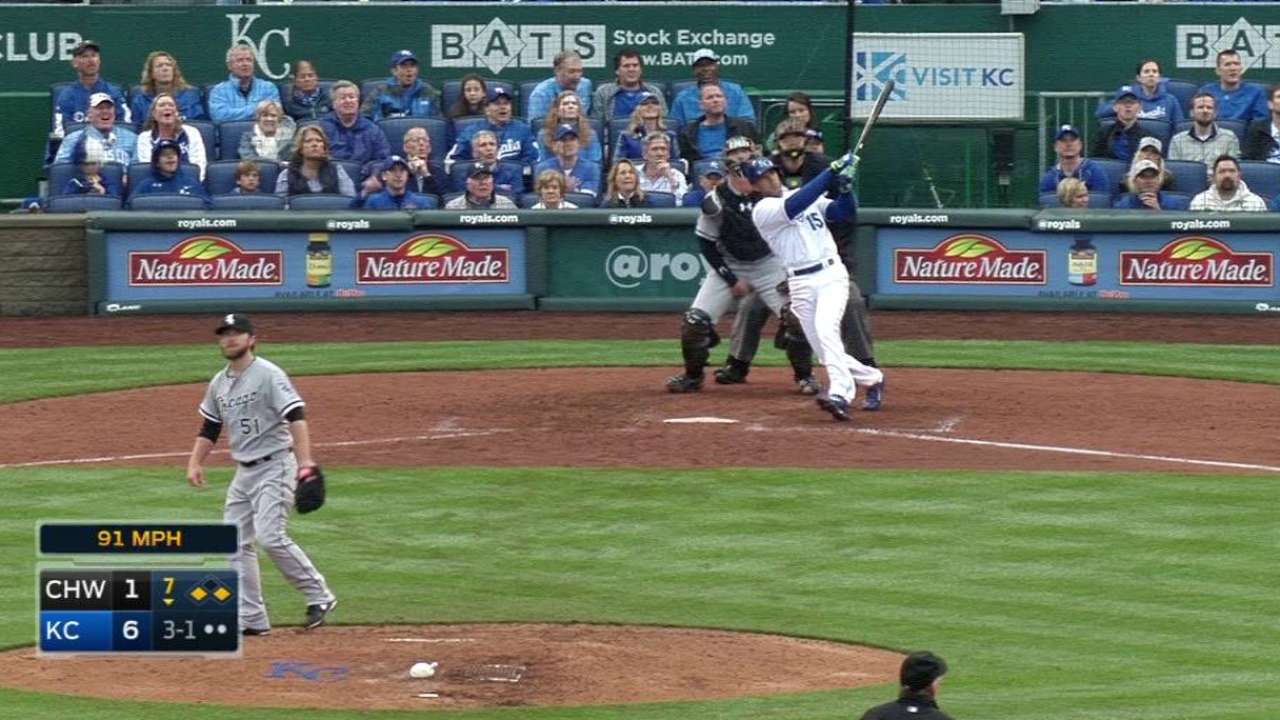 There was also a three-run homer by the new right fielder, Alex Rios, who had three hits. The new designated hitter, Kendrys Morales, had three walks. This particularly pleased Yost, who has insisted that these two are valuable additions to the Royals, rather than indications of decline.
For a classic Royals inning, you could pick the third. Shortstop Alcides Escobar legged out a double. Moustakas, acting like a second hitter would for a club playing for one run, bunted Escobar to third. Center fielder Lorenzo Cain hit a bloop single to right, scoring Escobar. Cain stole second, advanced to third on a groundout to the right side by first baseman Eric Hosmer, and scored on a wild pitch. They played for one run. They were rewarded by scoring two.
The Kansas City defense was, as usual, superb. This club catches the baseball as well as any group in the game.
"Of course, we love our defense," Yost said. "We brought five outstanding outfielders with us, and all five are athletic, able to roam this outfield of ours. And our infield defense is as good as any in baseball, I feel. So we're happy with all aspects of our team. Now we just have to stay healthy.
As Yost sees it, the Royals' accomplishments in 2014, the turning of potential into production, have given the club an added level of belief.
"There's a noticeable level of increase in confidence since we came to Spring Training," Yost said. "You know, these kids always thought that they were good, and they finally believed it last year in the playoffs. Each and every one of them did it and they know now that they can stand up under the most extreme pressure and the brightest lights, in stadiums packed with rabid fans, and be successful and be productive.
"They don't have to wonder if they can do it anymore, they know that they can do it. Having that experience, having that knowledge, having that belief, is a big thing to have at the start of the season."
It looked like a very big thing on Opening Day 2015. These Royals looked like a team fully capable of repeating the success of 2014.
Mike Bauman is a national columnist for MLB.com. This story was not subject to the approval of Major League Baseball or its clubs.