Dodgers' new additions make immediate impact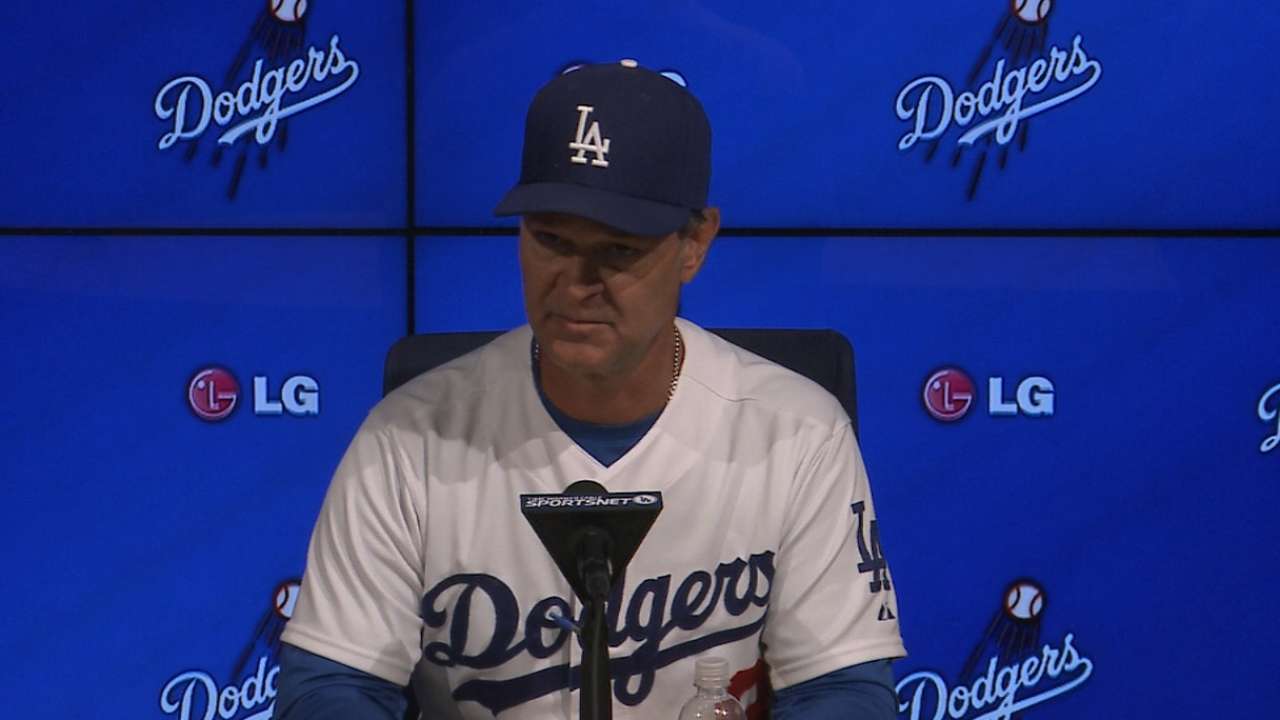 LOS ANGELES -- Opening Day of the Andrew Friedman Era started with Matt Kemp's three RBIs off former teammate Clayton Kershaw, but it finished as well as the Dodgers' analytics department could have programmed it.
The "clash of the titans," as manager Don Mattingly called the Kershaw/Kemp confrontation, was upstaged by a clutch three-run homer from new shortstop Jimmy Rollins in the eighth inning that made a winner out of setup man Joel Peralta, with Chris Hatcher earning the first save of his career in a 6-3 comeback win over the Padres.
"When I hit it, [new second baseman Howie Kendrick] said he got the chills," Rollins said.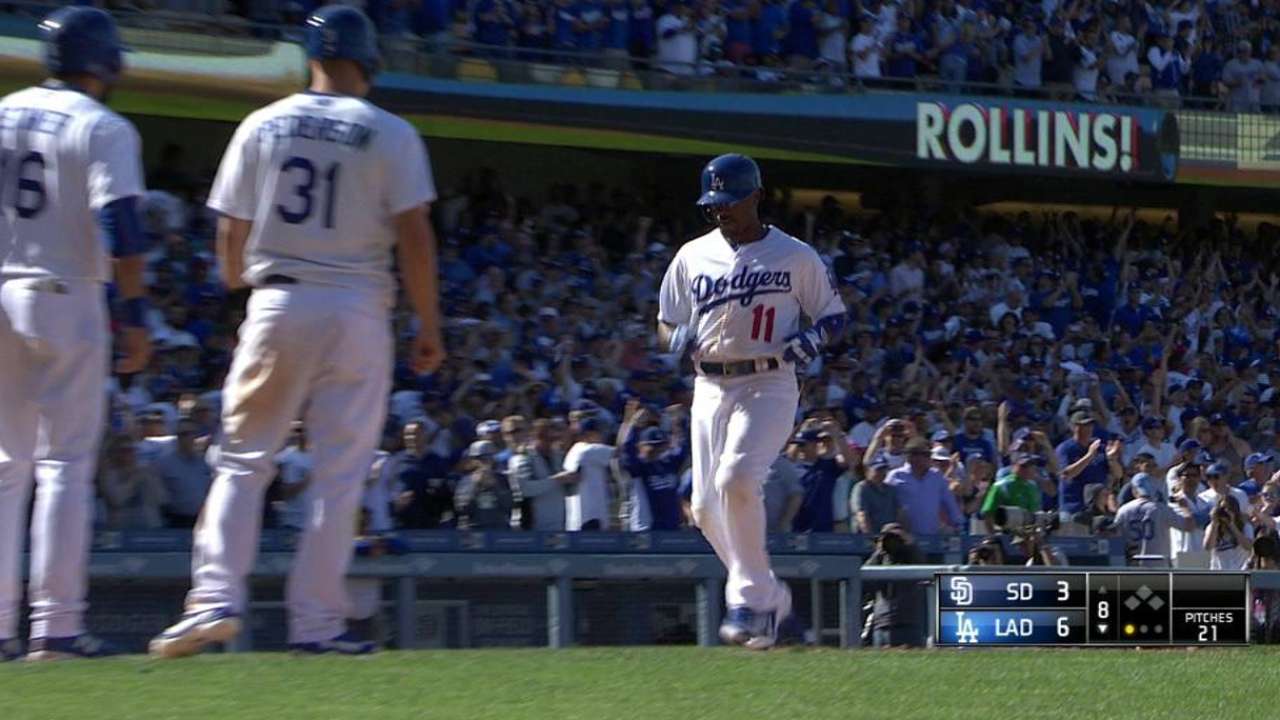 Kendrick made it a quartet of memorable Dodgers debuts with a triple, double and the pivot on double plays to bail out Peralta and Hatcher in the final two innings.
Rookie Joc Pederson, the new center fielder, doubled, stole third base and started the winning rally in the eighth with a leadoff walk. RBI champ Adrian Gonzalez did his thing with a homer, double and single.
For management, the most rewarding aspect of the game was the rebuilt bullpen, which took over trailing by a run after Kershaw's six innings. In relief of Kershaw, rookie Yimi Garcia preceded Peralta and Hatcher by striking out two in a perfect inning.
"Those guys stepped up in big situations," said catcher A.J. Ellis, getting the start over former Padres catcher Yasmani Grandal to help keep Kershaw comfortable.
It was a milestone game for Hatcher, who apparently will be the interim closer until Kenley Jansen returns, except Mattingly won't announce it. Hatcher said he was never told ahead of time he would pitch the ninth inning and began warming up with the game tied. Upon entering with a three-run lead, he promptly hit Jedd Gyorko with a pitch leading off the ninth.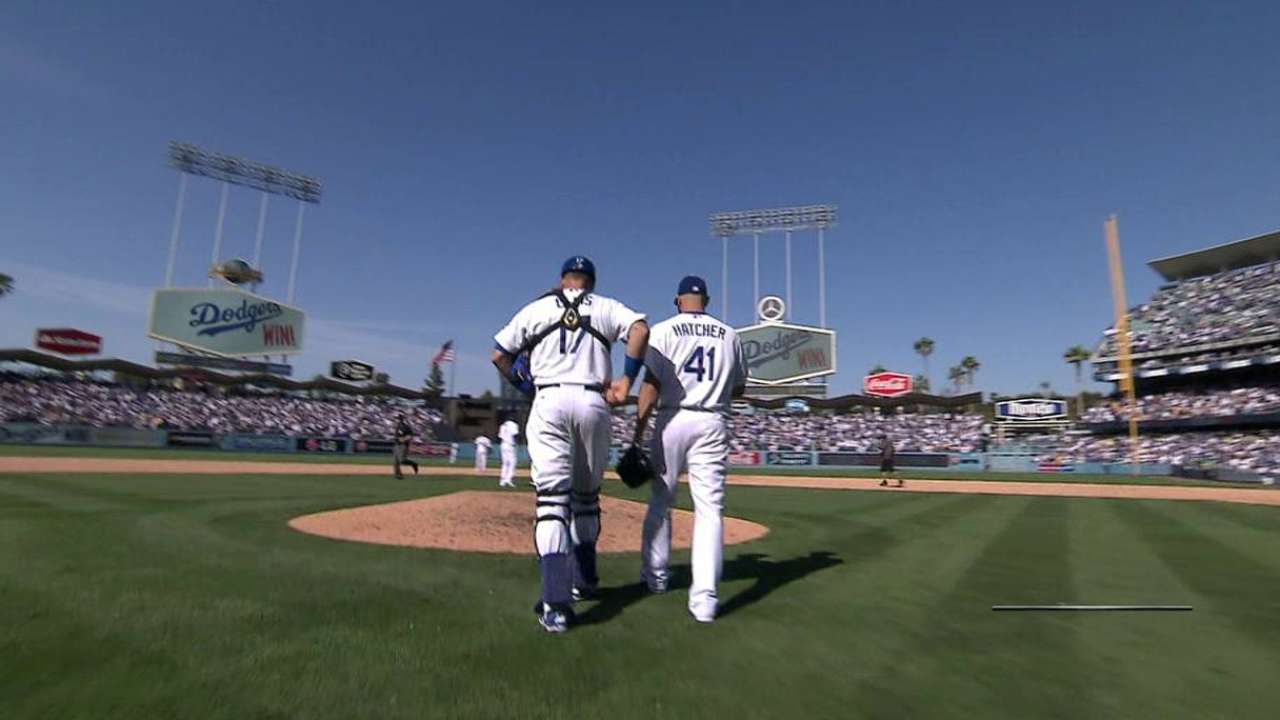 "Actually, I got a little too excited, a little geeked up," admitted Hatcher, a key part of the trade with Miami for Dee Gordon and Dan Haren. "But after I hit him, I settled back in. I mean, the crowd was electric and after I hit him I relaxed, if that makes sense."
Peralta, credited with the win, said he's only looking for holds and was happy he could make a good first impression in front of the sell-out crowd of 53,518.
"The energy was awesome, for me coming from Tampa Bay where you don't see this much," said Peralta, acquired from the Rays in one of Friedman's first moves.
Ellis said the Dodgers have 24 hours to analyze Kemp's at-bats as an opponent in hopes of preventing a repeat.
"Neither Clayton nor I had ever faced him. We didn't know where he stood in the box, what pitches would work," Ellis said. "I've been playing with Matt since rookie ball, but I don't think I ever sat behind the plate with him batting. It was bizarre. Surreal. Since the trade went down, I've been thinking about it. Now we have to take the information we gathered and put it together for a plan to get a good hitter out."
Ken Gurnick is a reporter for MLB.com. This story was not subject to the approval of Major League Baseball or its clubs.