Sloppy play hurts Marlins in close loss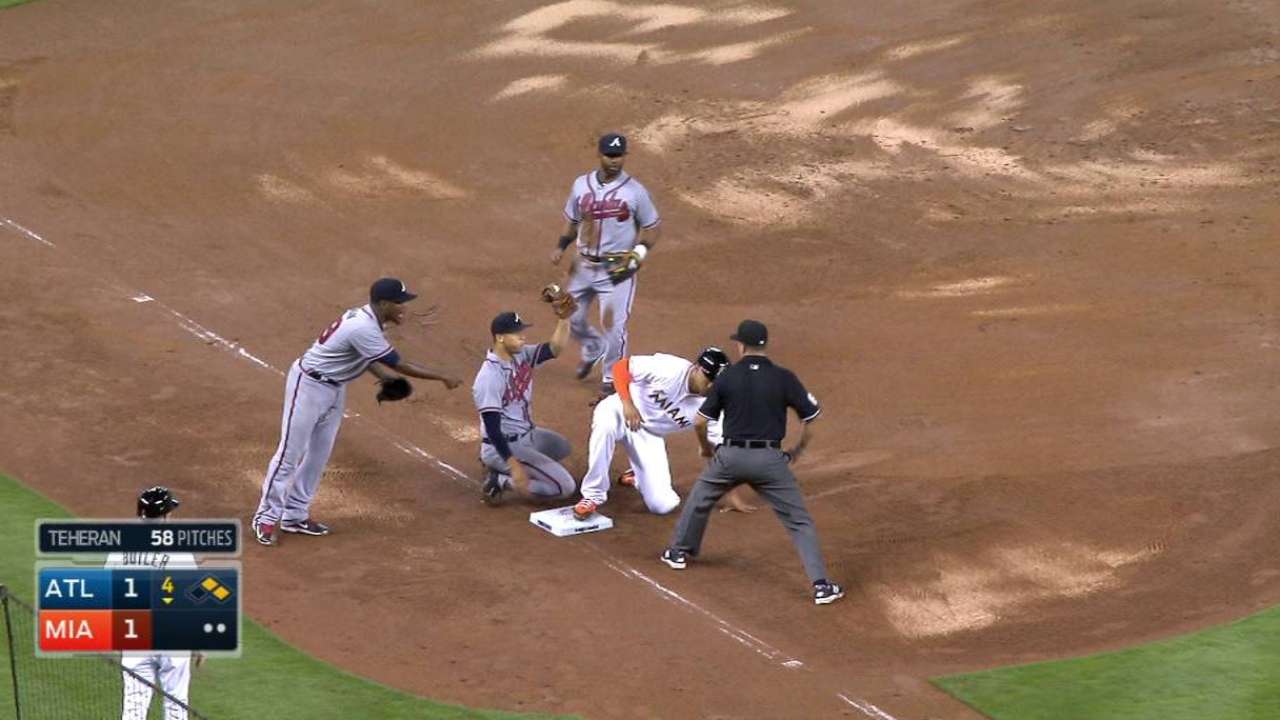 MIAMI -- The breaks that seemed to go the Marlins' way on Opening Day were the bad ones. They made the third out of an inning on the bases twice, and they tapped into a bases-loaded double play that underscored their 2-1 loss to the Braves at Marlins Park on Monday.
Giancarlo Stanton took a gamble and was thrown out trying to advance to third in the fourth inning, and Jarrod Saltalamacchia bounced into a crushing double play in the seventh.
"Despite all the stuff that happened, we still had a chance to at least tie it up," manager Mike Redmond said. "We ran into that double play. That was pretty much the ballgame after that."
Miami's golden chance was in the seventh inning when it loaded the bases with no outs against Julio Teheran. Lefty Luis Avilan entered to face Saltalamacchia, who switched sides to bat right-handed.
Saltalamacchia bounced to third, and Atlanta turned a 5-2-3 double play, throwing out Michael Morse at home and preventing Miami from pulling even. With two outs and runners on second and third, Jim Johnson retired Adeiny Hechavarria on a soft pop foul to first.
"You always want a situation where you can help your team win," Saltalamacchia said. "Today wasn't my day. So tomorrow, maybe it is."
The double play was devastating late, but two third outs on the bases wiped out potential scoring chances early.
In the fourth inning, Stanton hoped to catch the Braves napping. Martin Prado singled to left, and Stanton, on first, rounded second and then took off to third because no one was immediately on the base.
"They were late to cover, so it had to be the perfect throw," Stanton said. "It was right on there, and he still grabbed it and dove. So that can't happen."
Rather than have two on and two outs for Marcell Ozuna, Stanton was out at third and the inning was over.
In the third inning, Dee Gordon made the third out when he was caught trying to steal second.
"It is just one game, but when you lose games mentally rather than by play, it's different," Stanton said. "That's how we lost today, for sure. We were right there. Some mental mistakes, and that was the difference."
Joe Frisaro is a reporter for MLB.com. He writes a blog, called The Fish Pond. Follow him on Twitter @JoeFrisaro. This story was not subject to the approval of Major League Baseball or its clubs.