Former A's Ellis, Chavez take part in Opening Night festivities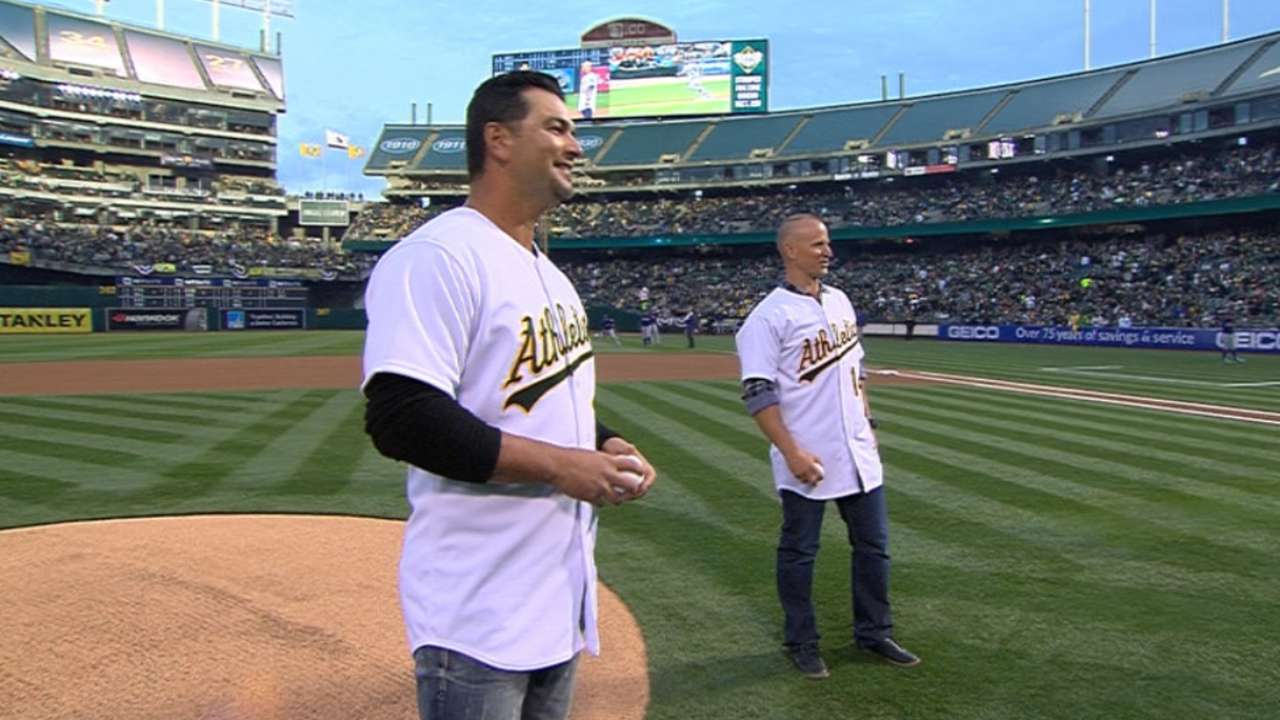 OAKLAND -- Former A's infielders and fan favorites Mark Ellis and Eric Chavez were on hand to throw ceremonial first pitches and help celebrate Opening Night at the Coliseum on Monday.
"Just old, retired guys now," joked Ellis, who officially retired in February following a 12-year career.
Eight of those years were spent with the A's, three resulting in postseason appearances. The sure-handed second baseman finished his career with a .991 fielding percentage, which ranks fifth all-time at the position.
Chavez, of course, was no slacker himself, winning six Gold Gloves in his 13 years with the A's while leading Oakland to five playoff appearances. He also retired this offseason, and he will join the A's television broadcast team for 20 games this season.
Chavez has already done his homework on Oakland's newest third baseman, saying of Brett Lawrie, "He's an animal at third base. I love watching him play. We just all hope he stays healthy and puts up good numbers."
Chavez sees a little bit of Eric Byrnes in Lawrie, too.
"Just kind of that reckless abandonment," he said. "He's really entertaining to watch. The fans are going to love him. He's going to run hard to first. He's going to dive. Maybe he's going to dive maybe a few times more than the A's would like him to, but he plays the game hard, and he's fun to watch."
Chavez is also a special-assignment scout for the Yankees, while Ellis is enjoying his time away from the game, at least for the time being. The second he retired, he received a standing job offer from A's general manager Billy Beane.
"I've thought about it a little bit," said Ellis. "I don't know what I want to do, though, and I don't want to go into something halfhearted. When I do start, I want it to be full steam ahead. But I appreciate the offer. We talked about it."
Such uncertainty has given Ellis a great appreciation for former teammate Barry Zito's decision to return to baseball and accept a Minor League assignment at Triple-A Nashville to begin the season.
"It's a whole other world to go play Triple-A baseball, and for him to have that commitment and that passion to still want to be a baseball player, I think it's amazing," he said. "It's obviously something he doesn't have to do, but the game means that much to him that that's what he wants to do. I think it's great."
"When he was between the lines, he was competitive as anyone," added Chavez. "The juices are still flowing, and we wish the best for him."
Jane Lee is a reporter for MLB.com. Read her blog, Major Lee-ague, and follow her on Twitter @JaneMLB. This story was not subject to the approval of Major League Baseball or its clubs.