Newcomers make big impact on Day 1
After busy offseason, clubs reap the benefits of star additions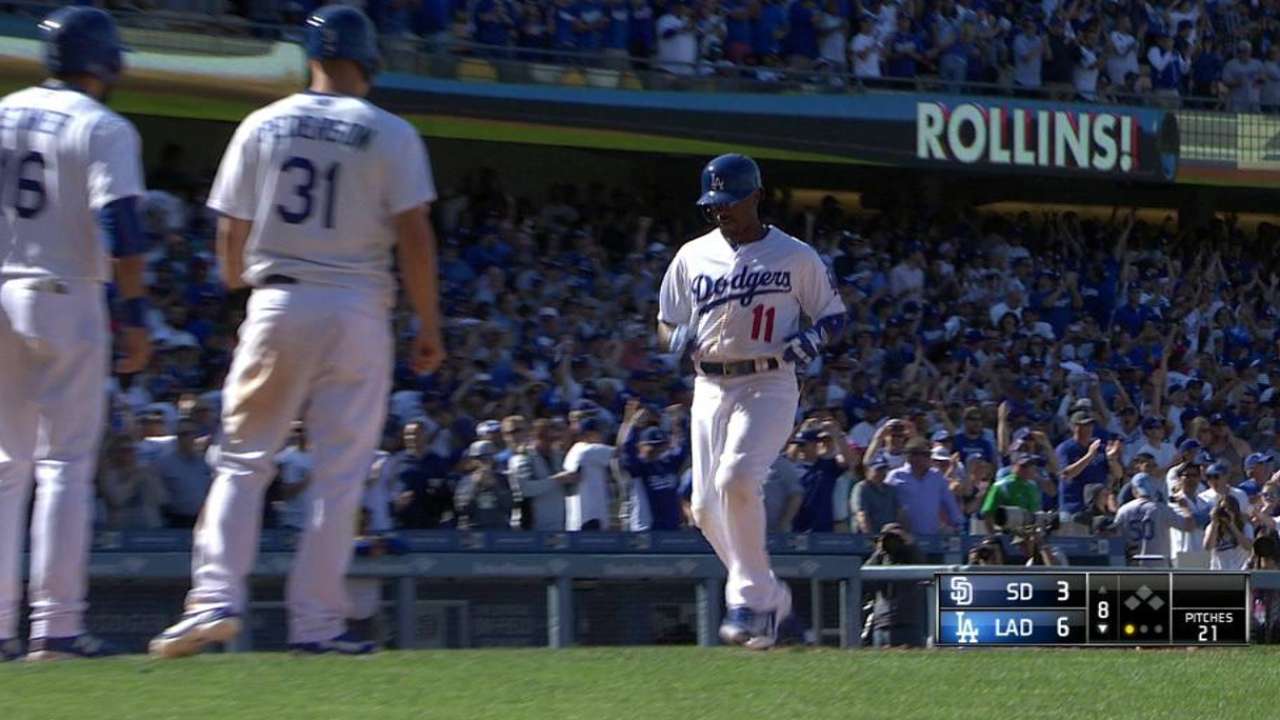 Whether he's a veteran in a different uniform for the first time or a journeyman with a few stops on his resume, a shining first impression with a new ballclub can make Opening Day a true banner day in a player's career.
Opening Day 2015 had a host of sweet debuts for players who changed franchises over the winter, making for some really friendly introductions now that the business is official with the start of the regular season.
A few of the biggest performances by new faces in new places from Monday's games:
Jimmy Rollins, Dodgers: Now, #THIS is how you make a first impression: Tie game, bottom of the eighth, three-run bomb, winner. Rollins, who established himself as a premier player in 14-plus seasons in Phillies pinstripes, made himself right at home in Dodger Blue in the opener at Chavez Ravine. His homer to right looked so familiar, but it was a new day dawning for J-Roll, who jumped right into the L.A. spotlight in a big way. Before the game-winner, he'd already claimed his first hit and first steal, but he was just getting warmed up.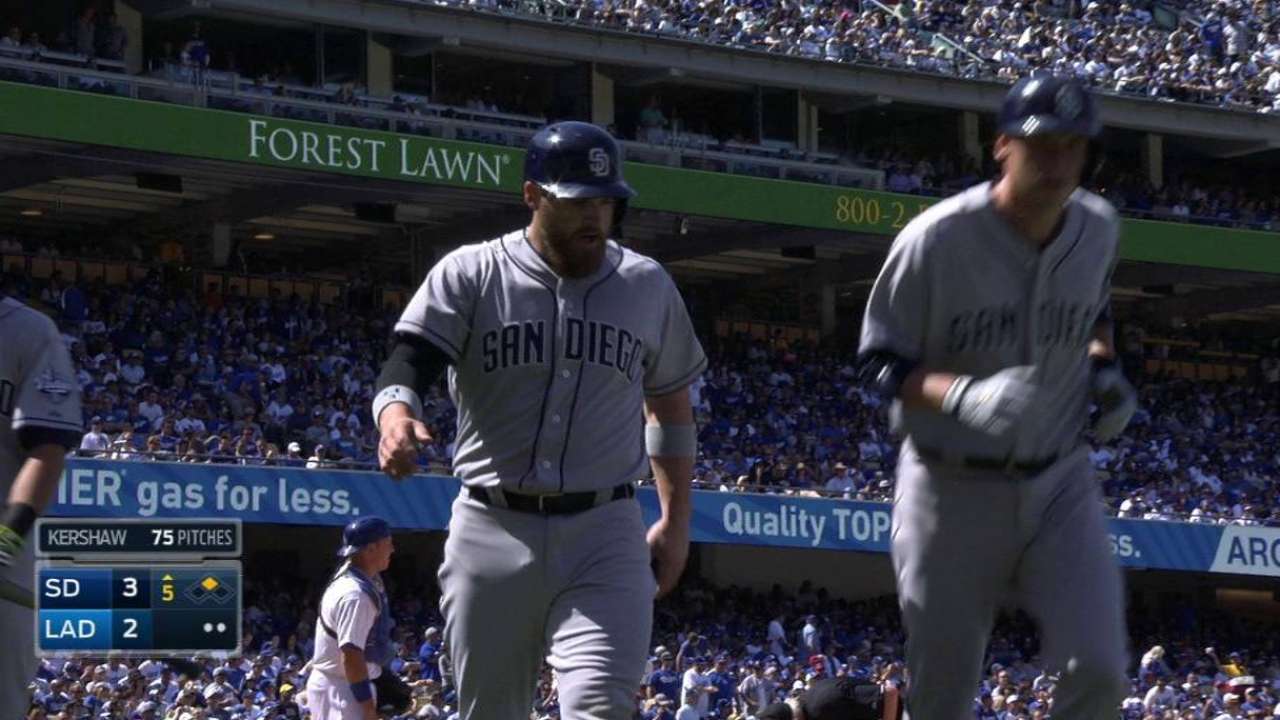 Matt Kemp, Padres: On the flip side of that NL West thriller, Kemp got an ovation from Dodgers fan and then came through as advertised as one of the Padres' new stars. He delivered the team's first RBI of the season and added on a two-run double that gave the Padres the lead into the late innings. But Rollins' heroics trumped him and his new club.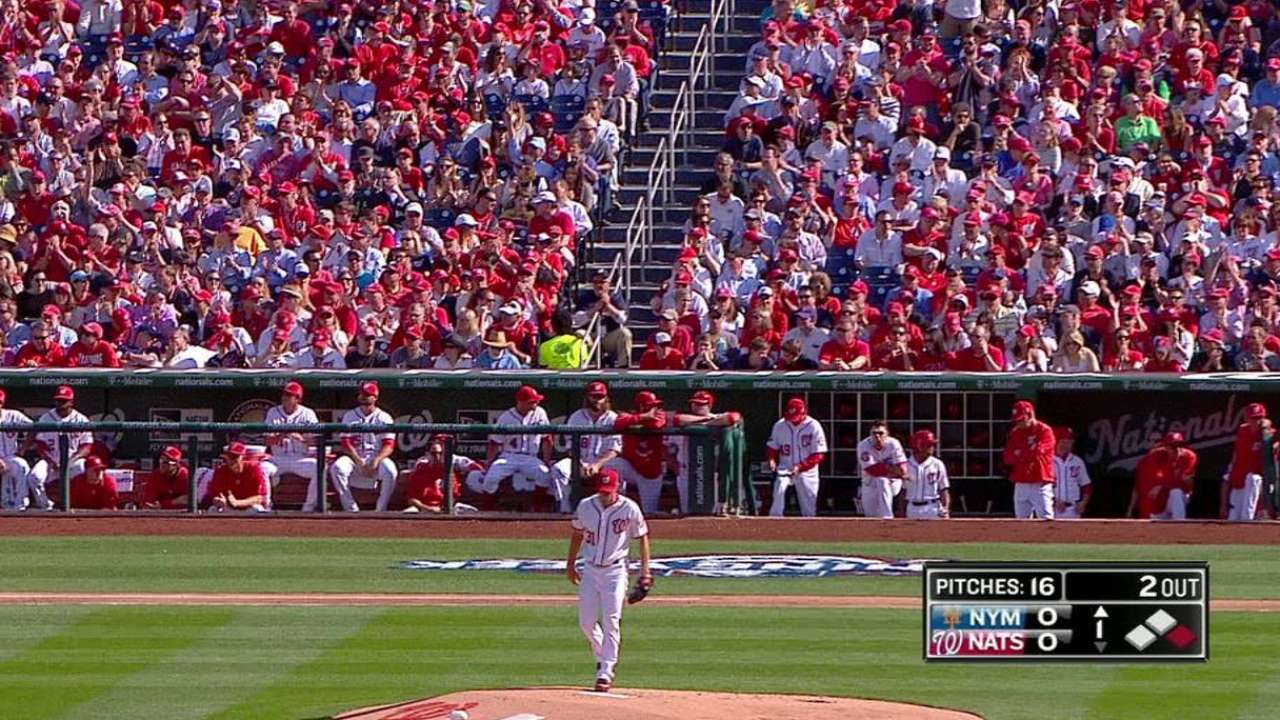 Max Scherzer, Nationals: Going into the sixth with a no-no was a good way to start, and he lasted 7 2/3 innings in his Washington debut, but Scherzer took the loss against the Mets. He didn't allow an earned run, but he did allow three unearned after two Nats errors, striking out eight and walking two. It's not the result Scherzer or the Nats wanted, but the debut performance was strong.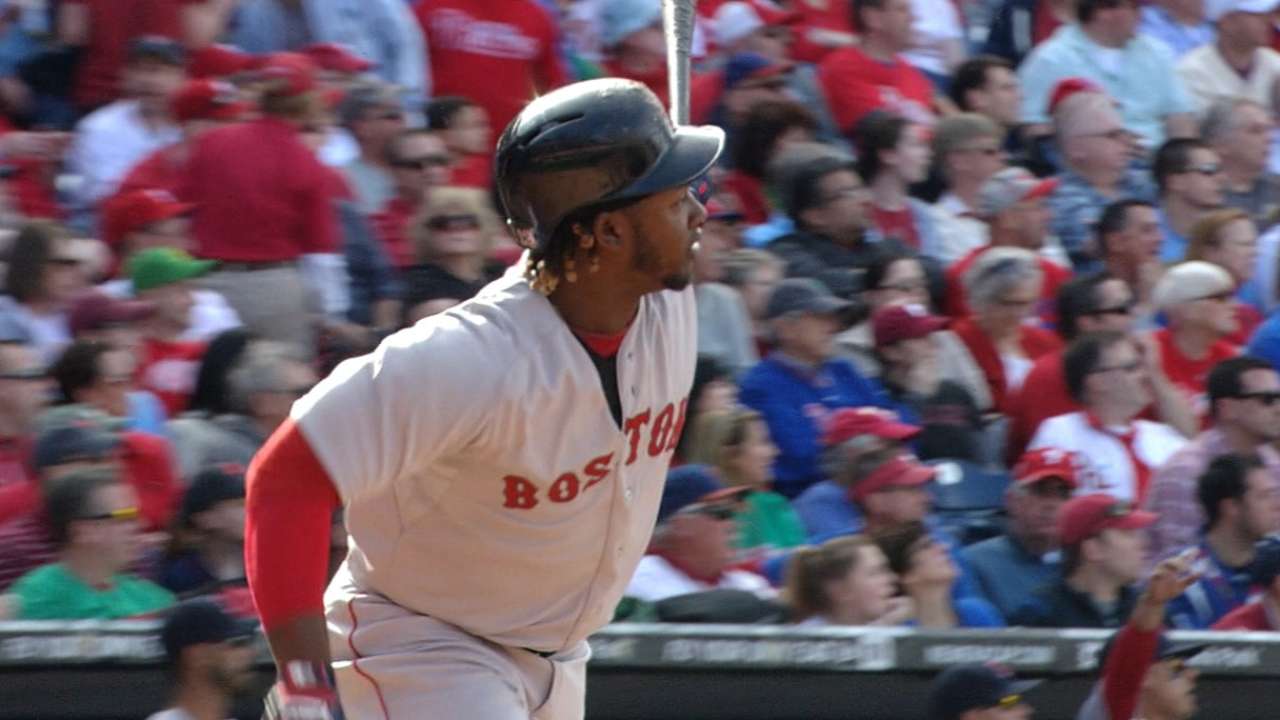 Hanley Ramirez, Red Sox: Back to where it all began with two at-bats in September 2005, Hanley went for two home runs in Boston's powerful first salvo of the season, an 8-0 defeat of the Phillies. Ramirez hit 191 homers for the Marlins and Dodgers between those two September at-bats and Monday's two-fer.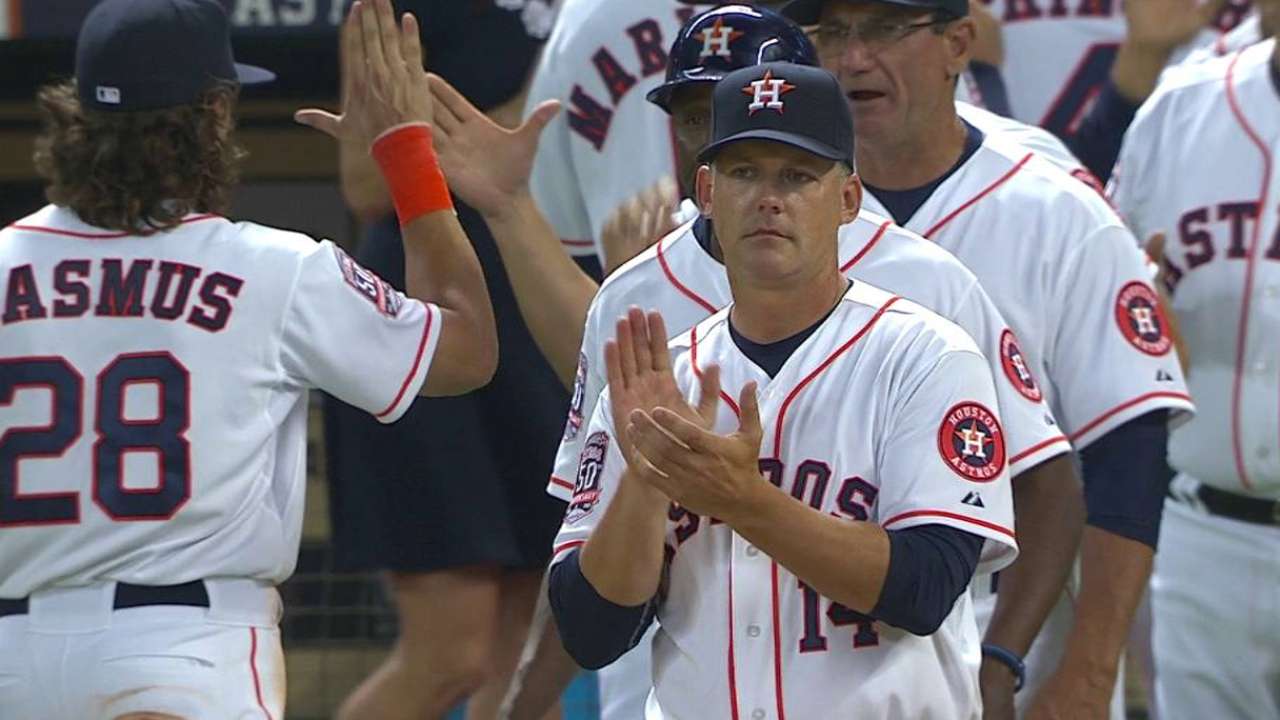 Luke Gregerson, Astros: With a home Opening Day shutout hanging in the balance, Gregerson stepped right in and did the deed for the Astros in his first outing as their closer, going 1-2-3 against the Indians' 3-4-5 hitters in the ninth. With a strikeout of Yan Gomes to end it, Gregerson set off a winning cheer in Houston that the Astros hope will come around a lot more often this year.
Ben Zobrist, A's: The versatile All-Star player the A's acquired in their flurry of moves this winter showed he knows how to say hello to a new team. Zobrist became the 13th player in Oakland A's history to homer in his first at-bat with the club, whacking a two-run shot to get Oakland's offense going behind Sonny Gray's gem in an 8-0 win over the Rangers. Zobrist added a double, as did another veteran newbie with the A's -- Billy Butler.
Yoenis Cespedes, Tigers: Playing for his third team since last July, the multi-talented outfielder did it all for the Tigers. Not only did he rip a double and a triple in his first appearance in the stacked Tigers lineup, but he robbed a homer in his first home game at Comerica Park, looking right at home there.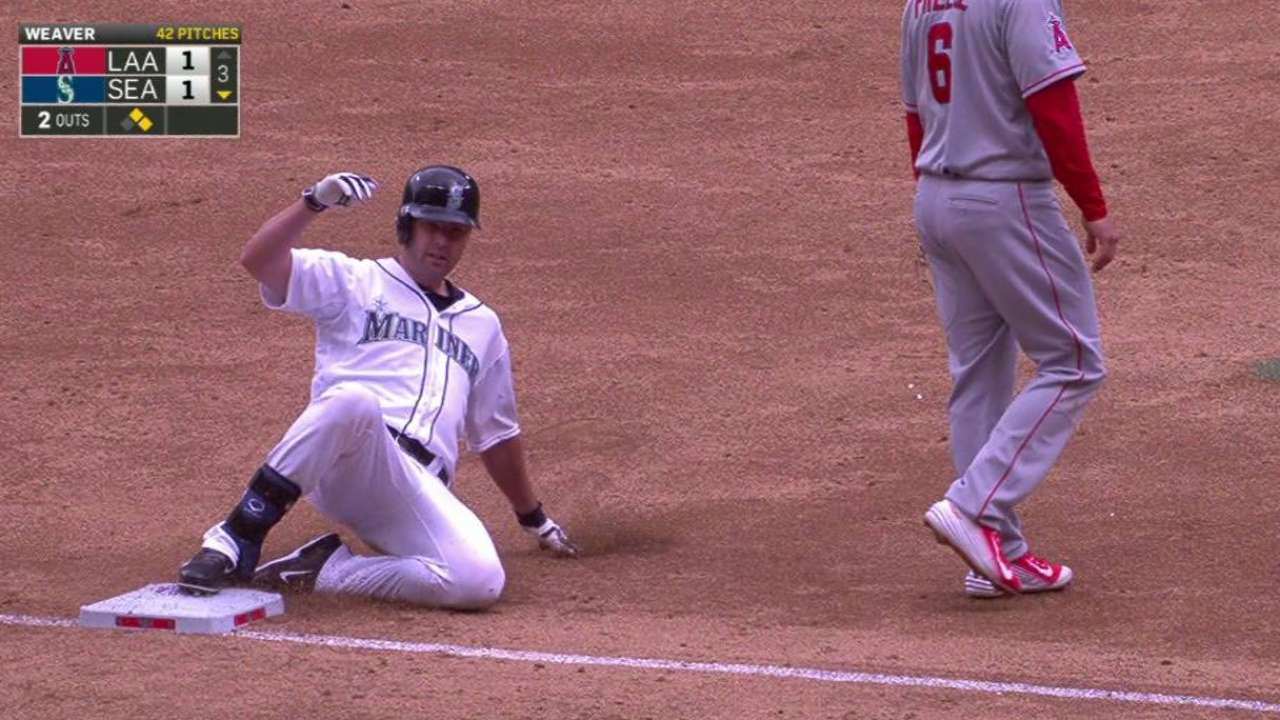 Seth Smith, Mariners: Last year, he hit a pinch-hit homer to tie the game in the eighth inning with the Padres. This year, he topped it with two doubles, a triple and a pair of RBIs in his first appearance with the Mariners. The guy has an Opening Day knack.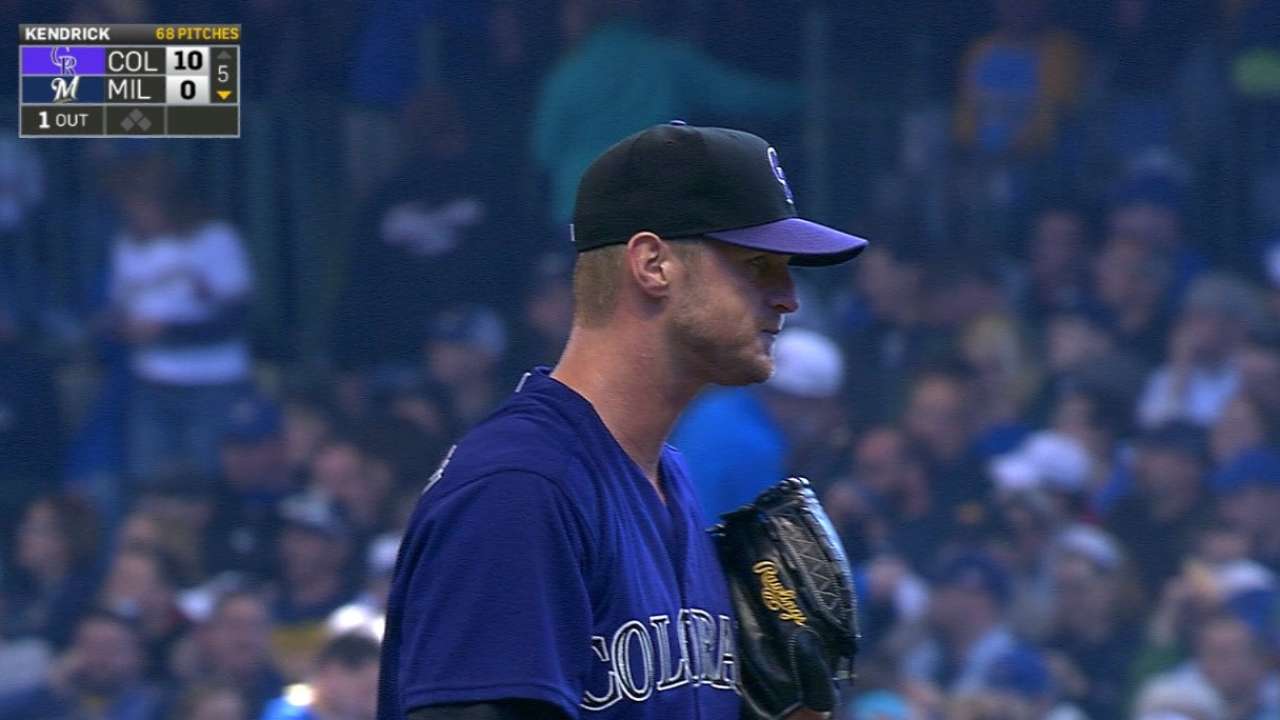 Kyle Kendrick, Rockies: Perhaps lost a little bit in the 10-0 slugfest the Rockies' lineup put together on Monday was the other side of the score, starting with seven shutout innings by Kendrick. Drafted by the Phillies and with their big club since 2007, Kendrick scattered seven hits in a stellar first start for the Rockies.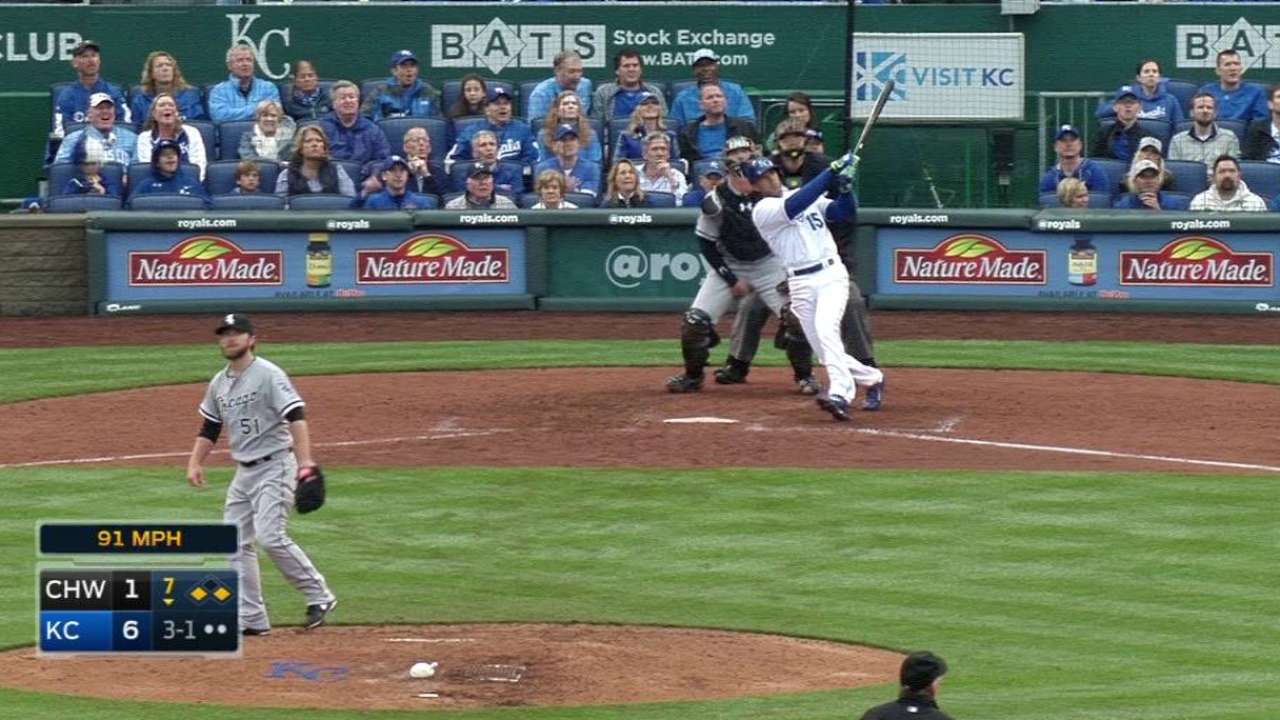 Alex Rios, Royals: While the rest of the Royals received their American League championship rings before the appreciative crowd at Kauffman Stadium for Opening Day, Rios rewarded the home fans with a sparkling debut with the club, going 3-for-4 with a three-run homer to contribute to a 10-1 victory over the White Sox. Kendrys Morales also had three walks and a double in his first game with KC.
Others who had a nice time in their first outing with a new club included Nick Markakis of the Braves (1-for-4, two RBIs), Travis Snider of the O's (3-for-4, 2B, 2 RBIs) and James Shields of the Padres (six innings pitched, two earned runs, eight strikeouts).
John Schlegel is a national reporter for MLB.com. You can follow him on Twitter @JohnSchlegelMLB. This story was not subject to the approval of Major League Baseball or its clubs.