Colon shows, at 41, he's still got it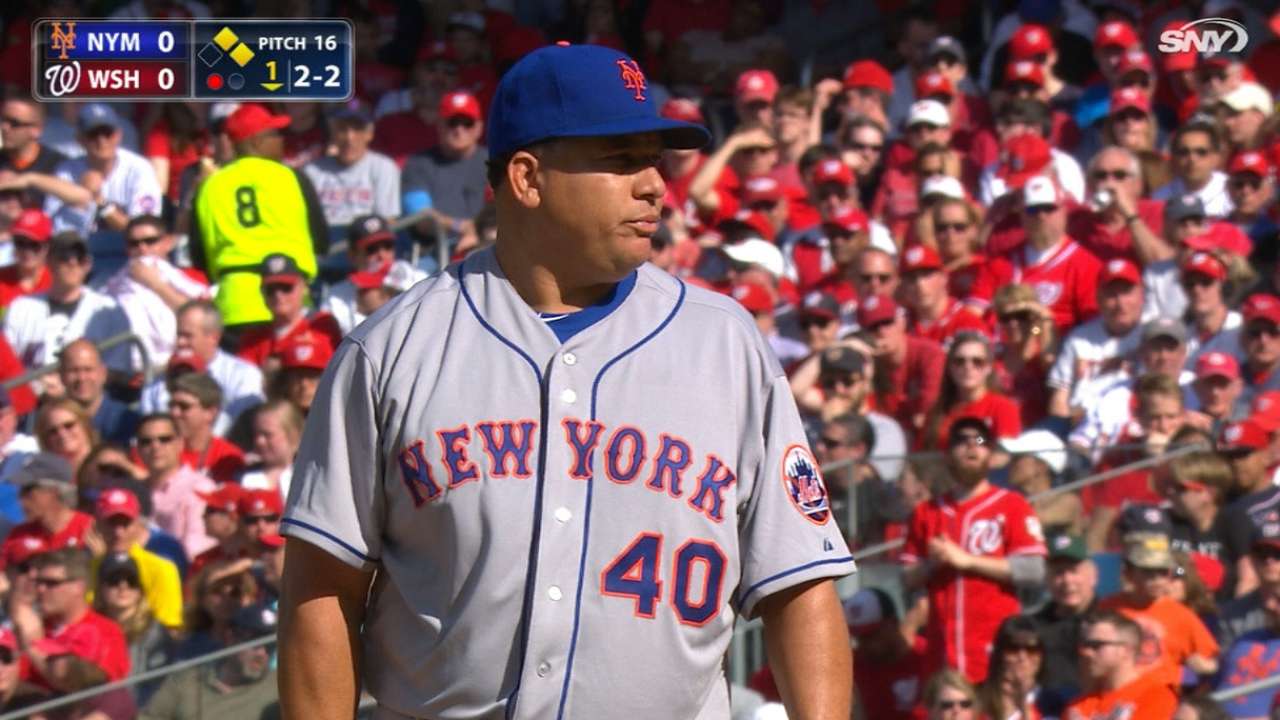 WASHINGTON -- When the Mets named 41-year-old Bartolo Colon their Opening Day starter, the baseball world met their announcement with confusion, laughter and in some cases even scorn. The 2015 Mets were built on young, homegrown pitching, came the chorus. How can they entrust their Opening Day start to an aging mercenary?
Colon quieted those critics on Monday, putting on a strike-throwing clinic over six innings of one-run ball in a 3-1 win against the Nationals. Bryce Harper's solo homer aside, Colon was near-perfect, striking out eight while scattering just three hits and a walk.
"He was the right man for today's game," manager Terry Collins said. "I still stand by that. He showed it. He pitched an outstanding ballgame for us."
Though the Mets could have given their Opening Day start to any number of pitchers, including reigning National League Rookie of the Year Jacob deGrom or all-everything right-hander Matt Harvey, they chose instead to give it to Colon. Collins' justification was that he wanted experience on the mound Opening Day, particularly against a loaded Nationals team with aspirations of wrapping up the NL East title by June.
Those attributes shined through in the first inning, after a leadoff single and a Daniel Murphy fielding error gave the Nationals two men on base with no outs. Colon rebounded by striking out Harper and Ryan Zimmerman in succession, then induced an inning-ending groundout from Wilson Ramos. Though Harper tagged Colon with a leadoff homer in the sixth inning, the Nats did not string together another rally until Harper singled and Zimmerman walked with two outs in the sixth. Again, Colon found a way out of it, whiffing Ramos to complete his afternoon.
"I just tried to keep the team in the game," Colon said through an interpreter.
He wound up doing far more than that. Not only did Colon outpitch Max Scherzer, the Nationals' $210 million offseason investment, but he also wound up proving, at 41, that he was the correct choice for Opening Day.
"He's great at what he does," third baseman David Wright said. "He's not a guy that's going to throw 95, 96 [mph] by you anymore. But watching him from behind, watching him work, being in, out, up, down, adding a little, subtracting a little … very rarely does the catcher's glove move. It's impressive to watch."
Anthony DiComo is a reporter for MLB.com. Follow him on Twitter @AnthonyDiComo. This story was not subject to the approval of Major League Baseball or its clubs.