MLB.com Columnist
Tracy Ringolsby
Mariners looking to go deep into 2015 season
Smith among offseason additions aiming to help bolster roster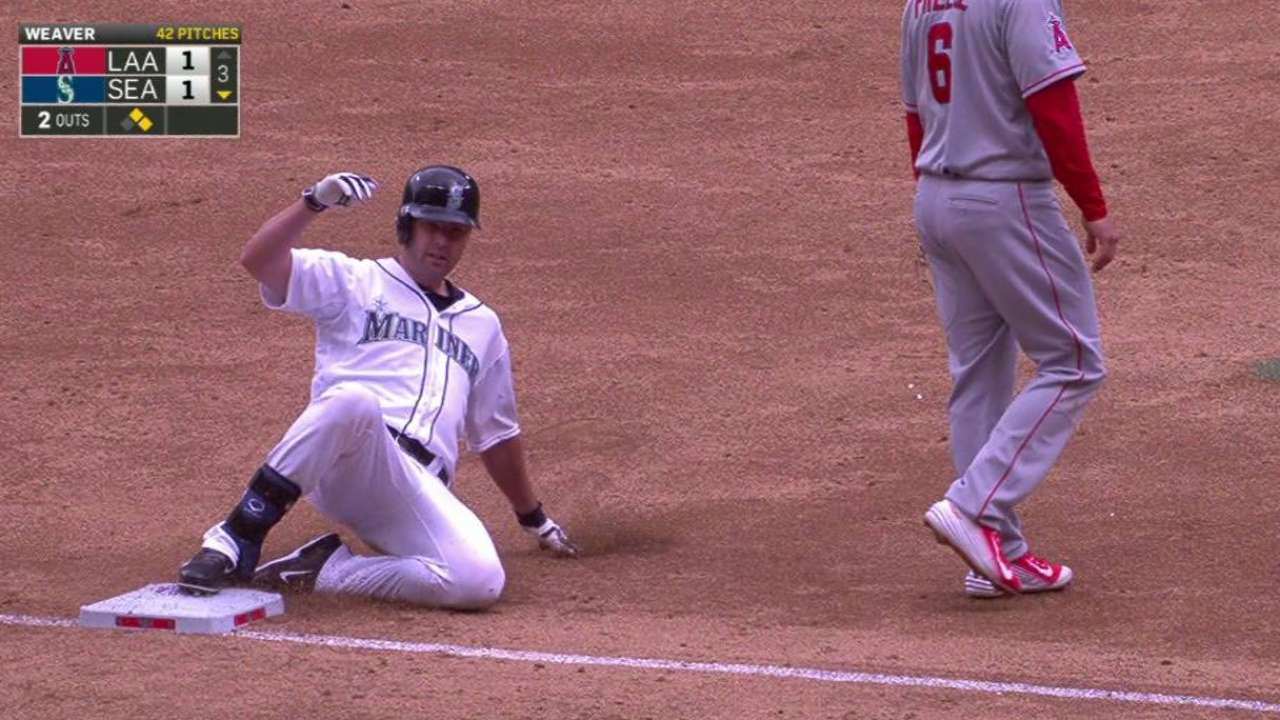 SEATTLE -- The Mariners have the marquee attractions. They have Felix Hernandez. They have Robinson Cano. They have Nelson Cruz.
There is, however, more to the Mariners than that. There is depth, and that, as much as the superstars, is why they have become more than a trendy pick to click in the American League West this season.
"There's a different feeling around this team," said third baseman Kyle Seager.
Seattle is only one game into the 162-game marathon that is the regular season. It was, however, a glimpse at why the Mariners, a team that a year ago came up one victory shy in its bid for a postseason invite for the first time since 2001, have created such a positive vibe of what lies ahead in '15.
Oh, there was King Felix, wheeling and dealing for seven overpowering innings in a 4-1 victory against the defending AL West champion Angels, rebounding from a first-inning home run by defending AL MVP Award winner Mike Trout to limit the Halos to just one other hit -- an Erick Aybar leadoff single in the fifth -- and strike out Trout the two other times Hernandez faced him in seven innings.
There, however, also was Seth Smith, the man who lives to live under the radar, making his Mariners debut by ruining the day for Angels starter Jered Weaver by going 3-for-3 with two doubles, a triple, two RBIs and a run scored.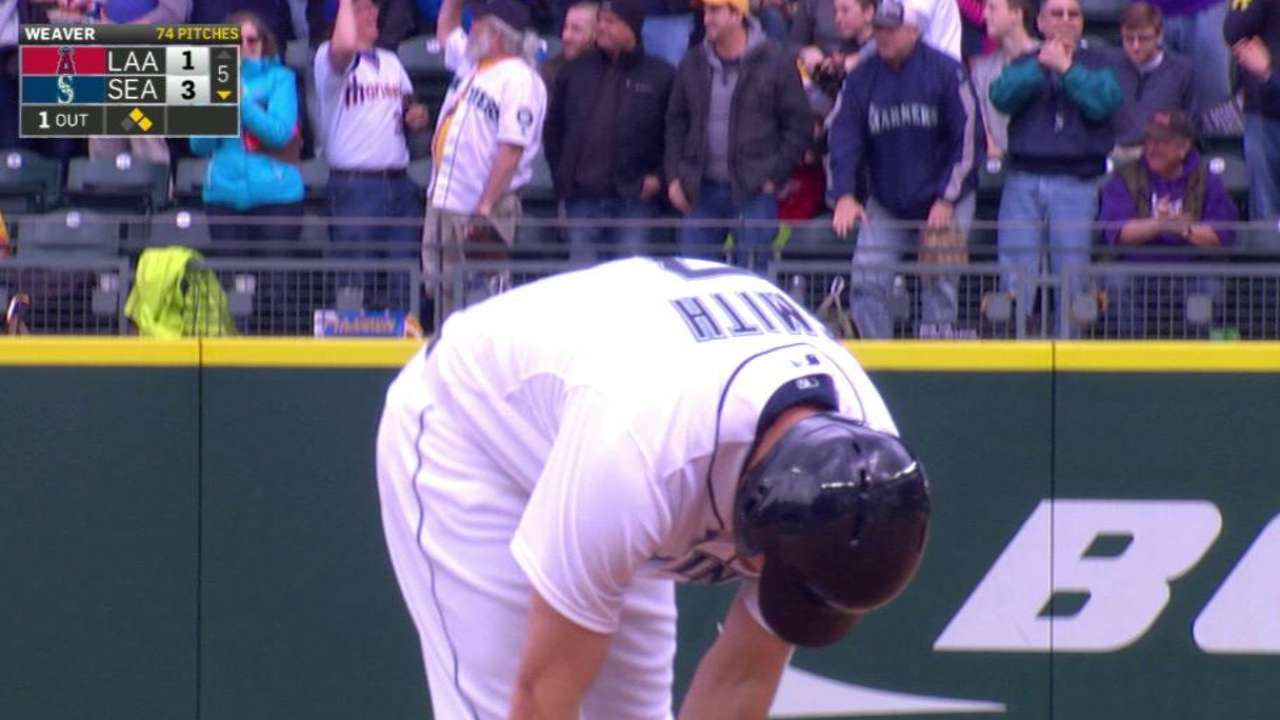 Oh, and then getting pinch-hit for in the seventh when lefty Cesar Ramos took over for Weaver.
No big deal, said Smith.
"It's the way it is," he said. "This isn't the first time I've been in that situation. I don't make the decision on that. I play when they tell me to play. And when they tell me not to play, I don't play."
Smith was that guy called up for a September glimpse by the Rockies back in 2007, going 5-for-7 and scoring four runs during a run that saw the Rockies win 14 of their final 15 regular-season games. That earned him a spot on the postseason roster when Colorado swept Philadelphia and Arizona en route to the only World Series appearance in franchise history.
Oh, and Smith was 3-for-6 with two runs scored and two RBIs in a pinch-hit role that postseason.
Smith has dealt with being "that other guy" ever since his college football days at Mississippi, where he was the backup to quarterback Eli Manning, and never did take a snap from center.
"I like it that way," Smith said with a big smile. "I don't like doing interviews."
Smith does, however, know how to play the game, and that's why Seattle made the offseason acquisition to get him from San Diego.
This is a team that brought credibility a year ago with the signing of Cano to a 10-year contract, and then filled a huge hole in the middle of the lineup for a right-handed bat this past winter by signing free agent Cruz, who led the Majors with 40 home runs last season with the Orioles.
Mariners general manager Jack Zduriencik, however, did more than shop for star attractions. He knew that the club needed depth to contend, and found it with the likes of the left-handed-hitting Smith, and the right-handed bats of Justin Ruggiano and Rickie Weeks.
Smith figures to platoon our in right field with Ruggiano, while Weeks, a second baseman with the Brewers, is being asked to share time in left field with Dustin Ackley and first base with Logan Morrison.
And the Mariners? They are being asked to rekindle the excitement that their fans felt in that seven-year stretch from 1995-2001 when they made the only four postseason appearances in franchise history, including a 116-win regular season in '01.
"We know we have to prove something," Cano said. "We have to go out with a mind to win and embrace that [expectation]. It is what the game is about.
"To go out and play 162 games and be happy to be here makes no sense. We have to prepare ourselves to play 180 games."
That's what Seattle has done. The Mariners' youthful core has responded well to efforts from veterans who have had that October experience, like Cano, a postseason participant in seven of his nine seasons with the Yankees, and Cruz, a postseason visitor four of the past five seasons.
"[Cruz] has been in big situations," Cano said. "He's a guy who is going to help the young tickets, teach them how to play the game and what to do in situations. It's the way I learned in New York.
"This game is not about yourself, it's about the team. It's about helping each other out."
And it's a message the young Mariners understand.
They know what the public expects. They also know what they have to do.
"We have to take it day by day," Seager said.
Tracy Ringolsby is a columnist for MLB.com. This story was not subject to the approval of Major League Baseball or its clubs.